One Raffles Place had been a buzz of activity and excitement early this morning, with more than 50 running enthusiasts converging there, even before registrations had officially opened at 11am this morning for the 2017 edition of the Great Eastern Women's Run.
The Great Eastern Women's Run takes place on Sunday 12 November this year.
The reason had been because the runners present, had wanted to enjoy the special registration deals offered exclusively on-site, at the official launch event of South East Asia's largest all-women's running event.
These had included adidas apparel and up to 40 per cent discount on their race fees. The first 1,000 runners to sign up also received an adidas tee and a sports bag.
Connie Liang was the first in the queue
First in line had been Connie Liang, 49, a home maker, who had been waiting since 8.30am. She admitted that she was surprised to be the first one in the queue. Said Connie, "I was sending my hubby to work, then I came here; that is why I was so early. I got a shock when I was the first because I thought there would be lots of people queuing already. But when I reached, the tent was not even set up yet!"
The second person in line had arrived at around 9.30am.
Connie, who is taking part in her eighth edition of the Great Eastern Women's Run, will be running in the 21.1km category. She said, "I am not aiming for timing because I have an injury now. So I will just be running for fun, and to get nice photos of myself – the longer distance you run, the more photos you have of yourself."
Speed Challenge at the Launch
Another highlight of the launch event was the Speed challenge, where runners pitted themselves against one of Singapore's fastest marathoners, Jasmine Goh, who will be representing Singapore at the upcoming South East Asian Games in Kuala Lumpur next month. Sprinting past a unique speedometer which captured their speed, runners who managed to outrun Jasmine and make it onto the leaderboard, would be in contention to win prizes such as complimentary race slots and adidas shoes. All those who attempted the Speed Challenge would also stand a chance to win a one-night stay at The Ritz Carlton Millenia Singapore, in a lucky draw regardless of whether they had beaten Jasmine's timing or not.
Jasmine Goh sets the time in the Speed Challenge.
As well all participants of the Speed challenge could also redeem a llao llao frozen yoghurt on the spot; I think that this had probably been the main draw for many of the runners taking part, including me.
Providing the entertainment throughout the morning at the launch event had been emcee and show host Ross Sarpani, who had interviewed several people, including Jasmine herself – for some quick tips on how to tackle the six metre challenge.
Shared Jasmine playfully, "Enjoy the sprint; it is short, really. I am a marathon runner, and this is really short. I am not really sure if even I can do it well, but I will just enjoy it and I hope that you will too, and please beat my timing!"
She added, laughing, "Just run how you are comfortable. Everyone has different gait, strides and running styles. But we will all certainly all make it out alive; it is just six metres!"
With some of Jasmine's tips in mind, I took part in the Speed Challenge for fun, and not only did I get my delicious llao llao which had tasted so refreshing, but I also managed to win a pair of adidas shoes in the challenge, which had been a rather pleasant surprise that I was not expecting.
New '2km Mummy + Me Run' category
The 2017 edition of the Great Eastern Women's Run will make several firsts, such as a new category called '2km Mummy + Me Run' and is catered for mothers and their daughters aged between 7 to 12 years old.
According to the race organisers, this new category was introduced, in order to cater to the older children, as the Princess Dash is supposed to be tailored for the younger kids.
Said Jasmine, "Both me and my daughters will be taking part in the 2km Mummy + Me' category. Two of my sisters will also be joining the run. They both had to overcome challenges in the past year but they were determined to train and participate."
She continued, "The Great Eastern Women's Run sends a powerful message about the importance of coming together in support of each other and I always look forward to being a part of it."
As well, Jasmine herself will also be running in the Elite Closed 21.1km category.
Those aged 3 – 6 years old on the other hand, can participate in the 100m Princess Dash.
Other categories for adults include the 21.1km Half Marathon, the 10km Run and the 5km Live Great Fun Run.
In the 5km Live Great Fun Run, new elements for this year include a unique run experience with many moments tailored for Instagram, such as photo walls and a colourful ball pit for runners to wade through.
New Mobile App

Another 'first' for the Great Eastern Women's Run 2017 is also the introduction of a mobile app developed to encourage and incentivise runners to clock more mileage as they train.
This app, which will be officially launched in August, will provide race related information and monthly challenges to encourage runners to go the distance for charity, and will receive attractive rewards in return.
Customising of bibs and tee shirts
Runners will also be able to accessorise their runs and do their bit for charity by customising their race bibs and tee shirts.
This is in addition to the 'Don a tutu for a cause' initiative where runners receive a tutu with a minimum donation of $5 to show their support for either the Breast Cancer Foundation or the Women's Health Research and Education Fund.
Great Eastern to reach out to tertiary students 
In another new move, Great Eastern Women's Run is also reaching out to tertiary students to promote the importance of keeping fit and healthy through running.
Tertiary students who choose to take part in the run, will enjoy special student rates to the run and the school with the largest contingent will get exciting prizes as well.
Great Eastern is committed to inspiring and empowering the local community 
Said Keith Chia, Head of Group Branding and Marketing, Great Eastern, "As a LIFE company, we are committed to inspiring and empowering the community to live healthier and better. This is the 12th year that we are organising this run and we are pleased to see how it has grown."
He continued, "Our priority has always been to create Live Great moments and an enjoyable race experience for runners, as well as their family and friends. This year we are pulling out all the stops to make the Run even more memorable than ever."
Online Registration Now Open
Online registration for the Great Eastern Women's Run is now open and here are the registration rates.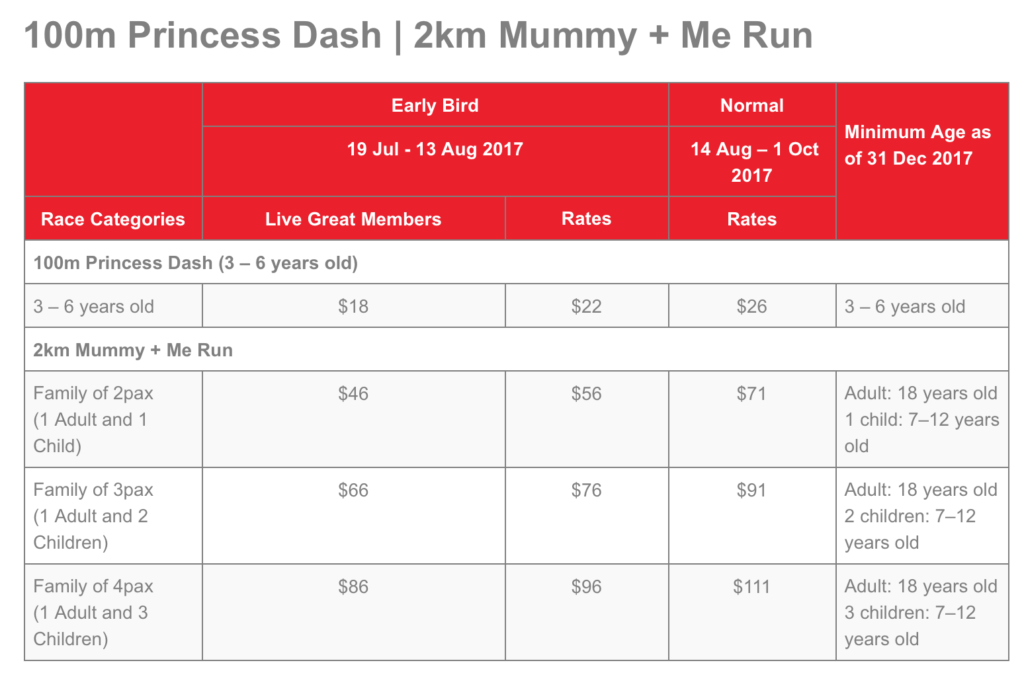 Sign up for the race here.

other blog posts
Great Eastern Women's Run 2016
Share this page with your friends!