Described by Jabra as being the most technologically advanced true wireless sports earphones out there on the market, the Jabra Elite Sport packs a ton of features in its light 13-gram body.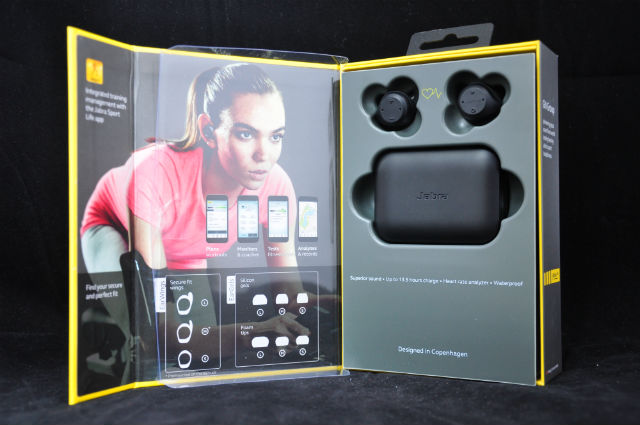 This is because apart from having a superior sound quality for music and calls and an advanced wireless connectivity to ensure true performance, the earphones are also advertised by Jabra, as comprising of a heart rate monitor as well as a companion app for fitness tracking – this is indeed a first for true wireless earbuds in the market.
Comes in two colours
To cater to different tastes and preferences, the Jabra Elite Sport comes in two colours. These are Black and Lime Green/Grey.
Both of these are relatively neutral colours that will not look out of place and are thus easy to match with the rest of your running or sports attire.
Received the Jabra Elite Sport for my review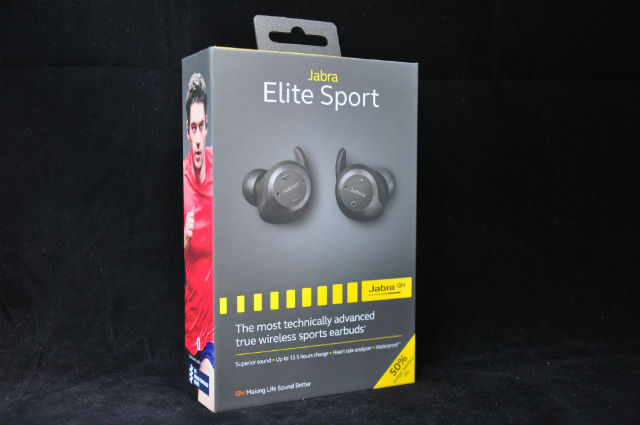 Jabra provided me with a unit of the Jabra Elite Sport to review for my runs. This was the Black one.
In The Box
Inside the box, the Jabra Elite Sport is accompanied with three sizes of Ear Wings, three sizes of Silicone Ear Gels, three sizes of Foam Tips, a USB charging cable as well as a Quick Start Guide.
The varying sizes of accessories provided are supposed to ensure that you have a snug fit – an important aspect for true wireless earbuds, because there is no cable to hold them in place.
Slightly chunky looking
When I first set my eyes on the earphones, my initial impression of the Jabra Elite Sport was that it was a bit on the chunky side. But to me, the main thing is that the earphones can get their job done well.
Takes time to get a good fit
In order to get a good fit, it took me about five to ten minutes to try out various combinations of the Foam Tips, Ear Gels and Ear Wings.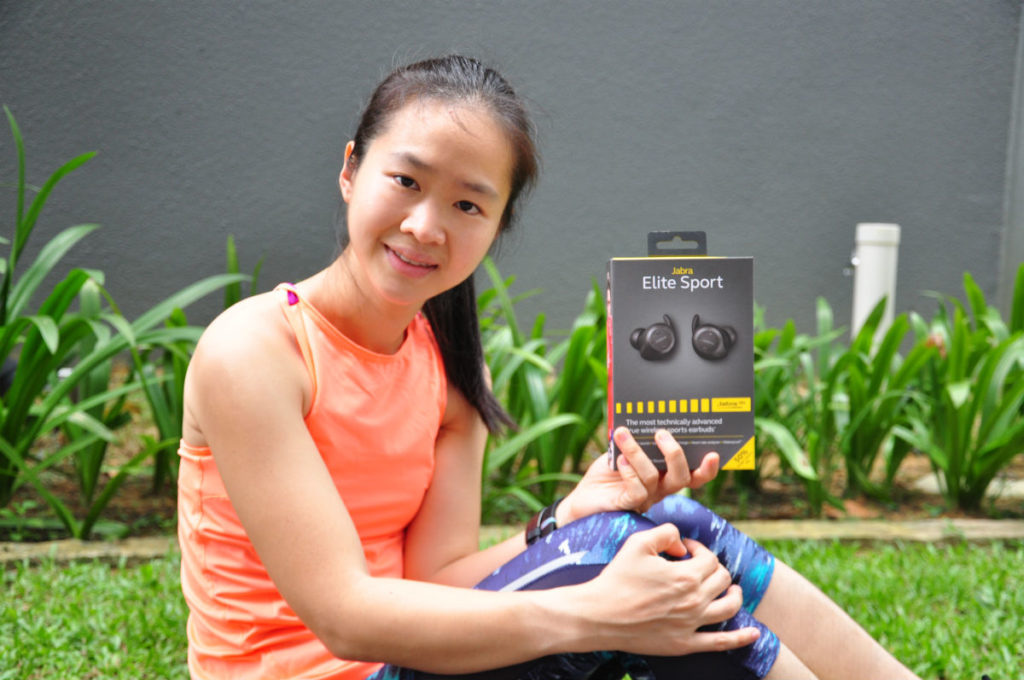 Charging and Pairing
Charging the earphones and pairing them to your smartphone is quite seamless though. In today's technically connected world, we all have plenty of USB cables lying around as it is the most common type of cable. So it is quite simple to plug the earphones in, to charge the Jabra Elite Sport.
To pair the Jabra Elite Sport to my iPhone 7+, it will automatically connect once you take the earphones out of the charging case and place them into your ears and once it does, you then choose to pair the Jabra Elite Sport from the list of devices.
Of course, do note that the Bluetooth in your phone has to be turned on.
Running with the Jabra Elite Sport
I have done several runs with the Jabra Elite Sport. The shortest run was just over half an hour and the longest one was somewhat between two to three hours.
Earphones stay in the ears
I thought that the Jabra Elite Sport earbuds stayed in my ears pretty well and are secure enough, despite being larger in size than most sports earphones that I am accustomed to.
I admit that at the beginning I had been a bit sceptical that the Jabra Elite Sport would stay in my ears as I am constantly bouncing up and down when I run. But I am glad that I had been proven wrong.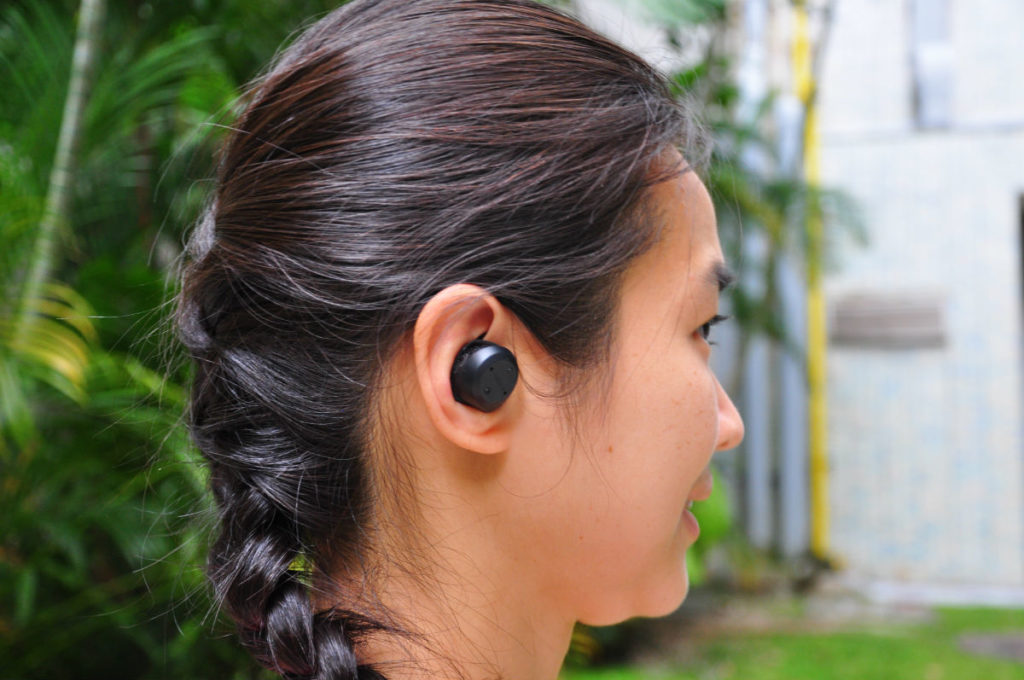 But on a few occasions in the middle of my runs though, I did feel a sensation as though they were about to get loose and come out of my ears, but I was always able to push the earphones back, before they dropped out altogether.
As the ultimate test, I also tried shaking my head around wildly, but when I tried, the Jabra Elite Sport never actually dropped out of my ears, though it may have come close to doing so, at times.
Earphones are comfortable enough to run with
During my runs, the fit was also comfortable enough, even after close to three hours of running.
Though I could never completely forget that I was wearing earphones when I was plugged into the Jabra Elite Sport, they were comfortable enough for me to be able to tune out of my surroundings and focus on my music as I am running. I had never once felt as though the earphones were in.
I also loved the fact that the Jabra Elite Sport is completely free of wires altogether. I have used wireless earbuds where the left and right ears are connected by a cable, and this can create some friction when I am moving or else shifting my head to the left or right. Such movement may also inadvertently cause one of the buds to drop out of the ears.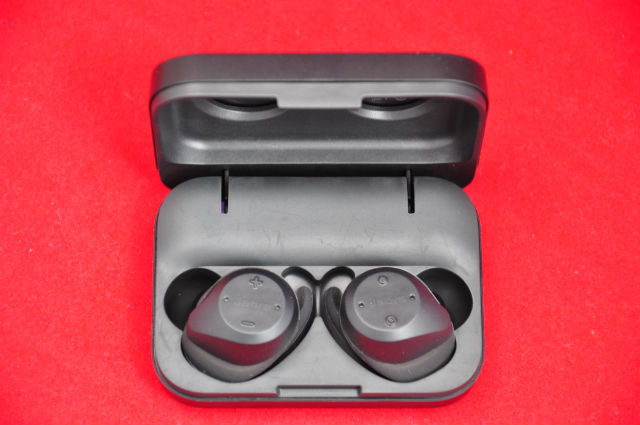 But being a true wireless earphones, I had no such problems with the Jabra Elite Sport, and so this had helped me to enjoy my runs even more.
Bring outside audio to your ears
For those who run on open roads and need to stay aware of their surroundings, the Jabra Elite Sport also comes with a feature that allows you to bring audio inside your ears. This feature can be toggled on and off depending on your preference.
I tried this feature out, and though you can definitely hear your surroundings, you lose your sense of perspective – with the earphones on, you are unable to detect how close the source of the surrounding sound actually is.
Jabra Elite Sport can withstand the rain
I did not do any runs in the rain to test out this feature as I am not a fan of running in wet weather. But I must still point out that the Jabra Elite Sport comes with an IP67 rating – meaning that it can withstand being dunked in 15cm to one metre of water for up to 30 minutes.
In fact, with every purchase of the Elite Sport, Jabra also offers a three year warranty against damage caused by sweat. So if you do get caught out in the rain with the Jabra Elite Sport, you need not worry that the earphones will get corrupted.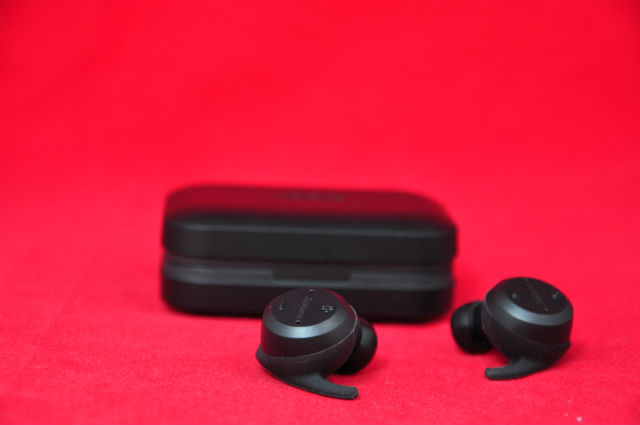 Bluetooth connection was good
The Bluetooth connection also didn't drop at all on any occasion though during my runs and the quality of the sound quality remained consistent.
This had even been despite the fact that some of my runs had taken me through construction areas where the signal may sometimes be patchy at times.
Right ear tip was wedged in my ear after some runs
But I did experience a couple of occasions though, when I took the Jabra Elite Sport out of my ears upon completion of my run, and the right ear wing had still remained wedged inside my ear and I had to pull it out of my ear and attach it back onto the Elite Sport earphones.
If you are not aware that the ear wing is separated from the main earbud, you may end up losing it as a result.
In fact, I must admit that once, I did not realise that the ear tip was not in my ear till I had been having a bath after my run. It had fallen out, landing on my floor mat.
Music Quality
When I was listening to my music with the Jabra Elite Sport, the sound quality has a very high level of bass. The high notes were okay too, but the mid-range notes seemed to be a bit muted.
While it may not be the best sound quality that I have heard, it is still acceptable enough for me, though. I suppose that till the technology becomes better, this is a sacrifice that we have to make, in exchange for a completely wire free running experience.
Fitness Tracking
Besides using the Jabra Elite Sport for my music, I also tested out their revolutionary fitness tracking and heart rate detection features.
These features can be utilised once you download the Jabra app, which is available for free on the Apple and Android App Stores.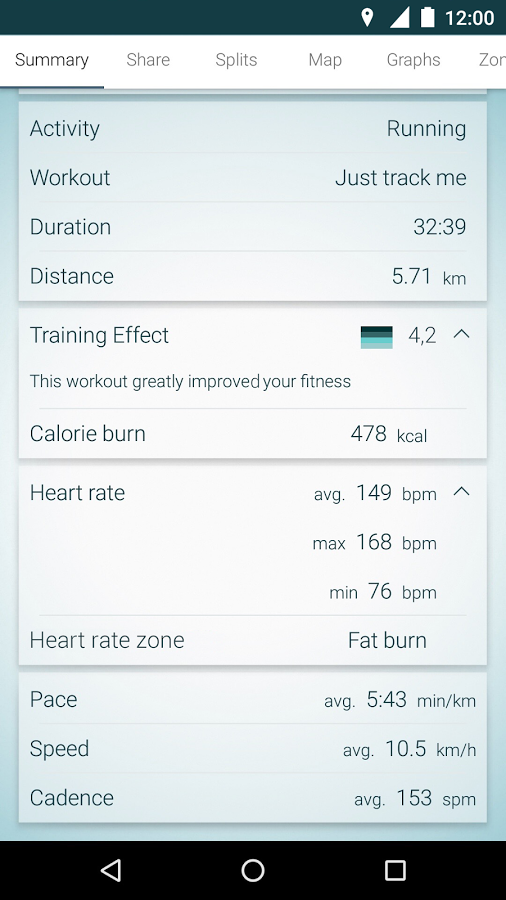 Distance and Cadence
For the fitness tracking features, I found that my distance and cadence measurement was pretty accurate.
I used my normal GPS watch to compare against the Jabra Elite Sport earphones, and after taking both devices out on several runs, the distance measurement differed by about 200-300 meters – which is perfectly acceptable in my opinion, and the cadence usually differed by two to three beats – which is quite good.
Pace
The pace measurements were somewhat hit and miss though. Sometimes it would detect my correct pace that I was running at, when compared to my watch.
But other times, it would say that I was running quite a bit faster than my actual pace. And then some time later during the run, the Jabra Elite Sport somewhat would compensate for that by detecting a somewhat slower pace than my actual running pace.
Jabra Elite Sport can track a selection of sports activities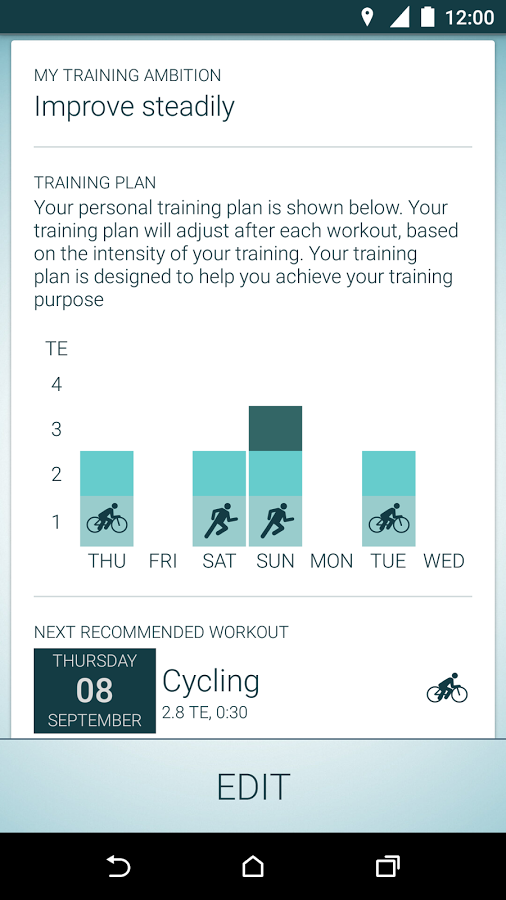 While I had primarily used the Jabra Elite Sport for outdoor running for this review, there is a selection of common sporting activities that you can pick from, including cycling, hiking, skiing and walking.
In addition to running, I did do some cycling during the review period, but I don't use earphones when I am cycling as I feel that it may be dangerous. This is because due to the high speeds that a bike is capable of reaching, I always need to be fully aware of my surroundings. So I did not use the Jabra Elite Sport then.
For running, the Jabra Elite Sport can also differentiate between running outdoors versus running on a treadmill. So this means that athletes with different preferences will definitely be taken care of.
Heart Rate Tracking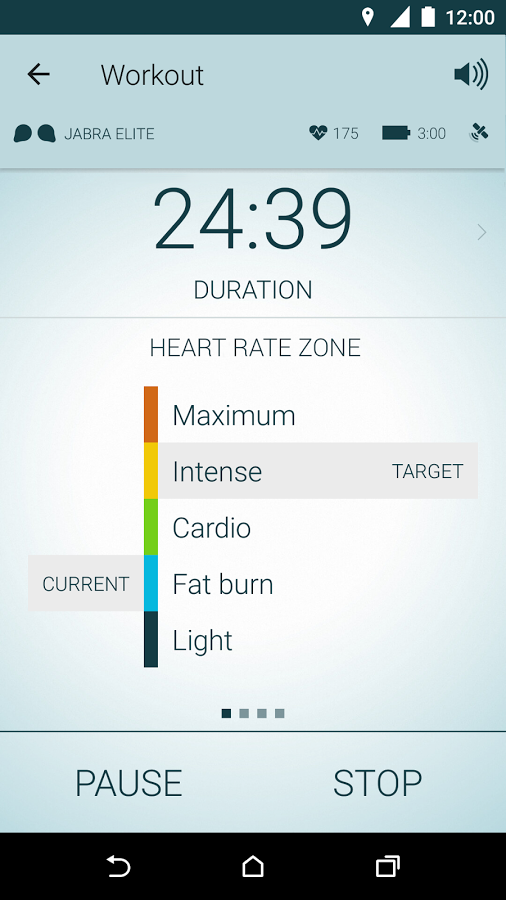 However for the heart rate readings, these unfortunately did not correspond with the heart rate monitor readings on my wrist based GPS watch. I had found that the readings between the two devices had differed by quite a bit, thus making it not really possible for me to use the Jabra Elite Sport as a heart rate monitor.
The inaccurate readings had been pretty consistent during all of my testings with the heart rate tracking.
I actually tried several things to attempt to get an accurate heart rate reading, such as swapping the ear wings and/or ear tips for different sized ones, and on one occasion, even using surgical tape to stick the right earbud into my ear.
At that time, I had thought that the reading was inaccurate because the earbud may have been inadvertently moving inside my ear, but it turns out that this was not the case for me as the reading was still not accurate, despite the application of the surgical tape.
The heart rate sensor contained within the Jabra Elite Sport is located towards the bottom of the right earbud.
I think that the inaccurate reading in my case, might have been due to the fact that my ears are quite small. So as a result, this may have meant that there had been not much room inside my ears for the Jabra Elite Sport to make good skin contact to get an accurate measurement of my heart rate.
The fact that I usually have to use the smallest earbuds available when I test out audio products, is testament to my ears being on the smaller side.
And I had come to this possible conclusion after speaking to a couple of friends and also reading other reviews about the Jabra Elite Sport. The comments on the heart rate monitor features had been mixed.
While some had been able to get an accurate reading within one or two beats of their heart rate monitors or sports watches, others had also reported inaccuracies similar to what I had experienced. But besides the difference in our ear sizes, there aren't really any other reasons that I can think of, to account for such a large variation in the results.
This is quite a pity because I really love this feature and I think that with further improvements in technology and accuracy, it really has great potential to shake up the fitness wearables industry.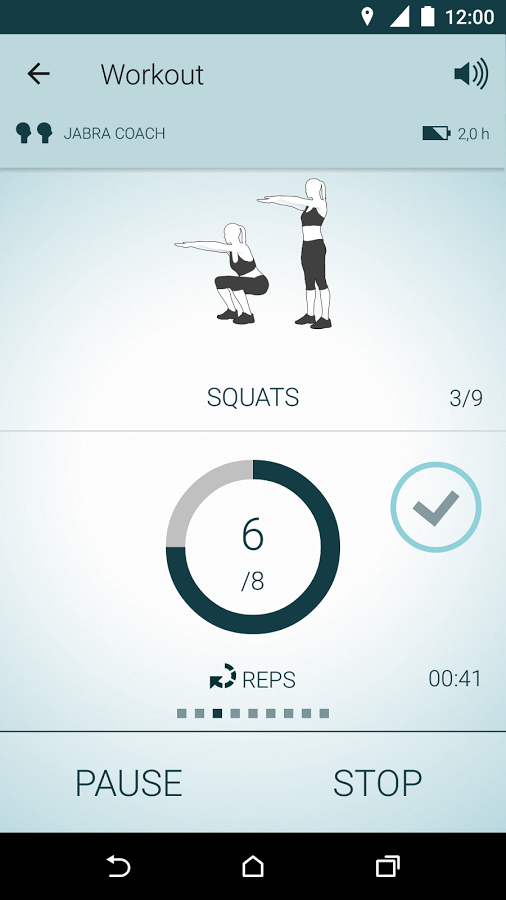 Jabra Elite Sport is also a running coach 
What I really liked about the fitness and heart rate tracking features though, is how the Jabra Elite Sport uses these, to act as your personal running coach or trainer.
Besides giving you real-time feedback of your pace, distance, heart rate and cadence, the Jabra Elite Sport also reports, based on its analysis of these measurements, how intense the workout is for you, and how much rest you should be getting after each workout – just like what a human running coach would say to you.
As well, it also estimates what your VO2 max is and additionally, gives you an indication of what your fitness levels are like based on the average person of your age and gender – so that you know where you stand, and how you are progressing in terms of your fitness.
And the audio voice also complements you after each workout too if you have done particularly well, for example, by telling you that your workout was a "top performance."
I think that these features are very interesting and useful, as well as being revolutionary, because it can give recreational athletes such as myself, a guide on how fit we are, how much we should be training after each session and also when we have recovered enough to do another workout session.
In today's day and age, more people are becoming aware of the increasing importance of fitness, but this is also leading to more injuries, as recreational athletes, who are also holding down day jobs, suffer burnout and wind up overtraining because they may underestimate their bodies and tend to train too hard.
So having a product like the Jabra Elite Sport may possibly help to prevent such overtraining injuries.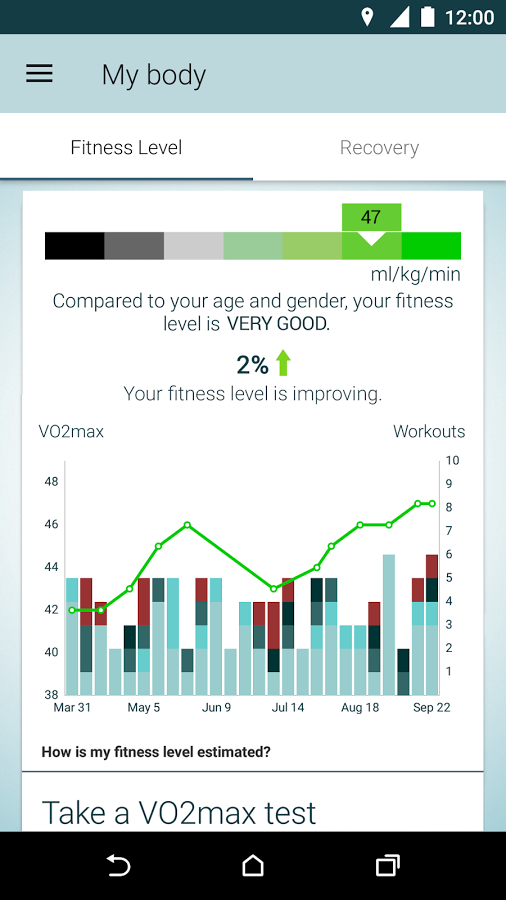 Battery Life
The battery life in the Jabra Elite Sport is advertised as being able to last for 4.5 hours on a single charge, with an additional nine hours when the earphones are placed within the charging case.
While I have not run continuously for 4.5 hours to test this out, I think that the 13.5 hours of total time is rather accurate, based on my testing.
This is because after each run, I had stored my Jabra Elite Sport inside the charging case and it had lasted roughly about one week of runs in all, before I had to plug my Jabra Elite Sport into the wall socket to charge it up.
Overall Comments
Despite the hiccups in terms of the accuracy of some of the features, I really like the concept of the Jabra Elite Sport. With further improvements, I think that such technology will go far in the fitness wearables industry.
Nevertheless, I would continue to use the Jabra Elite Sport to listen to my favourite songs as a form of motivation for my training runs – as I gear up towards the Nagoya Women's Marathon in Japan in two months' time, as I still think that it is a comfortable and secure pair of earphones with a great Bluetooth connection quality and a decent sound quality.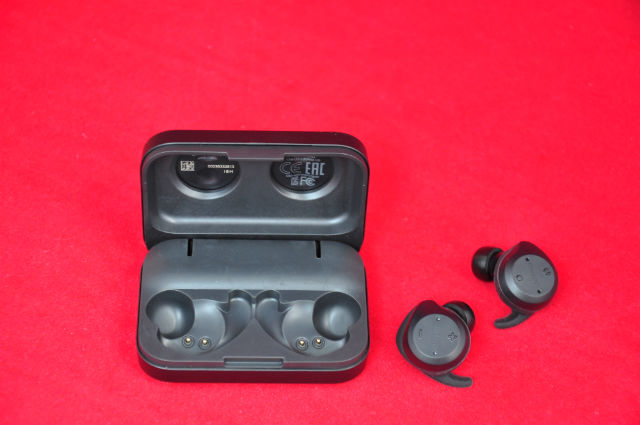 Cost
The Jabra Elite Sport has a retail price of S$368 and it can be bought online at https://www.jabra.sg/sports-headphones/jabra-elite-sport or at selected tech stores across Singapore.
WIN a Jabra Elite Sport with PrisChew Dot Com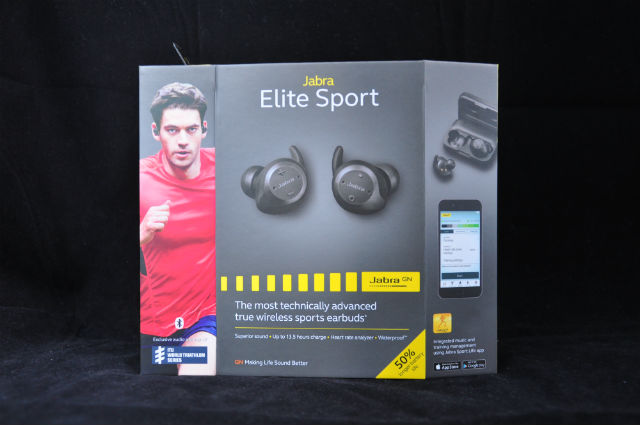 In collaboration with Jabra, PrisChew Dot Com is giving away ONE unit of the Jabra Elite Sport to ONE reader in a lucky draw contest.
Disclaimer: Please note that this contest will be posted on both my Facebook and Instagram pages, but only ONE winner will be chosen from all of my social media platforms combined.
In order to stand a chance to win, you need to do the following.
LIKE PrisChew Dot Com on Facebook and/or PrisGooner on Instagram.
SHARE this post and TAG THREE friends.
Answer this question in the comments section: How many hours can the Jabra Elite Sport battery last, on a single charge? (Hint: The answer is in the blog post).
You can double your chances of winning if you enter this contest on BOTH Facebook and Instagram.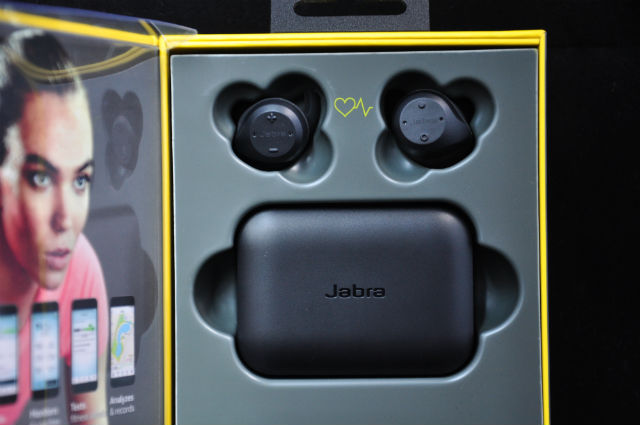 The winner will be contacted via private message on Facebook/Instagram depending on the social media platform/s that you entered. If you are chosen as the winner, please note that if you do not respond to your private message within six hours regarding the collection of your prize, I have the right to conduct a re-draw and pick another winner.
This contest closes on Monday 12th February @ 11.59pm. Good Luck to you!

Update: This contest is now closed. Congratulations to the winner, Casper Awj.
Share this page with your friends!