It was about 5.15am last Sunday morning at the Gold Coast in Queensland, Australia and the temperature was a bitterly cold 9 degrees Celsius. It was pitch dark outside. Clad in my running tee shirt, compression tights and a jacket, I was still freezing. It felt so different to sunny Singapore. For a moment, I wondered what I had signed myself up for and why I was doing this to myself.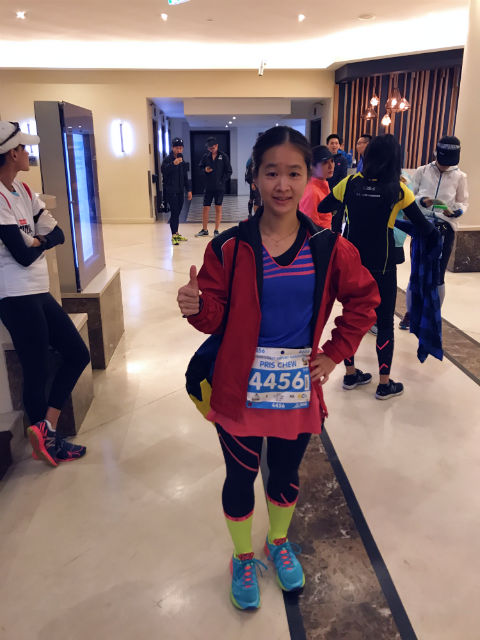 RUNNING THE FULL MARATHON
I went to the lobby of my hotel, the Mantra Legend, to join the F1 Runners Team and the CTC Travel group to board the shuttle bus to take us to the start line of the Gold Coast Airport Marathon. I was taking part in the 42.195km Full Marathon.
The 42.195km race at the Gold Coast Airport Marathon had been scheduled to flag off at 7.20am that morning.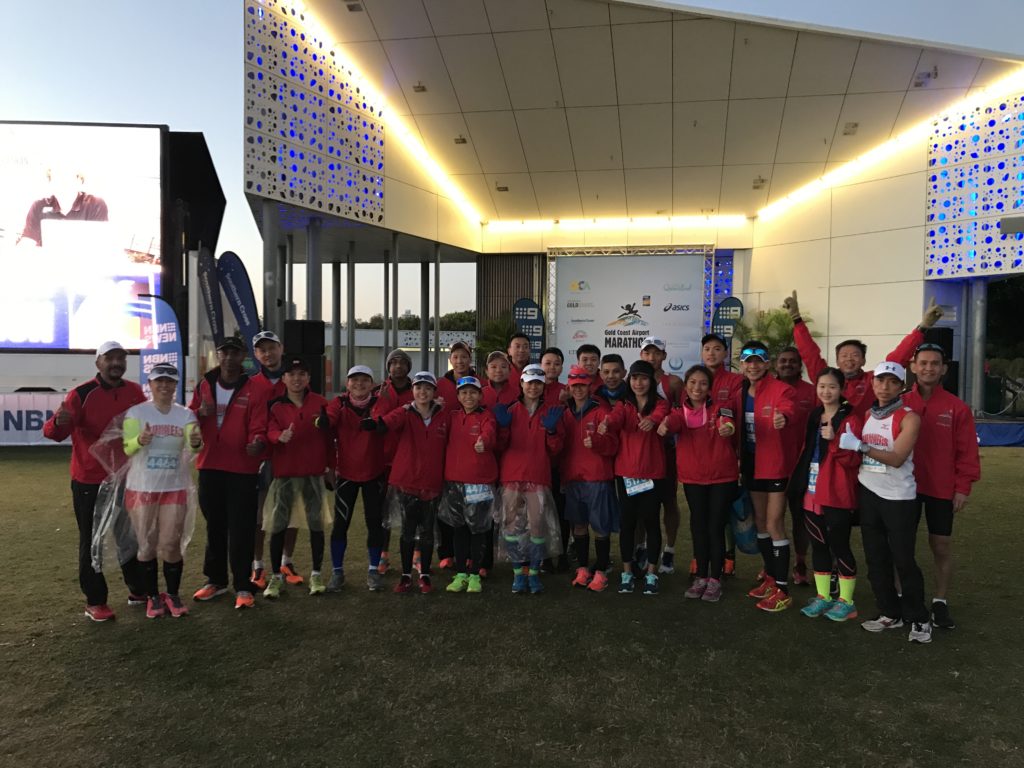 Over 24,902 runners were taking part in the event altogether, with more than 3,000 from overseas. Almost 6,000 runners, including me, were participating in the Full Marathon category.
COLD
The shuttle bus soon arrived and we boarded it. Fortunately it was warm enough in the bus as there was heating inside, though I still felt that I had needed to wear my jacket, which had been generously given to me by a friend, who had told me that I would need something warm to wear at the start, but as my body heated up during the race, I could just toss the jacket away; he advised me not to wear a jacket around my waist as it would impede my running.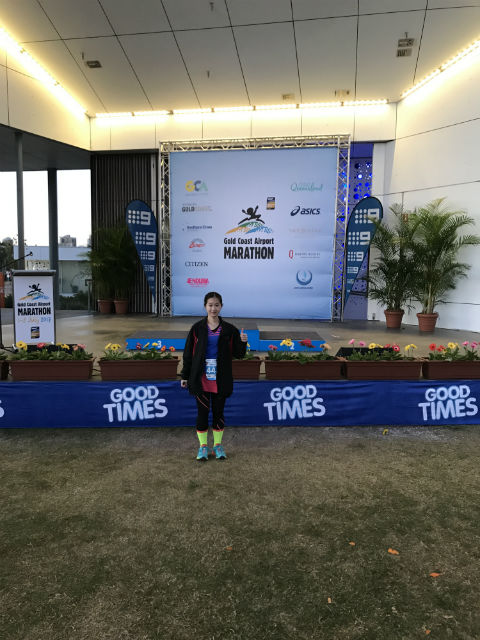 We reached the race site before 6am. I went to the washroom and then headed to look around the race site and took a few photos and also to suss out what was available there too.
GETTING TO MY STARTING PEN
Before long it was time to head into our starting pens. I admit that I was feeling the nerves when I went to Pen C, which I had been assigned based on my estimated finishing time.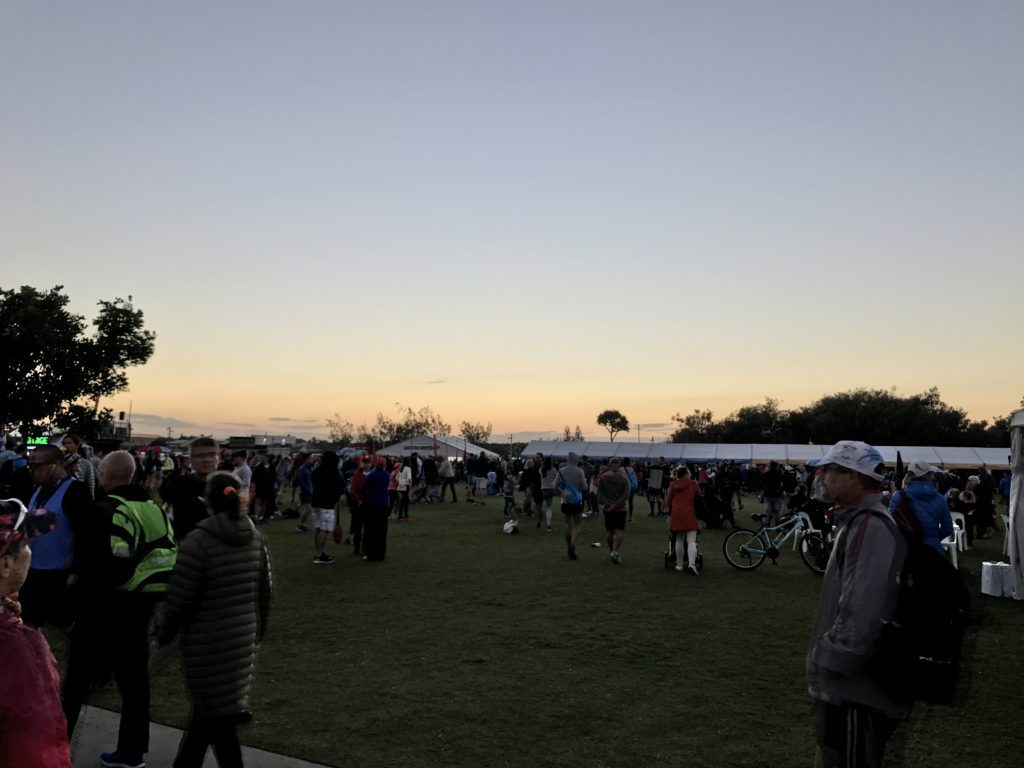 This was my first time running the Gold Coast Airport Marathon. Everyone had told me that the course was scenic and flat and that it was easy to get a personal best at the Gold Coast, but at that point, I felt panicky. Would everything go well? Would I be able to go home with a good time? Or would I be disappointed.
At 7.20am sharp, the gun went off and the elite and priority runners were flagged off first, followed by each of the start pens. My nerves grew as each pen was being flagged off. It would be my turn shortly.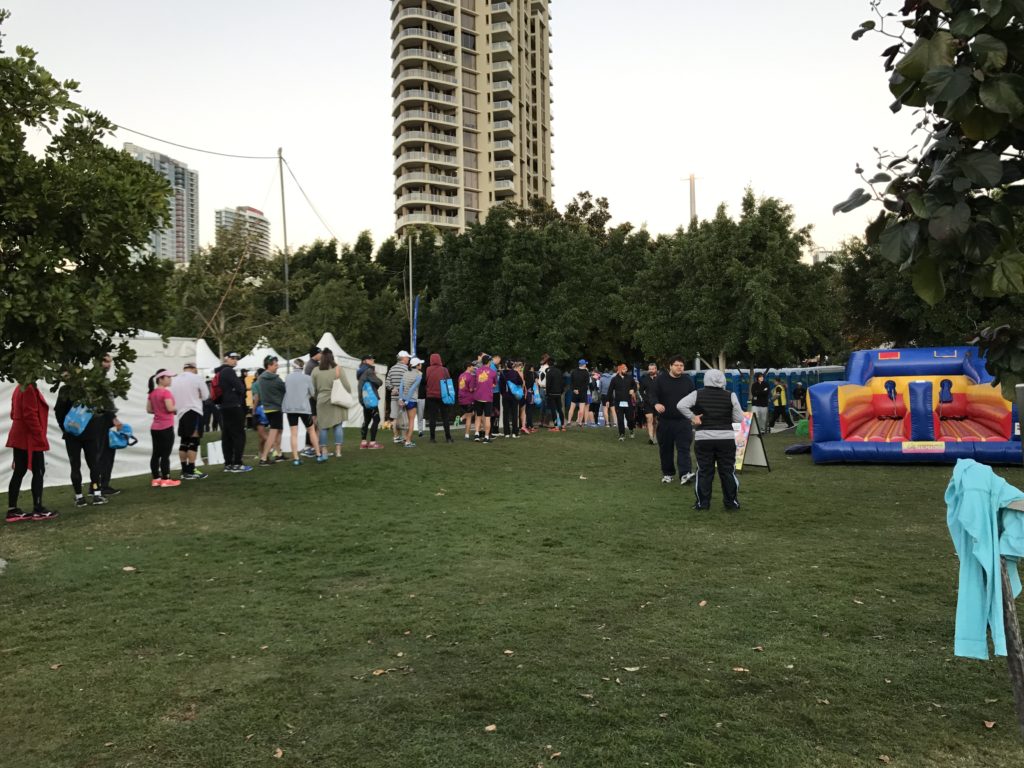 BEGINNING AT A CONSERVATIVE PACE
Soon enough, Pen C was flagged off and my run began. I started out at a conservative pace, even though everyone had been dashing out in front of me. I was mindful of blowing my energy resources too quickly and didn't want to make the same mistake that I had made several times at running races. I had encountered bad experience with cramping as a result of starting marathons too fast, in the past.
My body heated up slowly during the first couple of kilometres. Unable to take the cold, I was still wearing a jacket, which I had intended to toss aside once I had warmed up considerably. A bit after the 2km point after I had warmed up, I casually left the jacket on the sidewalk and continued with my run.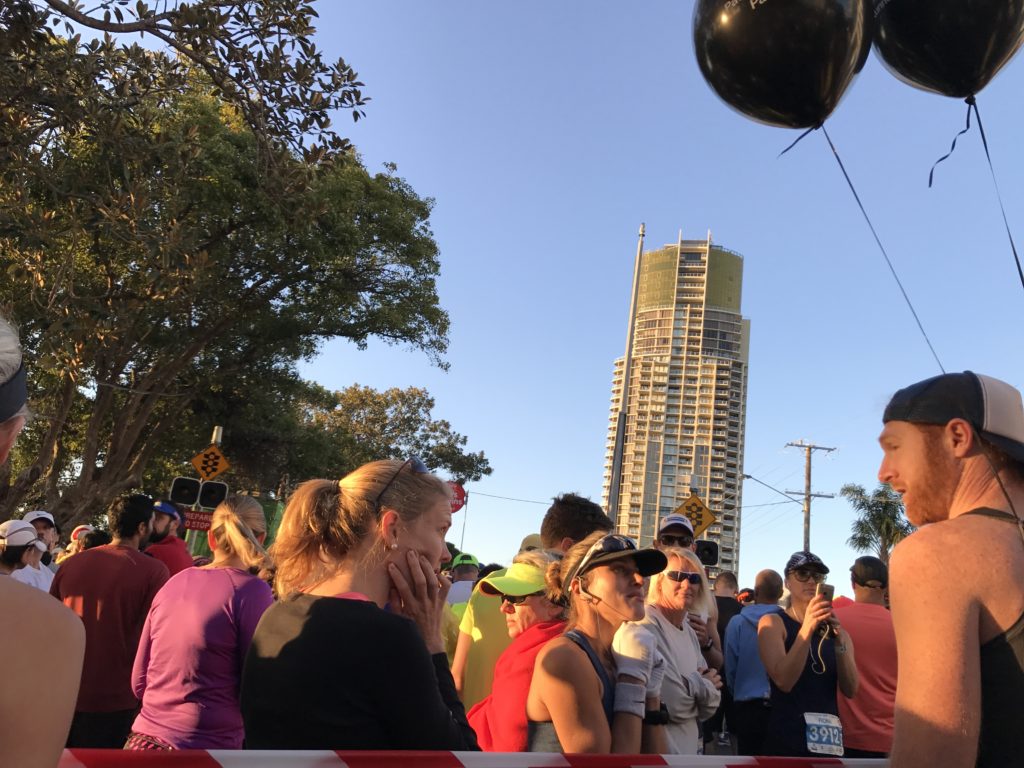 Keeping my heart rate in my Easy zone, I allowed myself to take in the beautiful sights and sounds of the Gold Coast. We were running along the beachside and in the Australian Gold Coast suburbs. It was a lovely run in the cooling and breezy Australian weather.
SUPPORTERS SCREAMING MY NAME
Along the way, there were also plenty of supporters screaming and cheering runners on. It was really motivating. A lot of them had banners and signs, which told runners to playfully "touch" the sign for power or motivational messages like "run like you stole something." I found myself chucking at the sight of these signs, but at the same time, they really helped to push me to keep going.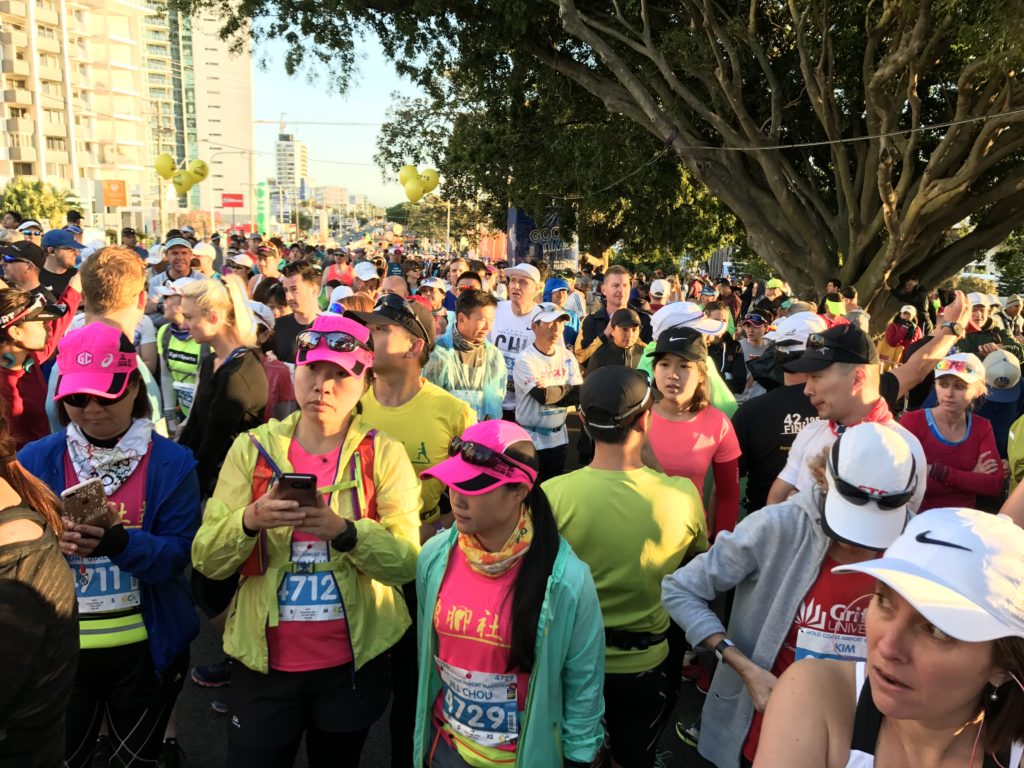 Other supporters were handing out food such as gummy sweets and chocolates to runners to refuel during their run. This had been a heartening feeling to see, as well.
It was really amazing at how big the Marathon was, here at the Gold Coast and how many supporters had come out to cheer on the runners. This went on through the marathon route.
At the al-fresco dining cafes lining the route, supporters had also packed the outdoor dining areas, getting themselves a good seat to watch the marathon in action as they had tucked into their Sunday brunch.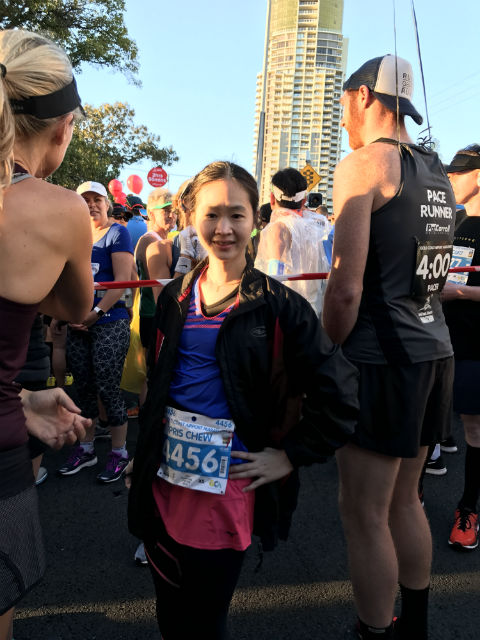 Some supporters even took the trouble to read the names of our bib and shout out to us personally. Hearing my name being called, it made me feel like an Olympic athlete. This gave me a warm and fuzzy feeling. And I made it a point to turn around and acknowledge all those who had called me by name.
Added Noah Chan, 41, a public service officer, "It was fantastic. The cheers were great and the crowd was very motivating. They were shouting out my name, in fact."
Concurred Jun Lambino, 52, who works at an office supply chain, "the crowd cheering and the supporters along the way was beautiful."
LOTS OF HYDRATION
I spotted my first hydration station at about 3km along the route. From that point on, they were spaced out quite regularly. Some stations were serving water only and others had a mixture of water as well as Endura sports drink.
I had thought that the distribution of the aid stations had been fairly even, to give runners the energy to continue. Despite the colder weather, I nevertheless made it a point to stop at every station, mindful of dehydration and the fact that my body was still losing water and salts during the running.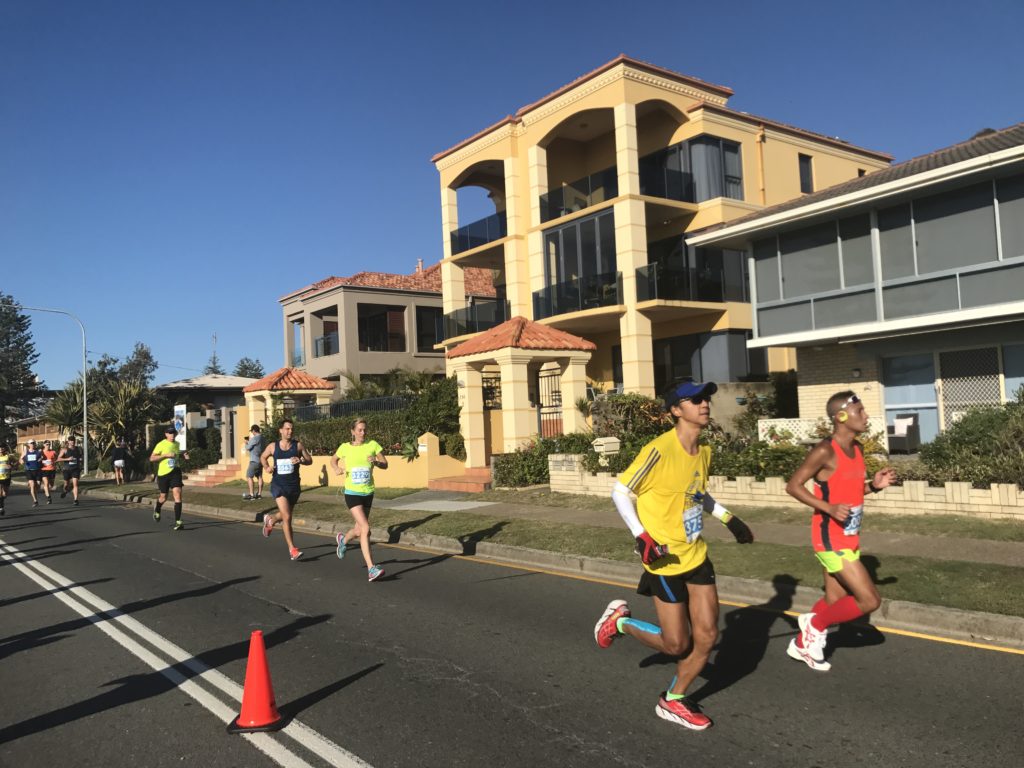 Said Noah "the water points were plenty. But I realise that I still got dehydrated because I did not drink enough. But then again, that was my own fault."
MEETING SYDNEY'S MARATHON MAN
At the 15km mark, I saw a familiar red cape, it was Sydney's Marathon Man, whom I had previously interviewed for my website, some time ago. His real name is Trent Morrow and he always runs with his trademark Superman-like red cape.
Marathon Man was running the Gold Coast Airport Marathon with the aim of entering the history books in setting a new record for the most number of marathons (313) run by an Australian.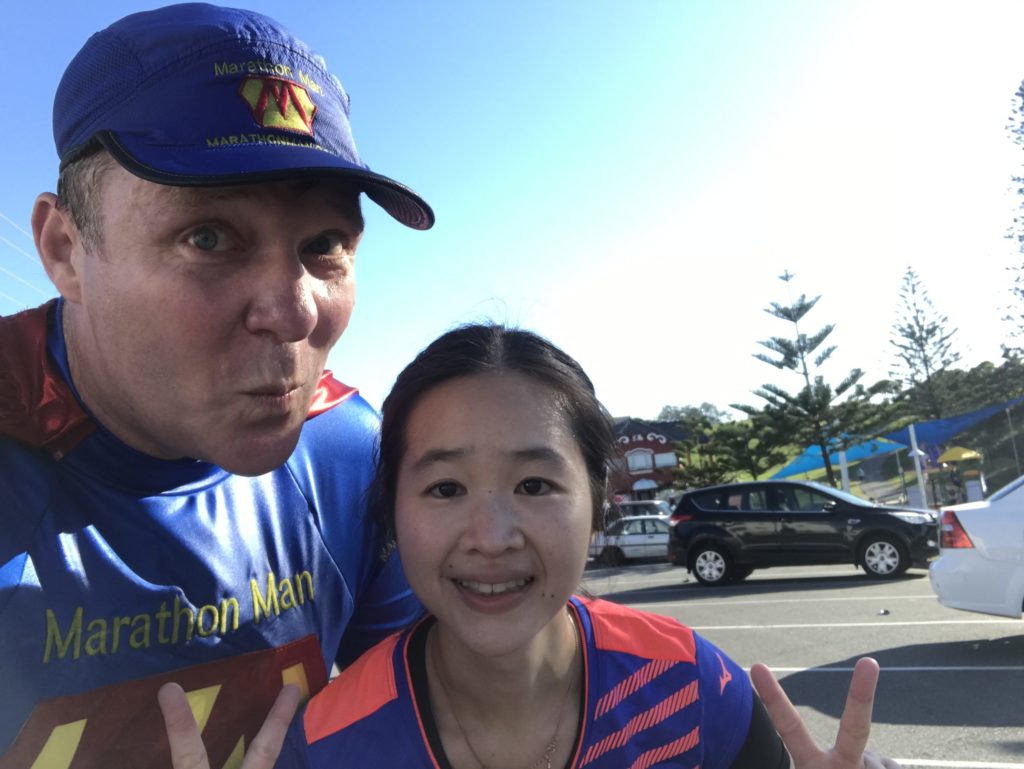 I approached him and he introduced himself. He seemed to be taking the marathon slowly with the intent to enjoy the run. It was a good feeling to have him recognise me. We took a selfie together and chatted for a short while before I continued with my run, allowing myself to get lost in the beauty of the Gold Coast.
Marathon Man also welcomed me to the Gold Coast, saying that it had been good to see me there and that he hopes that we could meet one day at the Singapore Marathon.
Somewhere along the way too, I also met the cowboy Woody from Toy Story; it was nice to see these costumed runners who really helped to spice up the mood and feel of the marathon.
ELITES AT THE TURNING POINT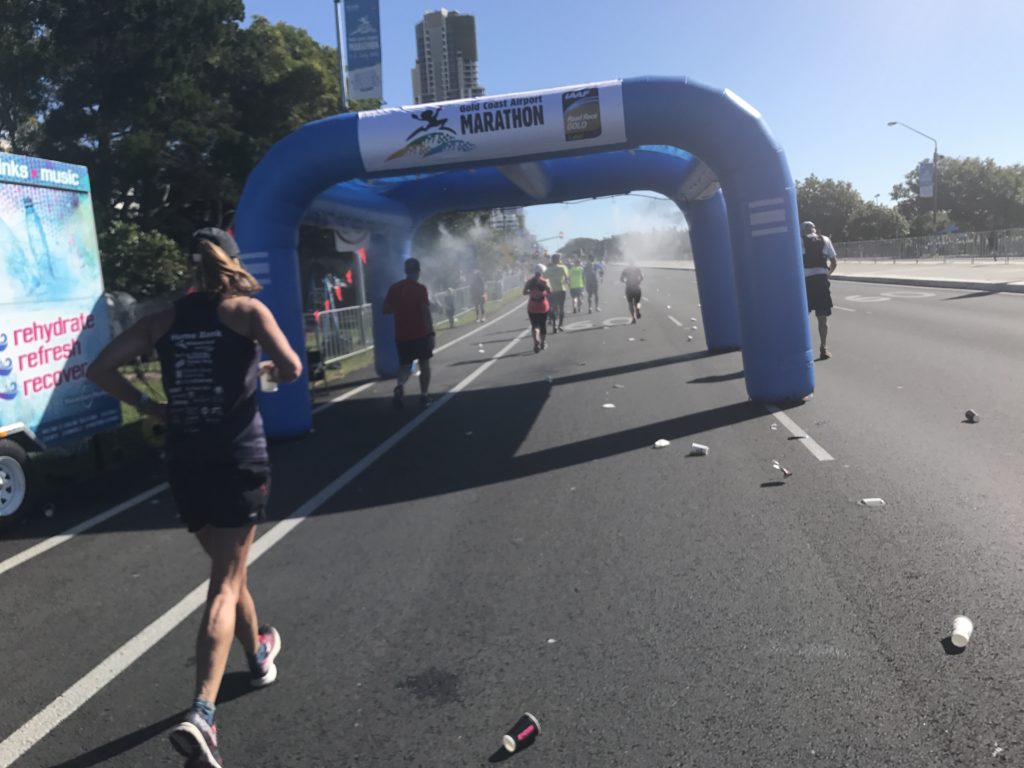 Shortly after that, I could see the elite and seeded runners on the other side of the u-turn. These had included Singapore's very own Dr Derek Li, blazing his way to a new personal best.
There were also a group of ladies running in front of me and who were playfully shouting out the name of each elite as they passed. It was quite funny, and had added to the vibrant atmosphere of the race.
STILL FEELING GOOD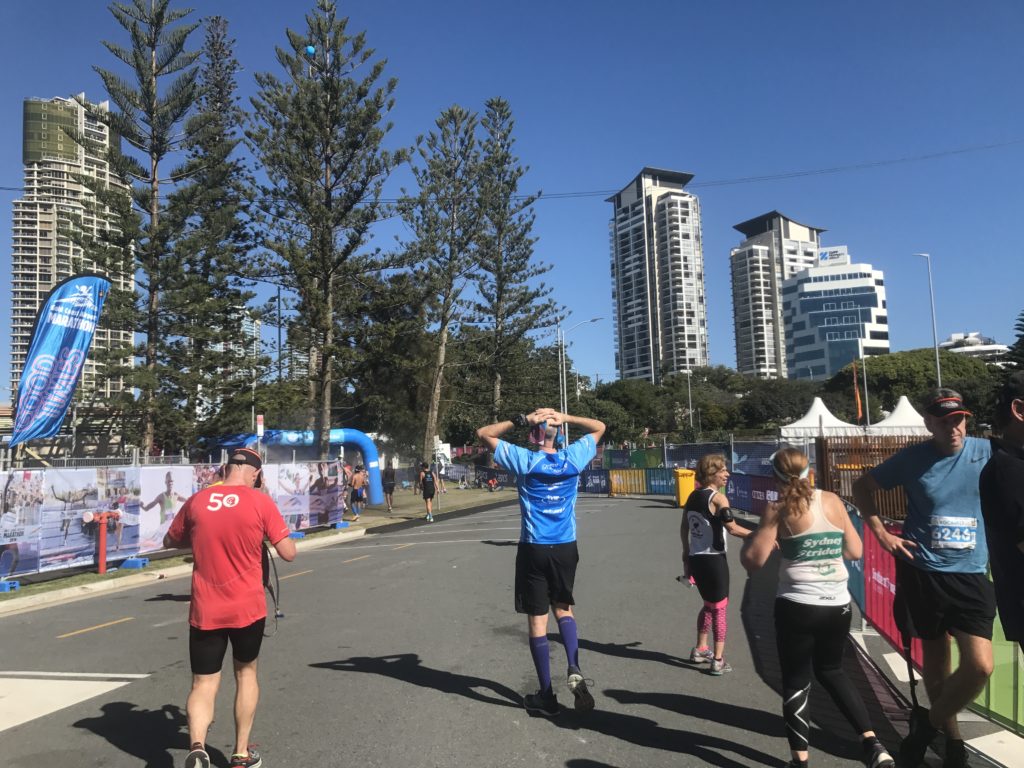 I still felt good at the halfway mark. So I then decided to up the pace, letting my heart rate cross over into the low end of my Steady zone. At the same time, I also let myself get lost in the scenery and the vibrant cheers.
This part of the race brought us through the residential areas and some cafes. And when I high five-d the young supporters along the route, it also put a smile to my face when I saw their faces light up in happiness.
SUN COMES OUT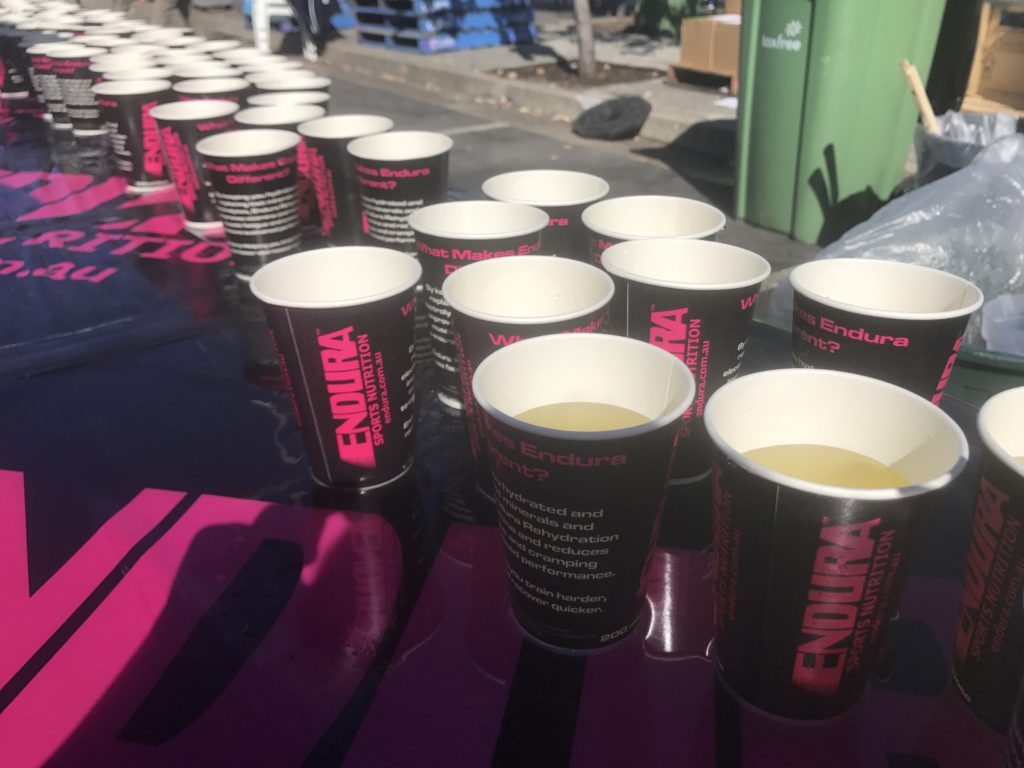 The sun was coming out quite strongly at this point in the race and as a result it was becoming considerably warmer but still not hot though. It was perfect running weather and I continue to follow my race strategy, taking energy gels and salt tablets when I had originally planned to take them.
So far so good, and I was really enjoying this 42.195km sightseeing tour of the Gold Coast at this stage, and my legs were still pretty good – despite having done quite a fair bit of walking over the past couple of days.
Seeing the start line on the adjacent side of the road, however, I will have to admit, was a bit depressing because I still was not done yet but I had to watch other people crossing through the finishing chute. But I tried not to dwell on these thoughts. I was going to finish and finish well. Looking at my watch, I knew that I was still on target for a personal best timing.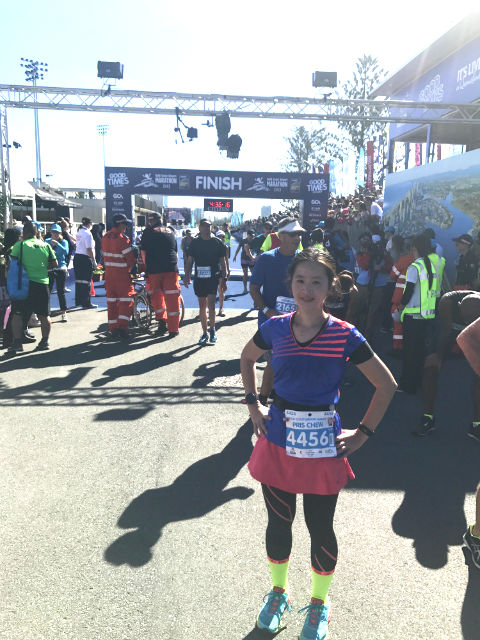 GIVING A FINAL PUSH
I reached the 30km marker, then 31km and 32km. Now, this was the time to give it a final push. I upped the pace again, this time completely going for broke. After all, my legs were still feeling okay by this point and I was still running well.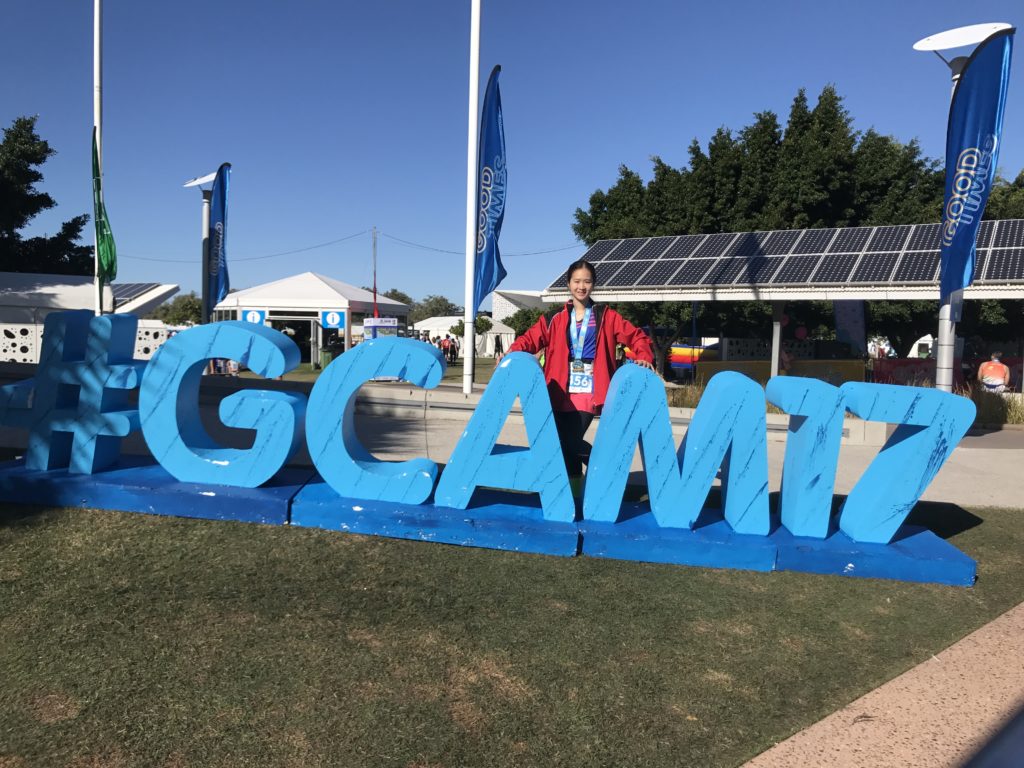 Pushing the pace at the final stages was not something that I am usually able to do at marathons; most of the time, I am exhausted by 30km, so this was a refreshing feeling for a change. I think the cool weather had really helped me greatly in terms of my energy conservation.
Other runners though were not so lucky and had to dig deep to complete their run. Jun was one of them. He said "I was having niggling feet issues in my Achilles' tendon and it got me at 28km. So I had to endure it all the way to the finishing line."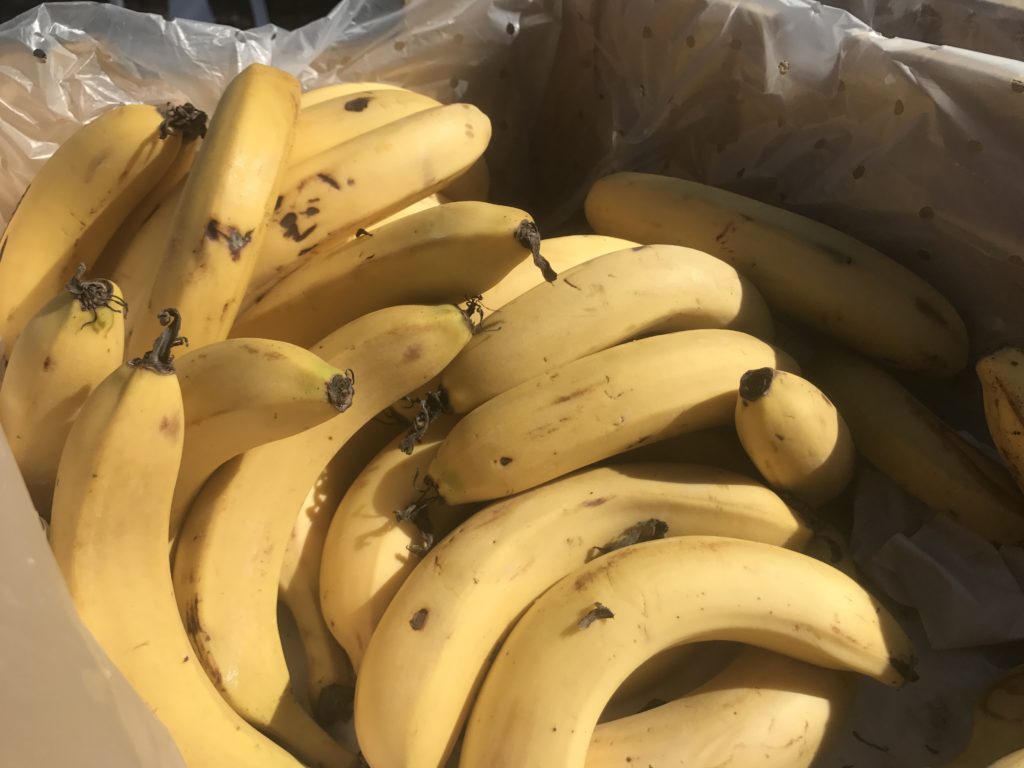 And Glenn Moffat, 53, who works in the New South Wales police force, paid the price, for starting out too fast. He said "I had leg cramps at 30km and had to pull to the side to stretch my muscles. Then I tried to run, it did get better for a little while but then it came back. So I had to endure it and push till the end. It was a big price to pay in the last 12km for starting out too fast."
SLIGHT CRAMP
It felt really great too, to be able to pass runners and actually run to the finish line, whilst seeing the frowns on their faces as they slowly walked or hobbled their way towards completion. It made me feel happy again, that I had started slow and hadn't gotten sucked into a fast start like most runners do.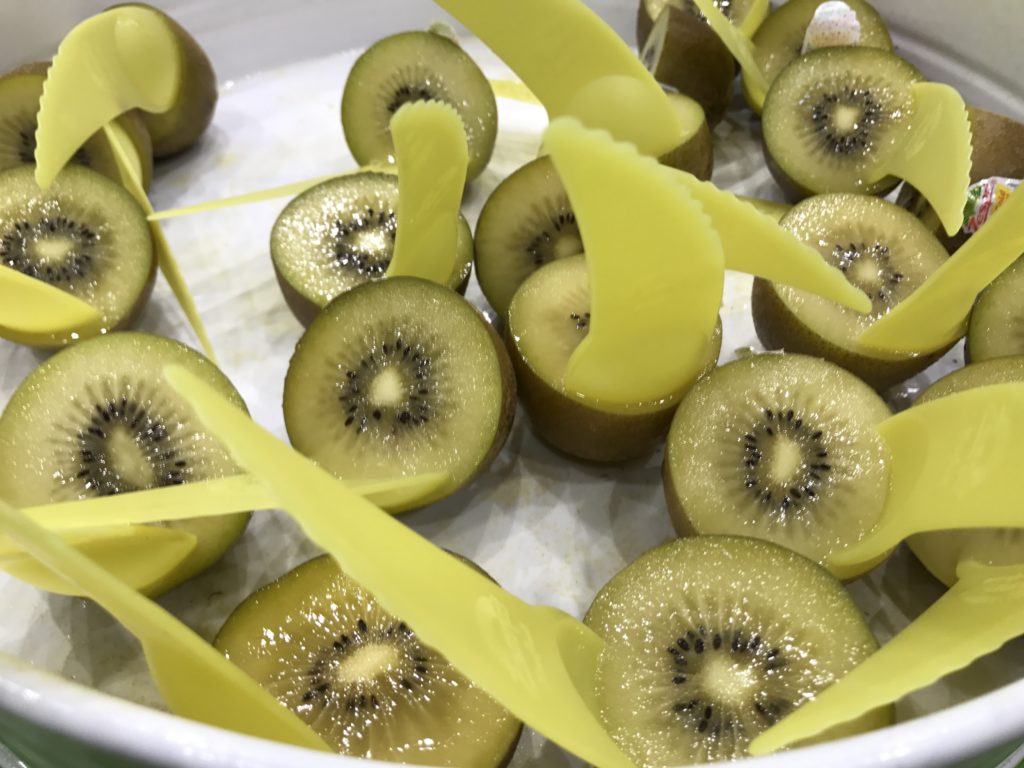 For me, I started to feel a slight cramp in the final 5km of the race. I did wonder whether I had pushed a bit hard. I contemplated taking salt tablet but did not want to waste time opening both my pouch and the Ziplock bag so I just pushed on. At least I could still run. I told myself that the faster I finished running, the sooner the pain would go away. Suddenly the 42.195km "sightseeing tour" did not feel as easy and comfortable as it had earlier been.
So I tried to focus on the sights and sounds and the beachside scenery, in order to take my mind off from the pain. The screaming crowd had been a great help though, I must say. I also told myself to maintain my pace – as my heart rate hit my higher heart rate zones – so I could finish faster. That seemed to work and fortunately I did not develop a full blown cramp; and then I crossed the 40km marker, then the 41km and the 42km one.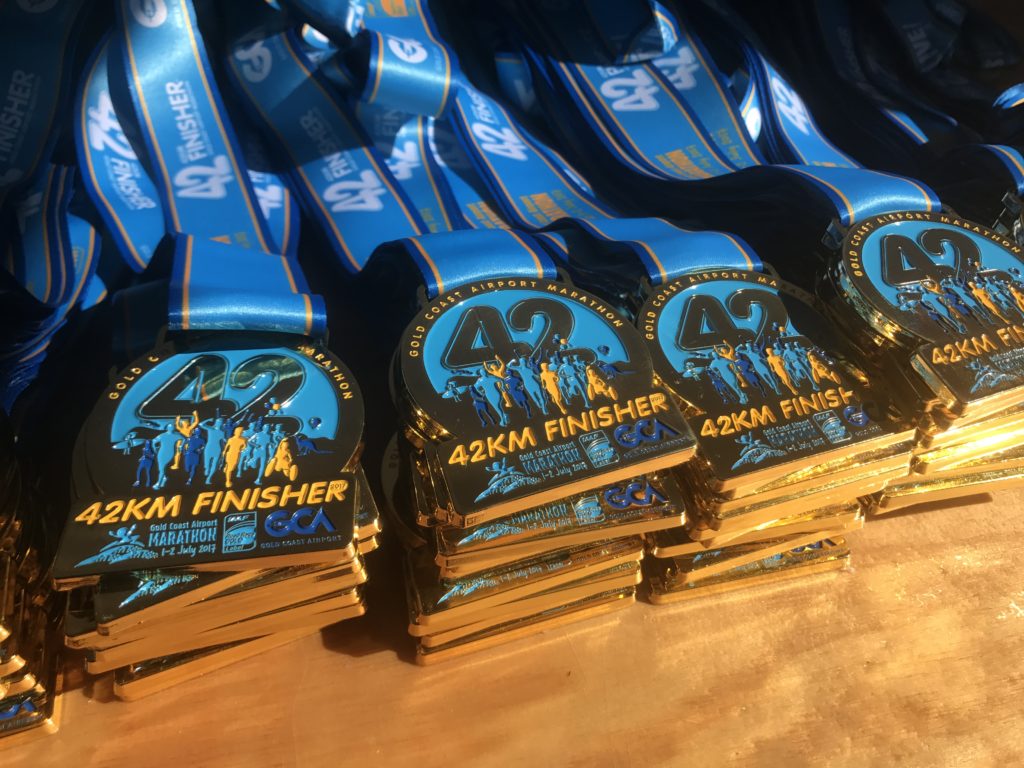 WARM AND FUZZY FEELING OVERCAME ME
Now this was the most amazing part of the race. In the last few hundred metres, it was lined with supporters screaming and cheering to remind runners that we were almost there. I could feel a warm and fuzzy feeling crawling down my back, at the thought that all of these people were cheering me on for coming to the end of my 42.195km journey.
I loved seeing too, how the Australians were coming out in full force to completely embrace their local Marathon race. I think they had also played a huge part in keeping me going and preventing me from walking at any point of the race.
CROSSED THE FINISH LINE STRONGLY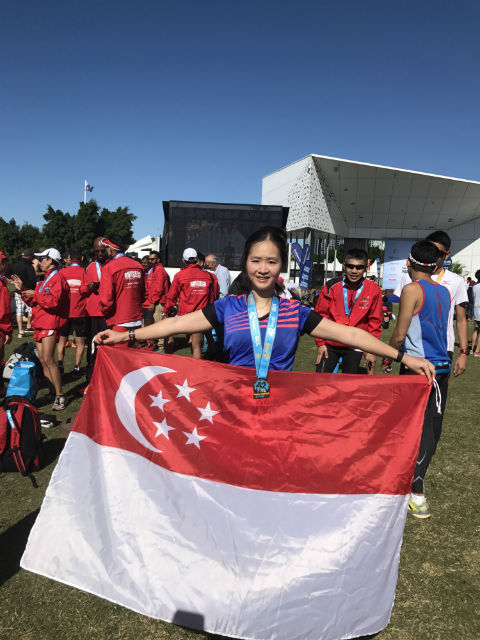 I crossed the finish line strongly, with good negative splits and a new marathon personal best timing by 45 minutes. It had been completely unexpected and I was really happy with my strong showing. I must admit that I was quite surprised with myself too.
My training for the past few months with the Coached running programme had indeed paid off. In fact, my running coach, Ben Pulham, even texted me soon afterwards and congratulated me on my strong showing and a well executed race. Thanks again, Ben for all the training.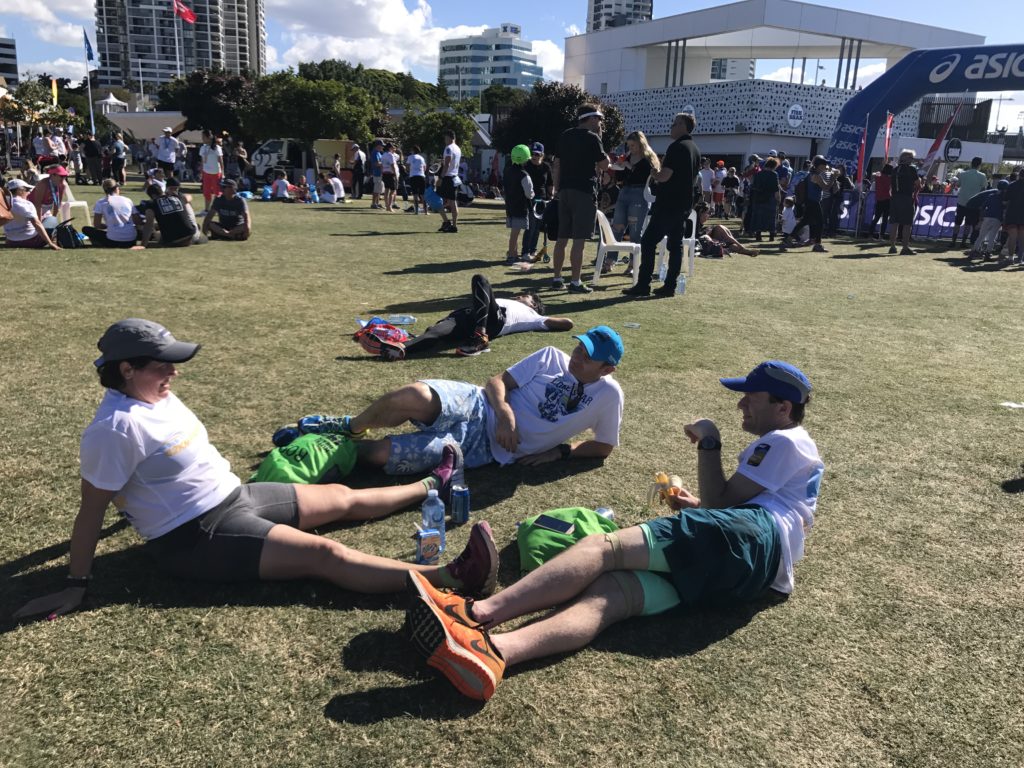 Added Jun "The best part of the marathon was the finish. It was great to have been able to overcome my injuries to complete the marathon. That alone had felt like a victory to me."
POST RACE
Upon completion, I collected my finisher tee shirt and medal, and also helped myself to the free fruit positioned at the end point. There was free bananas, Kiwi fruit and oranges and these were the best and most juicy fruits that I have ever possibly tasted.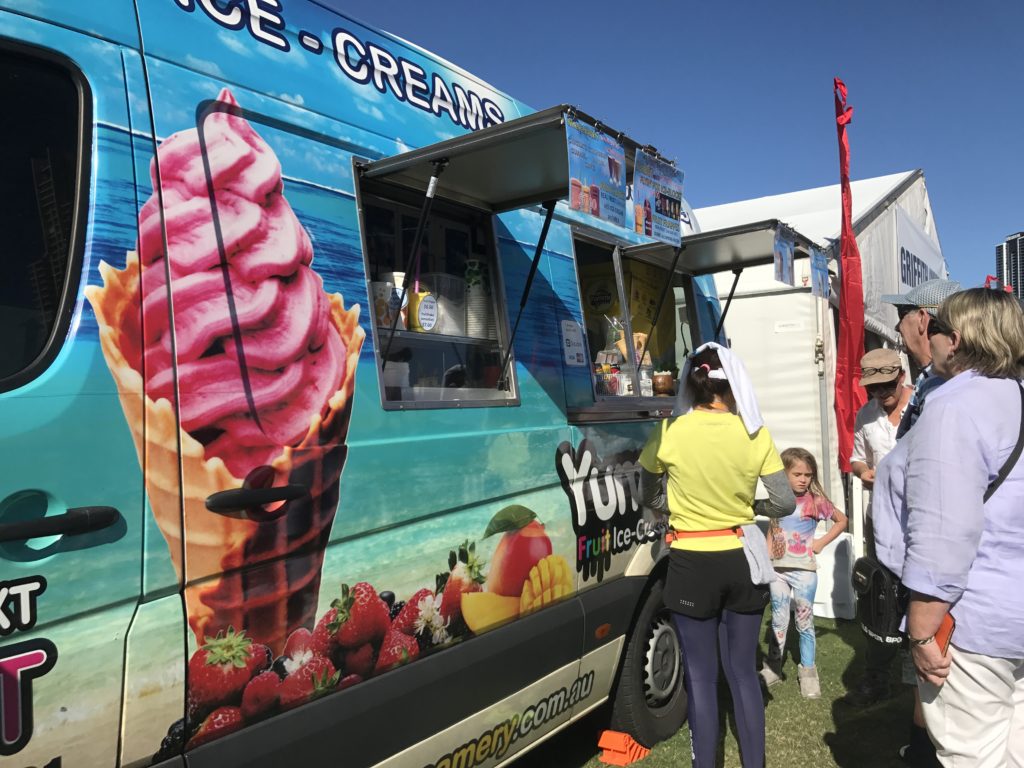 After the race, I took lots of pictures around the race site to immortalise the memories. Some of the Singapore race contingent, including me, came together to take group photos too. And I also came face to face with SpiderMan who had also ran the marathon and took the chance to get a selfie with him. It always makes my day to see these costumed runners.
Runners were also tucking into food such as sausages, burgers, coffee and hot chocolate at the end point, to recharge their batteries and replenish their energy levels after their run.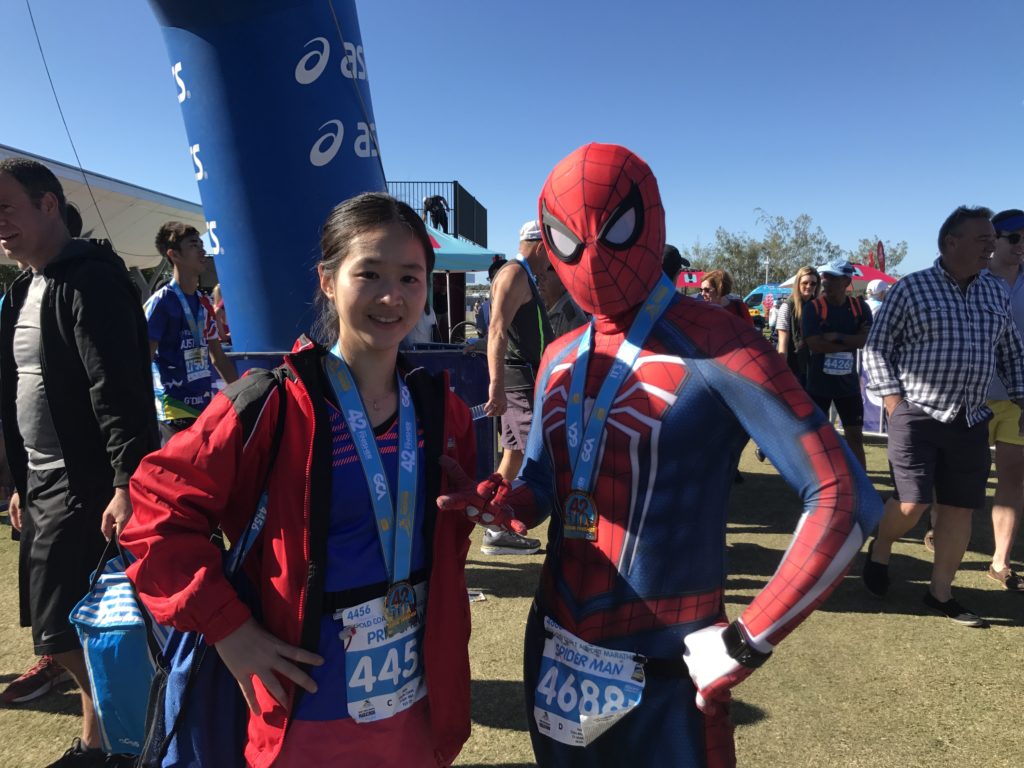 A PLEASANT RUNNING EXPERIENCE
Overall my Gold Coast Airport Marathon 2017 experience was a really pleasant one and I will take the happy memories back to Singapore with me.
Added Glenn, "The organisation of the race was beautiful. There is so much work involved in getting the volunteers to help out and closing the roads to traffic. So it is good that they hold this event every year."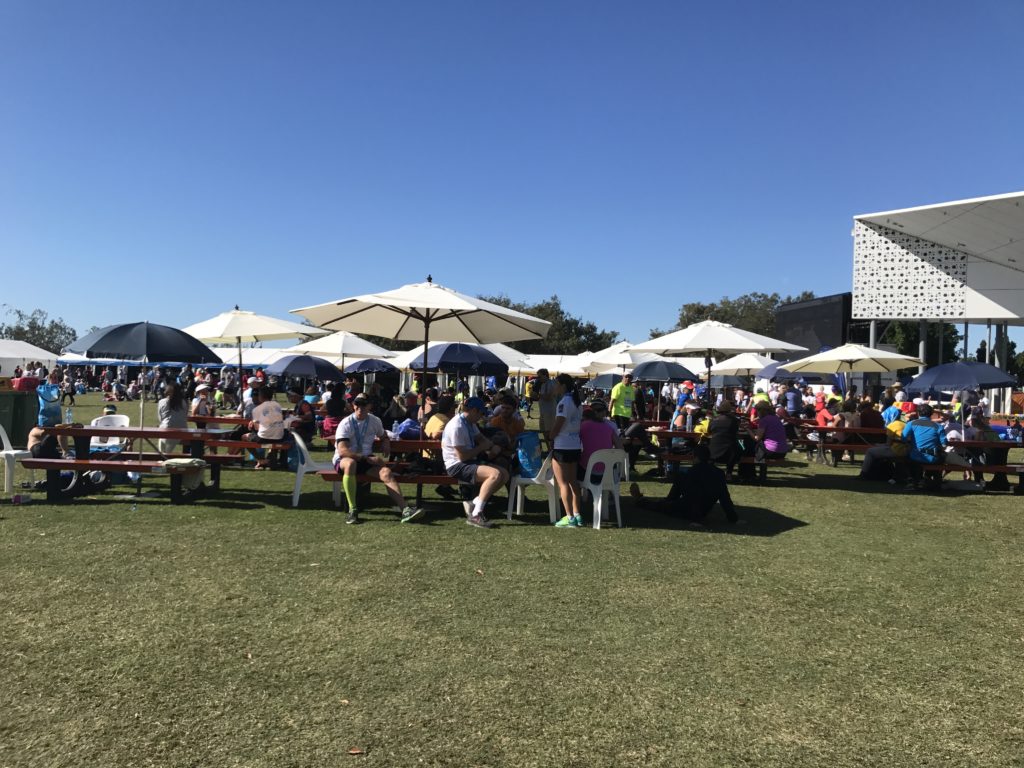 There had been more than 1,200 volunteers helping out at the 2017 event, together with medical personnel, event organizers and race sponsors.
The 2017 race is Glenn's second consecutive Gold Coast Airport Marathon; his first full marathon had been at last year's event.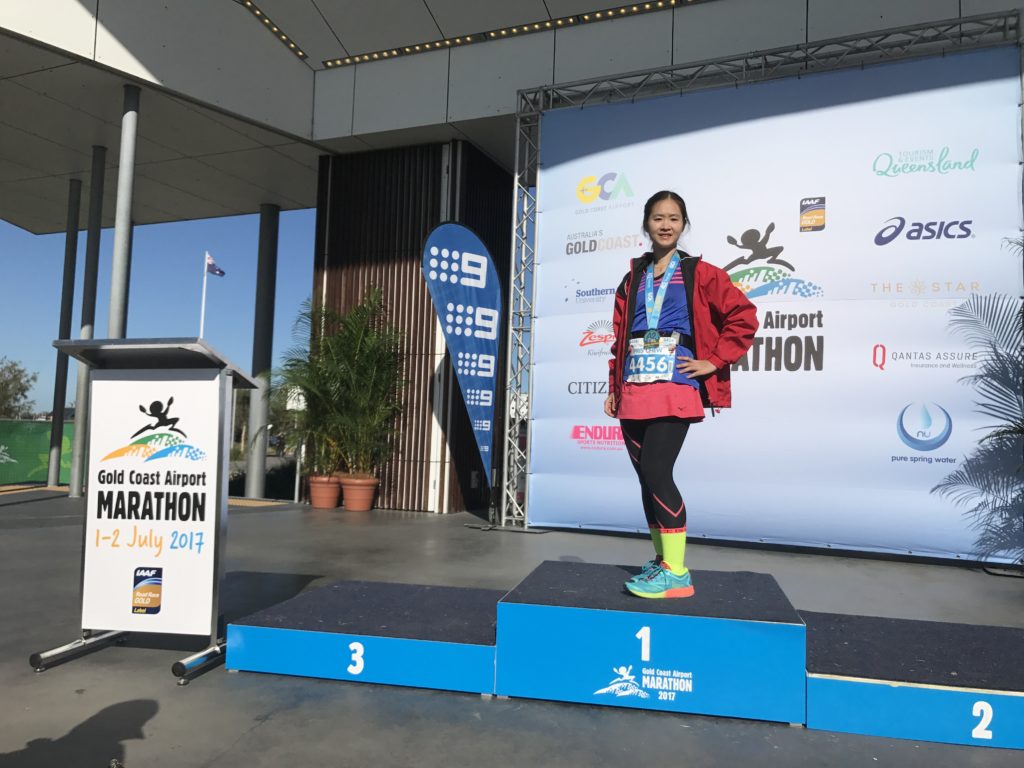 And added Noah "Overall it was a fantastic experience, but it would have been nice if the race village could have been more sheltered from the noon sun, though."
As Noah had pointed out, it has been fairly warm at the race village after the run, with temperatures hitting about 21 degrees Celsius and the burning sun probably bringing that up by a few notches, too.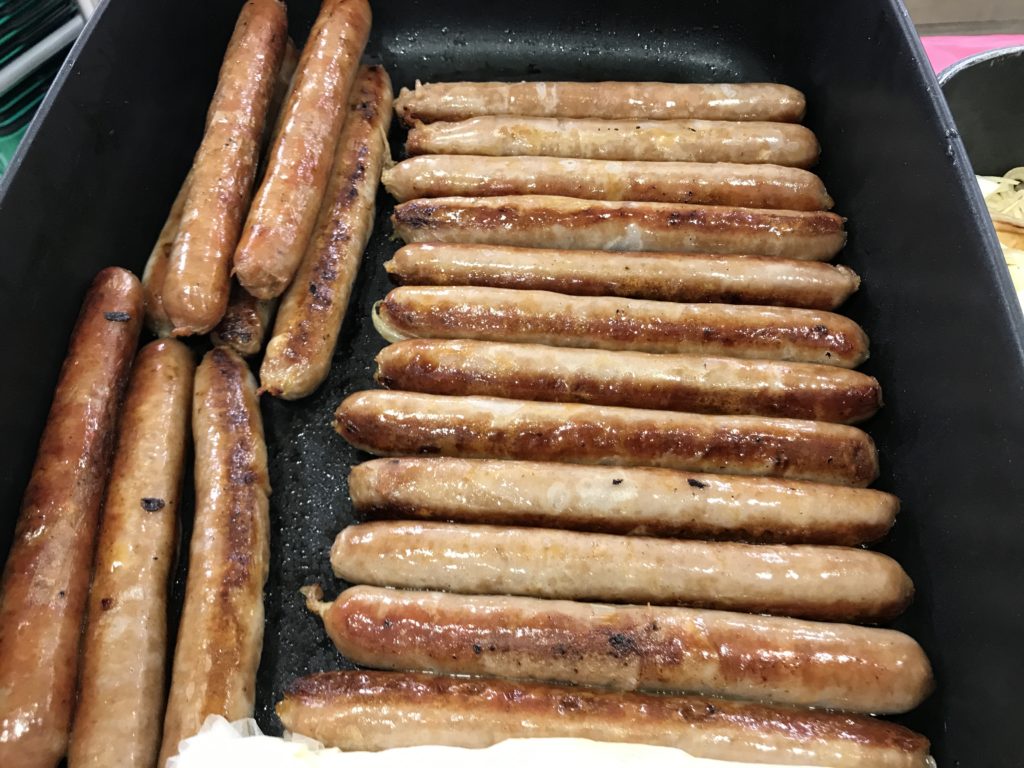 But I still look forward to coming back to run again in the Gold Coast sometime.
GOLD COAST IS HAPPY WITH THE RACE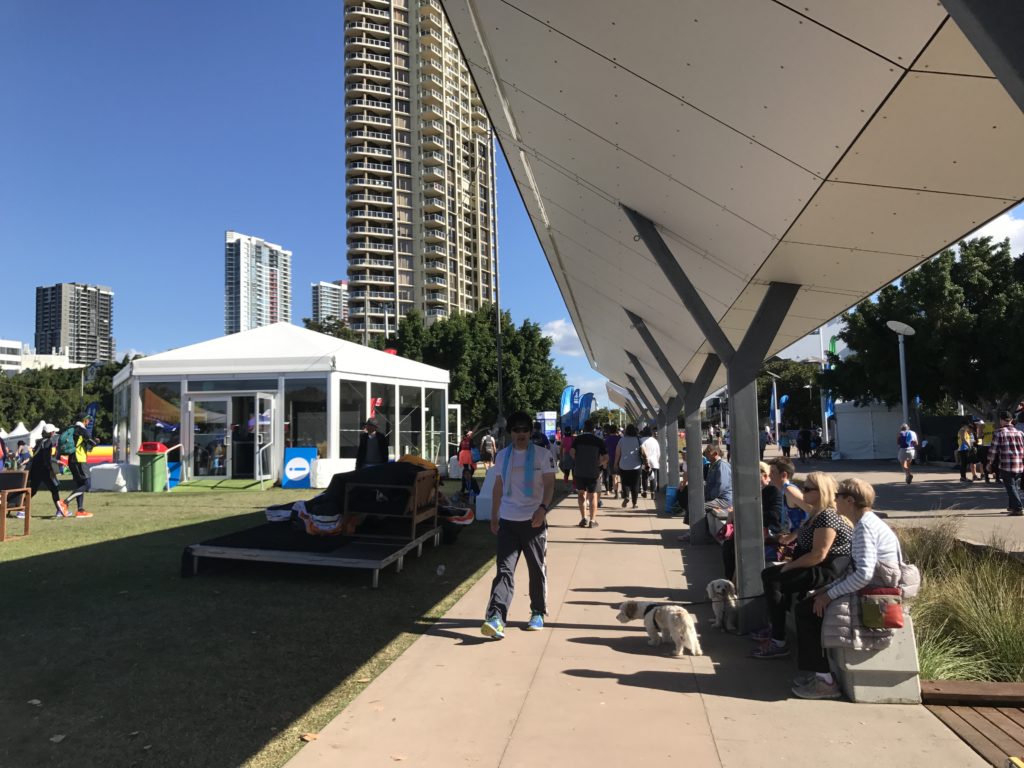 The Gold Coast is also happy with how the race went. Said Kate Jones, Minister for Tourism and Major Events "This weekend's Gold Coast Airport Marathon had been another great edition of this major event for Queensland, providing joy to tens of thousands of participants and supporters from many different countries and delivering on our commitment to secure events that generate the best tourism opportunities for our State."
She added "The Gold Coast Airport Marathon has been a wonderful showcase of the Gold Coast's capacity to deliver major events ahead of next year's Commonwealth Games."

Other GCAM17 Blog Posts
Garmin Legends Lunch @ GCAM 2017
Run Tips from Yuki Kawauchi & Kenneth Mungara
Share this page with your friends!