An estimated 8,000 runners took part in either the 6km or the 12km category at the Puma Night Run at the Seletar Aerospace Park last Saturday evening, enjoying a running route that is not commonly used in running races and then afterwards, tucking into a myriad of delicious pizzas, bowls of rice with meat such as spicy chicken, seared salmon and smoked duck and then playing games and doing other fun activities at the post race village as a reward for their hard running efforts.
Click here to view the Puma Night Run photos.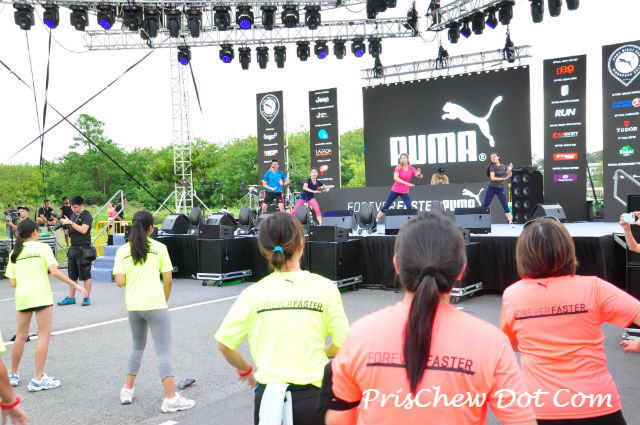 As well, a host of celebrities participated in the run too, including South Korean actor Lee Jae Yoon, who made his acting debut in the 2005 television drama Nonstop 5. He was joined by local celebrities Dawn Yeoh, Shane Pow, Sheila Sim, Xu Bin and Zhong ZiJie.
To get the adrenaline pumping for the runners, there were also performances by chart toppers O.K. Ready! to deep house music with ghostly abstract vocals by Jasmine Sokko, together with celebrity hosts Jade Seah, Sonia Chew, ZOUK resident DJ Ghetto and hype man Sonorous, who took turns to take to the stage throughout the afternoon and late into the night.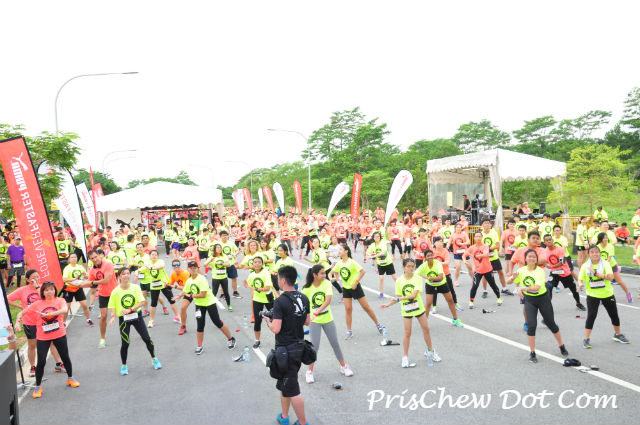 Took part in the 12km run
Thanks to both the Arsenal Singapore Fan Club and Puma, I had the chance to take part in the 12km category.
As the flag off for 12km was at 7pm, I took a cab to the starting line near Seletar Aerospace Drive, and reached the race village at about 6.15pm and the first thing I then did upon arrival was to collect my media pass.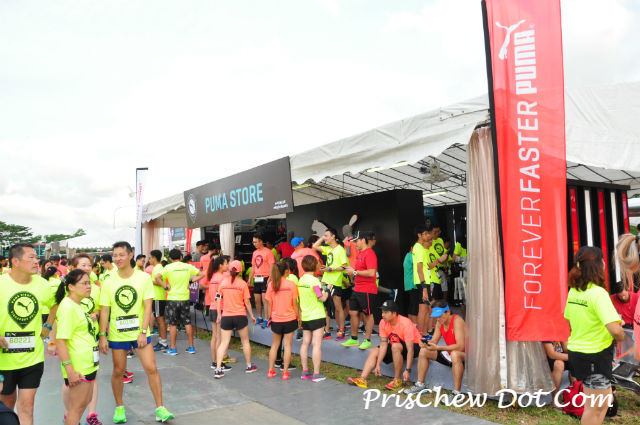 I had originally thought of getting a shuttle bus ticket from the Punggol MRT Station to the race site, but at $5 per ticket, I felt that it was not really worth it, as it takes quite a bit of time for me to travel to Punggol, in the first place.
Race village was crowded
To my surprise, the race village had been already rather crowded when I got there, but fortunately the venue was spacious enough for me to still walk around and take a quick look at the numerous booths available without feeling claustrophobic at all.
It all looked pretty interesting and appeared to be loads of fun. I queued up to get myself a free LED wristband before then making my way to the start pen at about 6.40pm.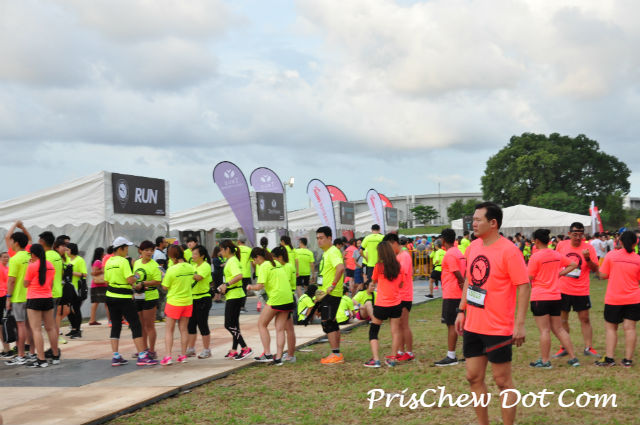 I had later found out that the race village had opened from as early as 3pm for the runners.
Prior to flag off, some of the DJs hyped up the crowd by throwing light sticks into the starting pen. As soon as this happened, everyone desperately tried to grab these. And I managed to get a pink one for myself.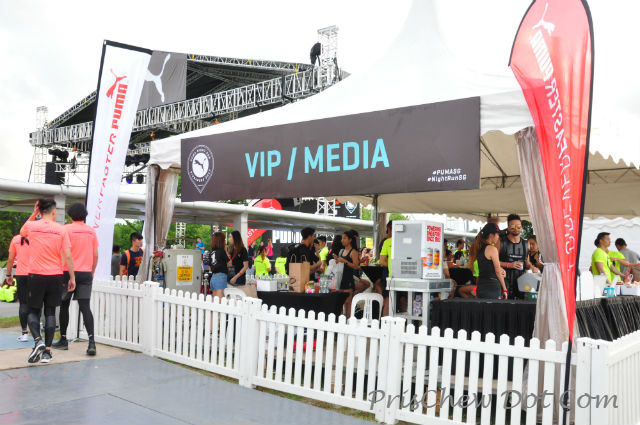 Route was unique and different
The race flagged off a couple of minutes after 7pm. The route was quite interesting and one that I would definitely not have run, if it had not been for the Puma Night Run. It took us all the way down Seletar Aerospace Drive before the 12km runners then ran down Seletar West Link, where the Seletar Airport is located. This was the most interesting part of the run because I actually got to see a plane taking off as I was running past.
There may have been a couple of very gentle slopes, but otherwise the course had been very flat and easy to run as a result.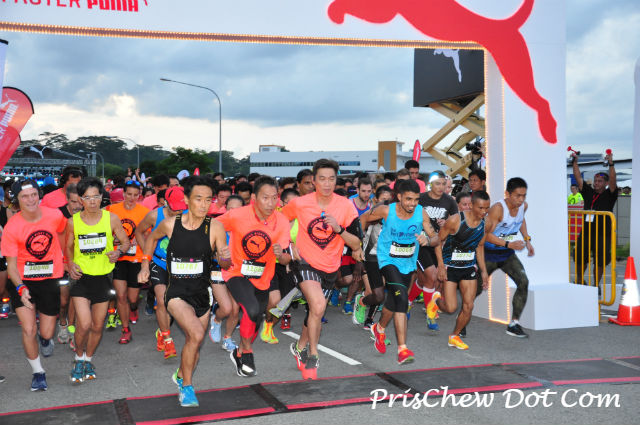 Said Antony Szafranek, 39, the Vice President of Rolls Royce, "It was not a common route, but was a nice, unique and new running route."
However I also did think that the route was quite loopy; but then again, as Seletar is not a huge area as compared to say, Marina Bay or Raffles Place, so this probably could not really be helped.
I took the run at an easy pace, at between 6.30-7.00mins/km and resisted the urge to speed up in the second half because I didn't want to push myself too hard; this was a fun run for me, after all. I also wanted to take in the chance to soak up the scenery and purely enjoy the atmosphere.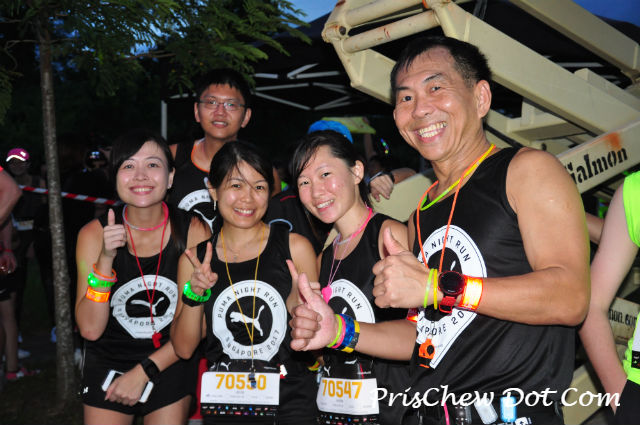 It had been quite cool running with the light sticks too. As the sun disappeared beneath the horizon and day became night, the light sticks from all of the runners and the brightly lit lamp posts had illuminated the way for us all.
It was great fun; the overall mood had somewhat felt like I was both partying and running at the same time.
And this is something that I would not typically get to experience at early morning races or at the more serious running races.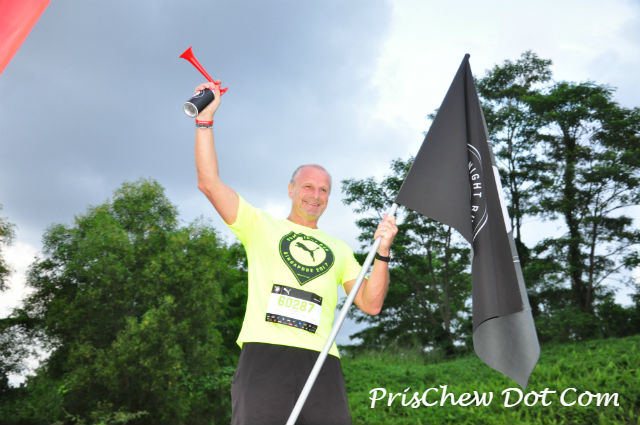 Congestion
However there were some parts along the route that I had thought were quite congested. Fortunately for me, I had been near the front, so I had been still able to maintain a slow jog at these points and did not have to stop to a crawl, but the people at the back of the pack would probably have had to walk though.
Added Esther Chia, 34, a desk assistant at a bank, "The running route was nice and flat, but was quite congested at certain places. Perhaps the route could be widened for future editions of this race."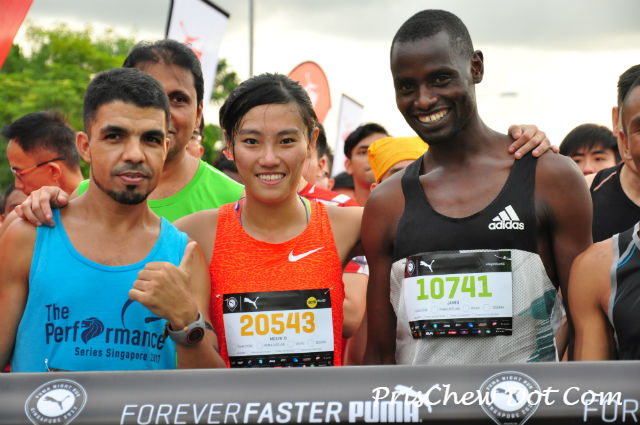 And Ho Qiu Yu, 28, a civil servant, agreed. She said "The route could have been wider and less congested."
Stopping to make way for traffic
A few times along the way, we also had to stop to make way for oncoming traffic. The marshals did a good job in terms of controlling the runners and stopping the cars from going past, but it might have been a bit disruptive to the runners, though.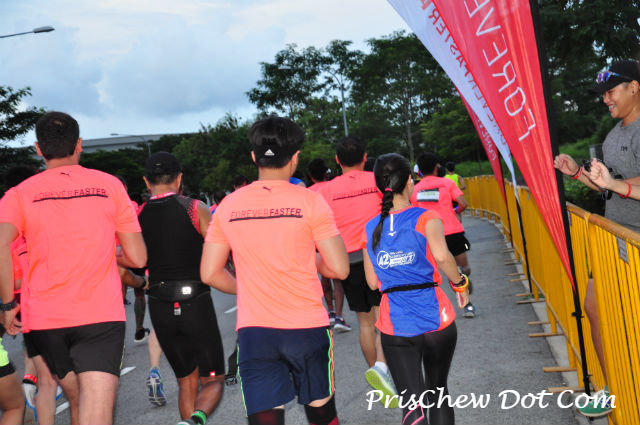 Agreed Antony, "On a few occasions we had to stop for traffic. That was a bit disruptive, but apart from that, the route was very good."
No isotonic; only water
Along the way too, I noticed there was no isotonic drinks provided; only water. I took some of the water to hydrate myself, but I think that it would have been more refreshing to have had some sugar to give me some more energy to replace my glycogen stores, as I was running, though.
I thought that there were enough hydration stations though and these were spaced at about every 3km.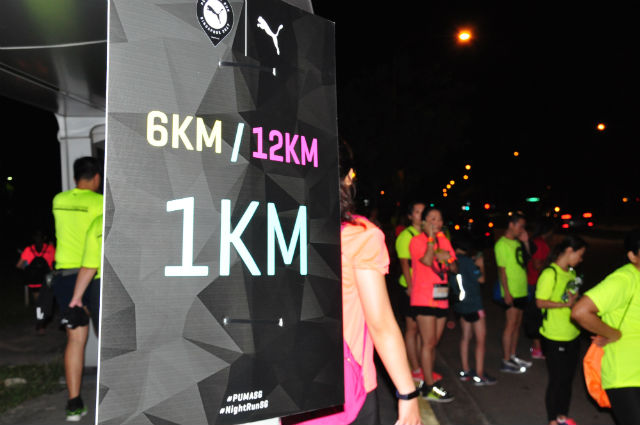 But Antony begged to differ; he said "The route could do with more hydration stations for the runners."
Finishing the race
In the final few kilometres of the race, I caught sight of the 1hour 20minute pacers with their loud whistles and body decorated with LED light wristbands. I sped up a little bit. I admit that part of me was tempted to chase them down, but I held back, not wanting my heart rate to completely shoot through the roof.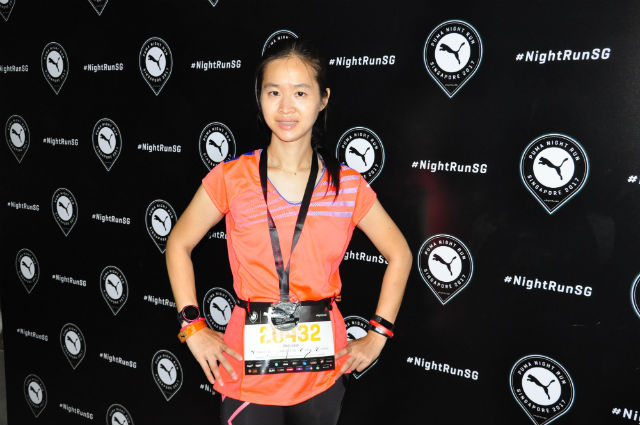 I must say that the run was an enjoyable one though, and when I crossed the finish line, I found myself eager to have a good look at the race carnival to get some food to eat and also to participate in some of the fun activities there too.
Race Carnival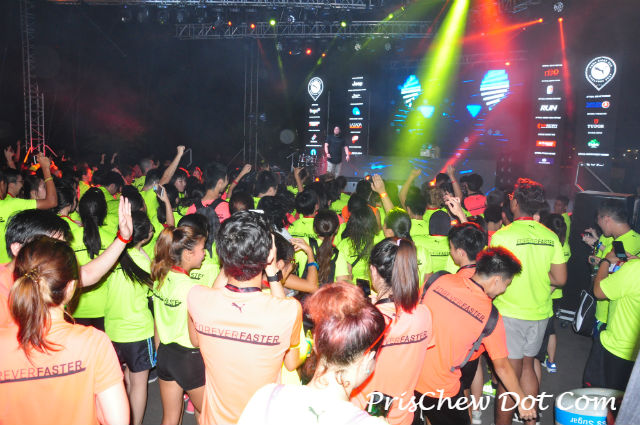 At the carnival, there was a simple game where we had to visit four of the sponsor booths, and at each one, we were required to do a simple activity, such as posting a photo on Instagram, and we would get a sticker upon successful completion of the activity.
I took part in these activities for fun.
Then when we had accumulated all of the four stickers, we could redeem a free pair of LED shoelaces. I took a pink one for myself, and I thought these shoelaces were really interesting. At the same time, they also help to keep runners safe during night runs with the blinking lights that they emit.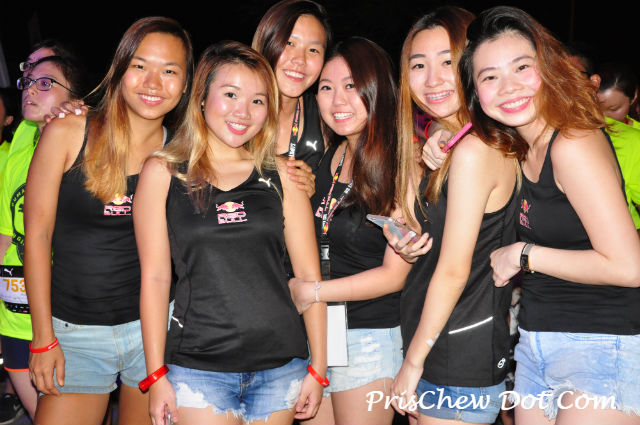 And now I really can't wait to replace my regular shoelaces with these in order to jazz up my running shoes.
Plenty of Food
There was also lots of food available at the race village courtesy of both DoSiRak and Domino's.
I ordered a DoSiRak rice bowl at the race village for my dinner and this had been so delicious that I had polished it all up. Or perhaps it was also because I was feeling quite hungry after my run.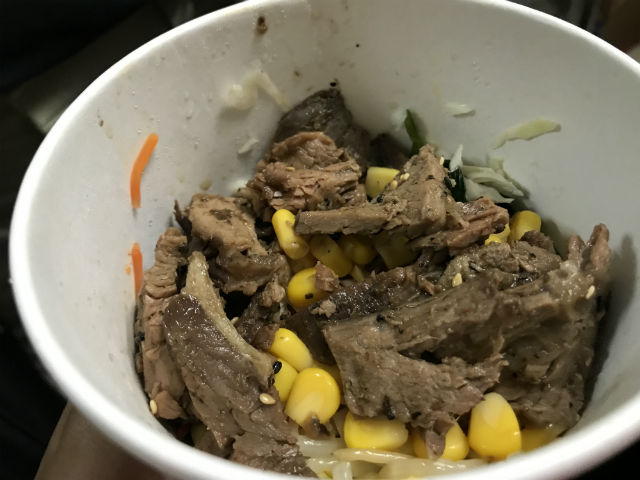 But after my run though, I had been craving for some sugar. Due to a lack of the isotonic drinks along the route, the lack of glycogen was starting to affect me too as I was feeling a bit dehydrated and fatigued.
Unfortunately the only drinks that I could see left behind in the media tent after my run, were water and Red Bull. I have never been able to drink Red Bull as this beverage unfortunately does not agree with my stomach.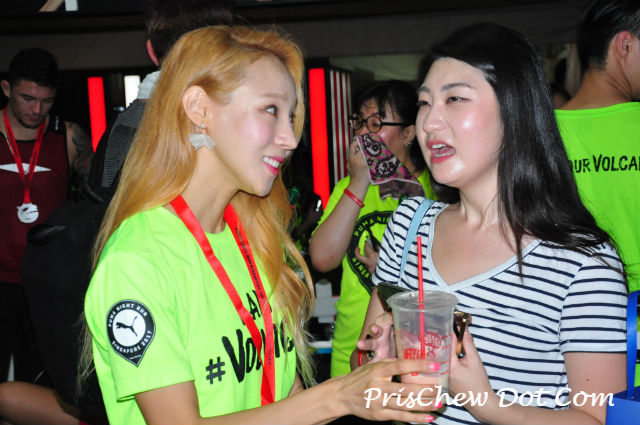 LiHo Bubble Tea
There was supposed to be bubble tea drinks from LiHo too, but when I had finished running, the supply of these drinks in the media tent was completely gone. This would have been the perfect drink to replenish my lost glycogen stores and also satisfy my sugar craving.
So I had then tried to ask the officials for some help in getting me one, but according to the officials who were looking after the VIP tent, there had been a limited supply of LiHo drinks that were given out for free – for the media and VIP guests and once these had ran out, there was apparently nothing that they could do.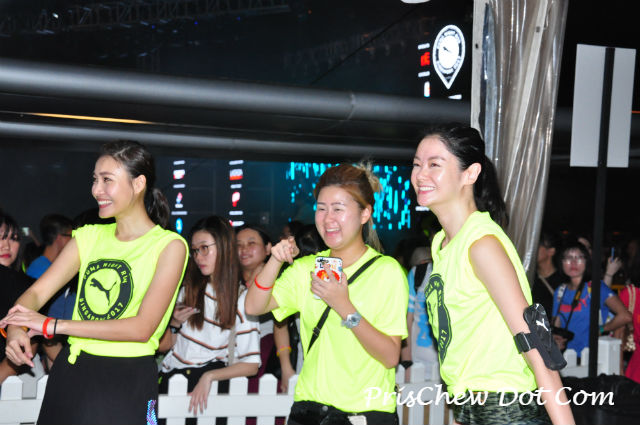 However the organisers from Puma had been really helpful though. They approached me and asked what I wanted, then they took me to the LiHo booth at the race site, and bought a drink each, for both me and my photographer. I was really grateful and appreciative to them for the gesture and I must really thank them for doing this. I must say that Puma really looks after their guests.
And after drinking the bubble tea, I could feel more energetic and less fatigued. It had really helped.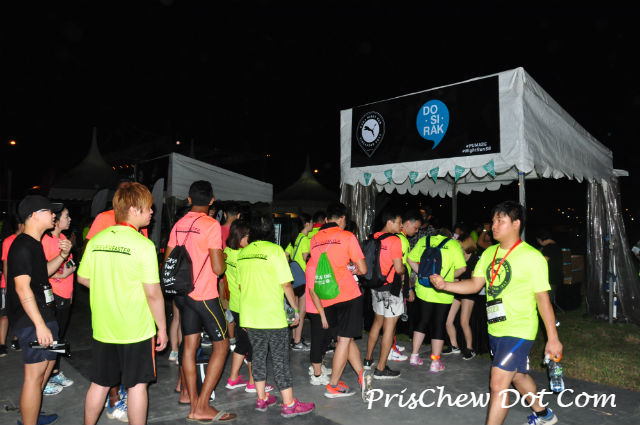 I think that it may have been more helpful if the supply of LiHo drinks could have been controlled within the media tent. They had been completely free flow and people were allowed to take as much as they wanted.
But if there had instead been a person standing there to hand out the drinks – as there was for the Red Bull drinks – the slower media runners may have still been able to enjoy a LiHo bubble tea after running.
Taking a photo with Lee Jae Yoon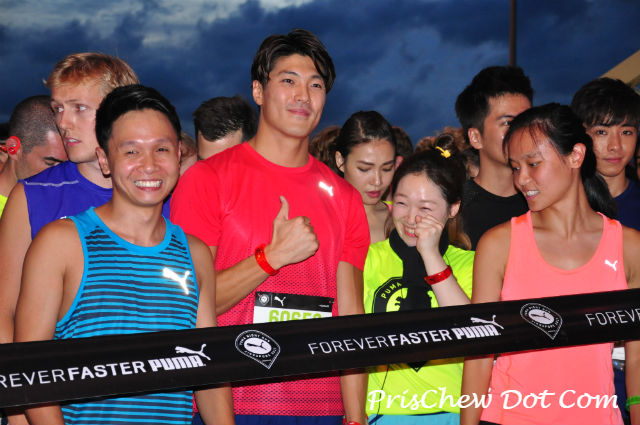 As well, I also had the chance to approach Lee Jae Yoon for a photo whilst he was in the media tent and that made me feel quite lucky to have had the chance to do so.
Qiu Yu was also quite eager to get a photo with the actor. She said, "I am trying to find Jae Yoon! I never saw him when I was running though but I definitely knew that he would be here today."
When she had been told that he had earlier been hanging around at the media tent, Qiu Yu quickly added that she would then stand near there in order to get her photo with him.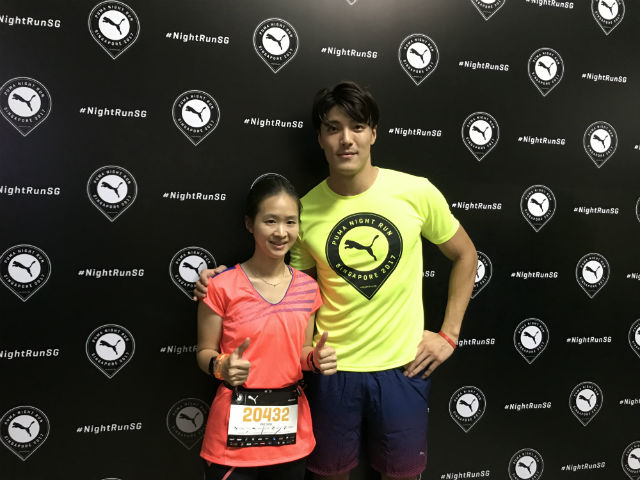 I do hope that she had managed to locate him in the end.
Post race entertainment was great
The post race entertainment was great; the music was infectious, lively and energetic and it really helped to liven up the mood and hype up the crowd. I could see that even after running, everyone was feeling energetic enough to dance the night away.
In fact I had even found myself tempted to head down to the dance floor myself, too.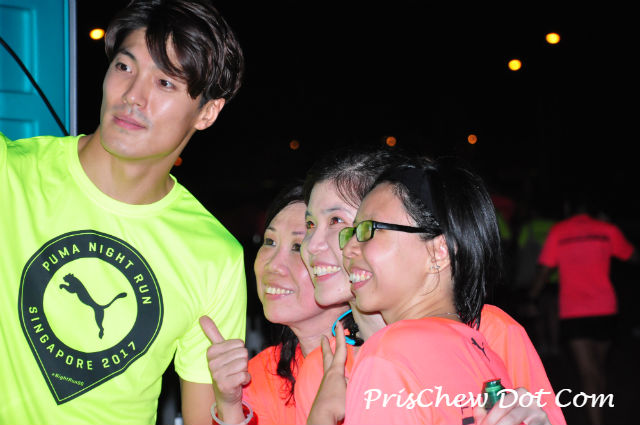 Said Esther, "I loved the music! It was really great."
Night concluded with a lucky draw
The night concluded with a lucky draw where runners stood to win the top prize of air tickets to any destination of their choice kindly donated by Turkish Air.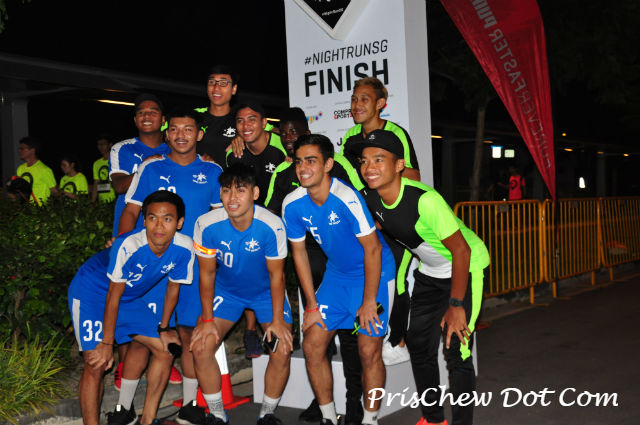 I may not have won any prizes in the lucky draw, but it had been a great night out at the Puma Night Run, all the same, and I had really enjoyed the experience as a whole.

Click here to view the Puma Night Run photos.
Share this page with your friends!