More than 7,000 runners took part in the ninth edition of the Yellow Ribbon Prison Run 2017 this morning, raising more than $123,500 for the Yellow Ribbon Fund.
Click here to view the Yellow Ribbon Prison Run 2017 Photos.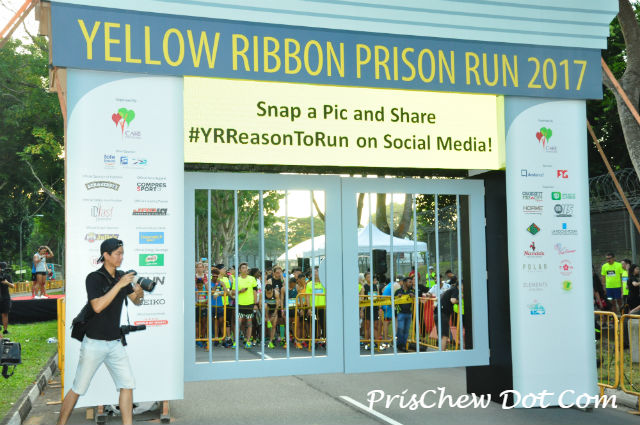 Annual run aims to spread the message to promote a more accepting society
The annual Yellow Ribbon Prison Run, which consists of three categories – a 5km individual fun run, a 5km 'Run for Second Chances' team run category and a 10km competitive run – aims to spread the message to promote a more accepting society, one that is willing to give ex-offenders a second chance at making good. It is important to unlock the second prison for the ex-inmates upon their release from the physical prison.
Each year, more than 9,000 ex-offenders are released from prison, but they still have to live with the stigma of having spent time behind bars and this can be more punishing than the prison sentence itself as it comes with suspicion, mistrust and discrimination against the ex-offenders.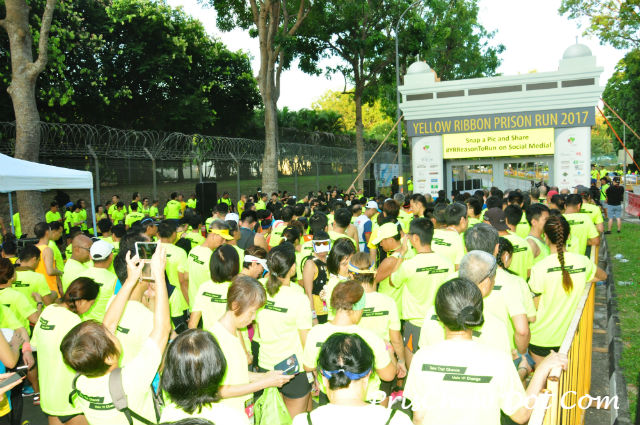 This is a cause that I believe in, because I feel that if the ex-offenders have already served their sentence in prison, then why should we continue to judge them on their past mistakes? Surely we, as a society, should learn how to forgive and forget and truly give them the chance they deserve, in order to turn over a new leaf.
Agreed Kwek Joon Keng, 35, Project Manager in the construction sector, "Everyone makes mistakes at one time or another in their lives. If they are willing to repent and if they have already received the punishments they deserve, they should be given the chance to look forward and move on with their lives, without the social stigma that would follow them throughout their lives."
Return of the 5km 'Run for second chances' team category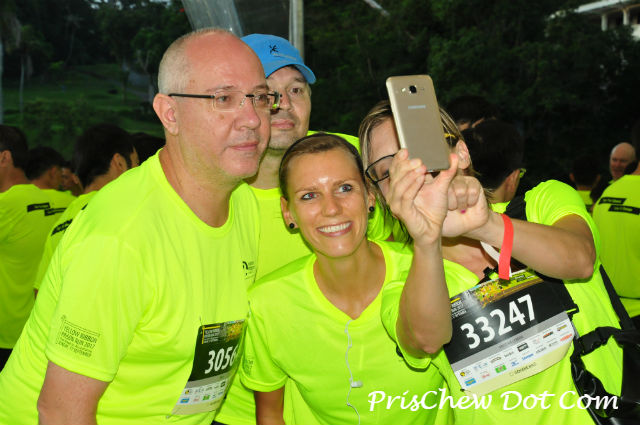 The event's 5km 'Run for second chances' team category, which had been making a return for the second year running, gives the ex-offenders the chance to run with those who had supported them in their revhabilaiton process. This year the category was open to public registration too, with 200 teams signing up to take part.
Said Superintendent of Prisons 1A, Chin Soon Theen, Chairperson of the Yellow Ribbon Prison Run 2017 Organising Committee, "With the Run for Second Chances category open to the public this year, we hope to encourage more members of the community to come together in acceptance and support of ex-offenders. The rehabilitation journey is full of challenges, but the support form the community has the power to make a positive difference."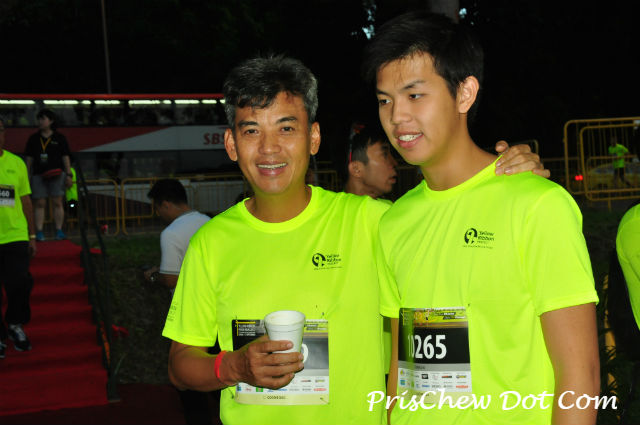 Guest of Honour for the Yellow Ribbon Prison Run
Deputy Prime Minster and Coordinating Minister for National Security, Teo Chee Hean, had graced the occasion as the Guest of Honour and also flagged off the 10km run.
Participated in the 10km race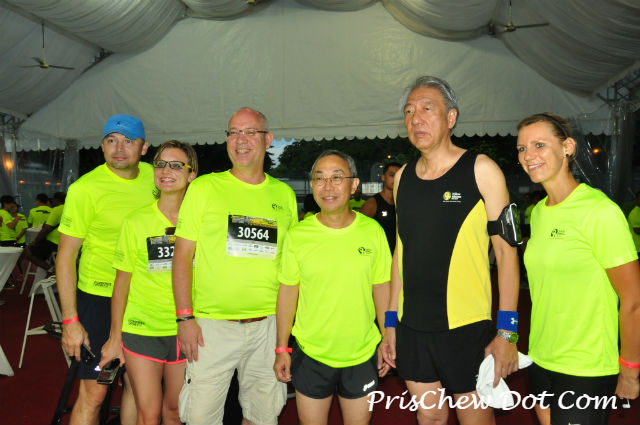 I took part in the 10km competitive run as one of the social media advocates for the Yellow Ribbon Project. The run had flagged off at 7.15am from the SAF Field, Farnborough Road, located near Changi Village.
The 7.15am start time for the 2017 event had actually been slightly earlier than previous years; the 10km run used to flag off at 7.45am.
Said Joon Keng, "The organiser had thought of the needs of the runners and brought forward the starting time to reduce the time we have to be exposed to the scorching sun and allow us to enjoy the run."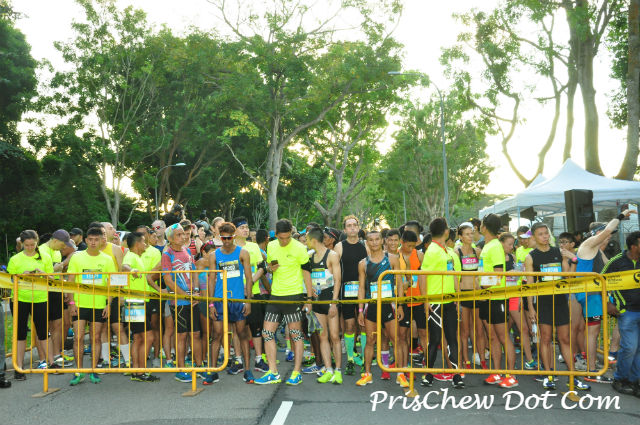 However I had thought the start time was still a bit on the late side; I would have actually preferred a 10km race to flag off before 7am in order for most runners to be able to avoid the heat during their run.
Getting to the start line
To get to the start point, my running friend had picked me up from my place at about 6.15am this morning. So this meant that I did not need to wake up as early, in order to take the shuttle bus down from the Expo.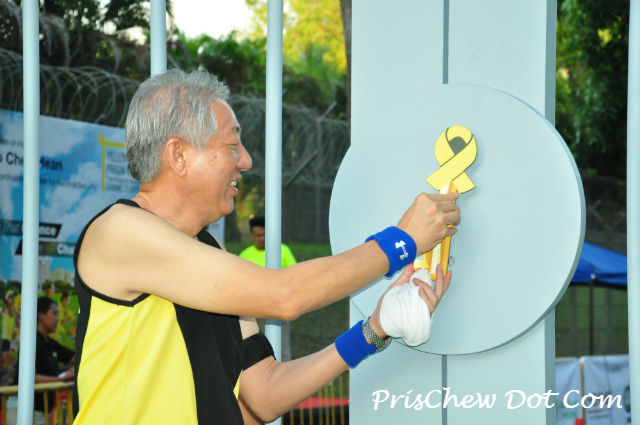 When I reached the SAF Field, I had a look around and took a couple of photos before making my way into the starting pen.
Baggage Deposit Service
There had been a baggage deposit service available for runners, but I did not need to make use of it this time around, thanks to the Keeperband™ shorts that I had been wearing this morning, complete with its large pockets to store my valuables.
Perhaps this was a good thing; I had later heard feedback from some runners that they had to wait for more than half an hour to collect their bags after the run.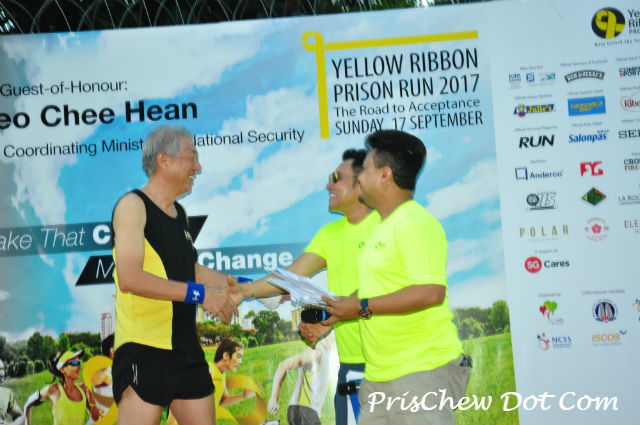 The baggage service, which made use of trucks to transport runners' bags from the start line at the SAF Field to the end point at Changi Prison, is like a lottery. This means that if you are lucky, you will get your bags placed onto a less crowded truck and won't have to queue to retrieve it.
But if you are not so lucky, you will find that the truck with your bag on it, is the last one to arrive at Changi Village, and so you will be waiting for a long time to collect your bag. It may be better if the bags could have been spread out more evenly on the trucks to reduce the waiting time for runners to pick up their bags.
Unlocking the prison gates to signify the start of the run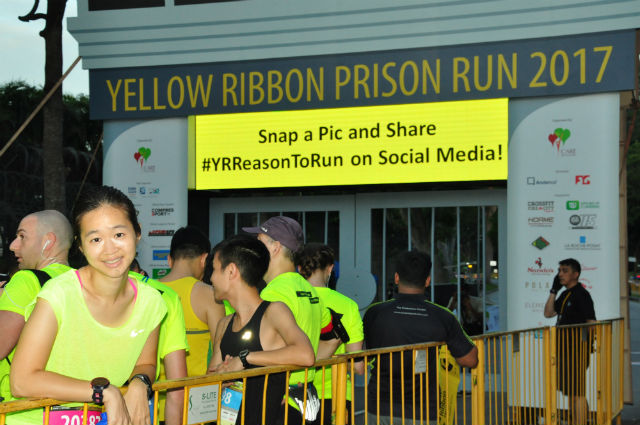 The start pen was not too crowded. So I made my way towards the front so that I could see what was going on at the start point. There was a warm up session to get the runners's blood flowing and their muscles activated prior to the run.
This was then subsequently followed by a physical gesture of unlocking the "prison gates" at the start line to symbolise the start of the run – a large inflatable key was passed down from the back to the front of the start pen, and when it reached the front, Minster Teo used it to "open" the gate. I thought this was quite meaningful. And once he had done this, the 10km run began.
Started at a Steady pace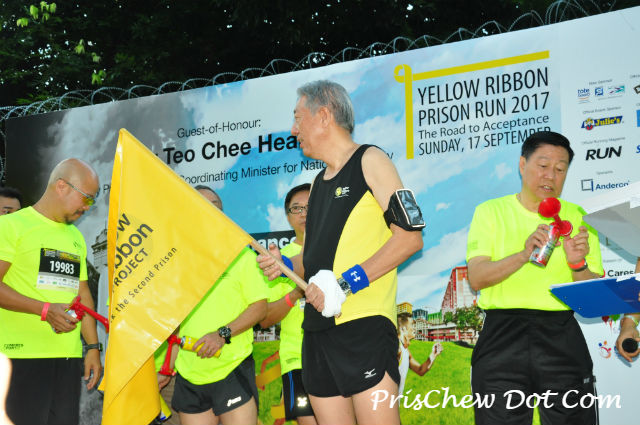 Well aware that the race route involved lots of rolling hills, I started the run at a steady pace, with the original aim of keeping my heart rate in the steady zone throughout the run.
Despite the hilly terrain though, the route was a meaningful one that included historical sites such as the Johore Battery and Changi Chapel Museum. As well, runners also passed through the gates of the old Changi Prison wall, which were gazetted as a National Monument in 2016.
Enjoying the scenery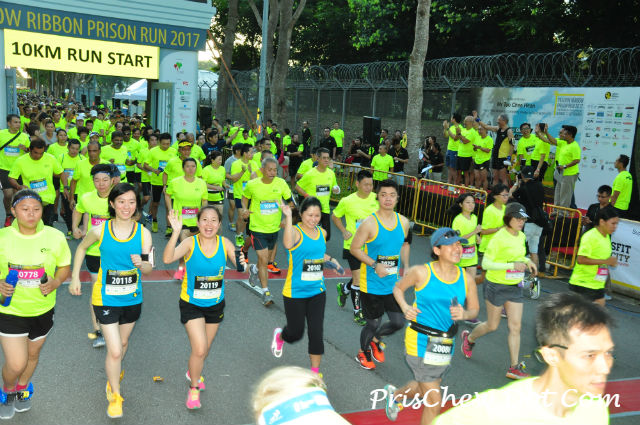 The first couple of kilometres went by quite quickly and I took the chance to look at the scenery as I was running. I rarely come to the Changi area to run, so it was a rather nice place to explore.
Said Joon Keng, "The scenic view along the hilly terrain in the far eastern part of Singapore that we normally would not have a chance to see, was great."
Then shortly before the 3km mark, the rolling hills started and it continued all the way till the end of the run. My heart rate was climbing as I ran uphill, but I concentrated on bringing it back down again, whenever I ran down each hill.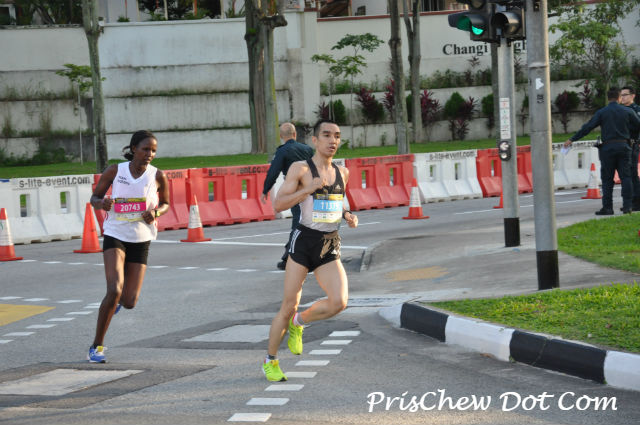 Lots of water and Lucozade
Along the way, there was lots of water and Lucozade to hydrate the runners and the hydration points were located roughly every 2km apart. There were more than enough drinks to go around, in my opinion.
Said Joon Keng, "There were water points at almost every 2km; this provides runners the needed hydration in this hilly terrain where the sun can start to get scorching halfway through the run."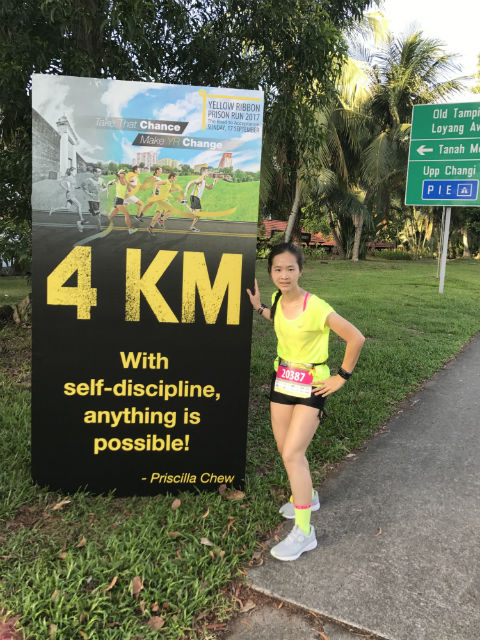 Added Jamie Loh, 36, who works in Sales & Marketing in the pharmaceutical line, "There was enough hydration; I think that it was more than enough for a 10km race."
However Sonia Kolesow, 53, a teacher at a local primary school, felt that paper cups would have been better than plastic cups at the hydration stations. She explained, "Paper cups would be more environmentally friendly, but otherwise, everything else about the run had been great."
Cooling zone was welcome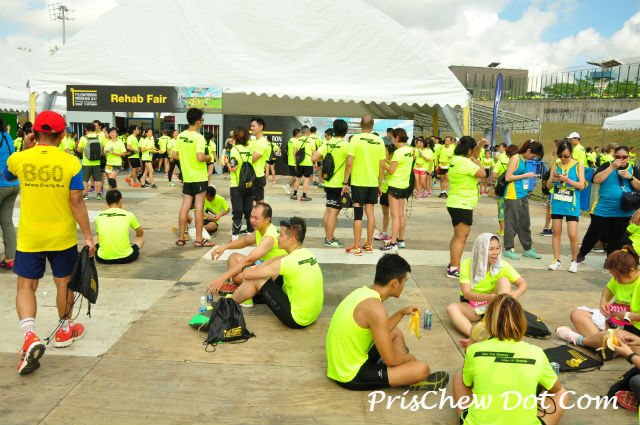 Around the 4km mark, there was also a cooling zone for runners to run through. This was definitely very welcoming to me, as I was perspiring quite a lot and feeling quite sweaty as I had continued running.
Added Joon Keng, "The mist tunnel was useful in cooling us down, so that we could carry on with the next part of the run."
My motivational quote and other signages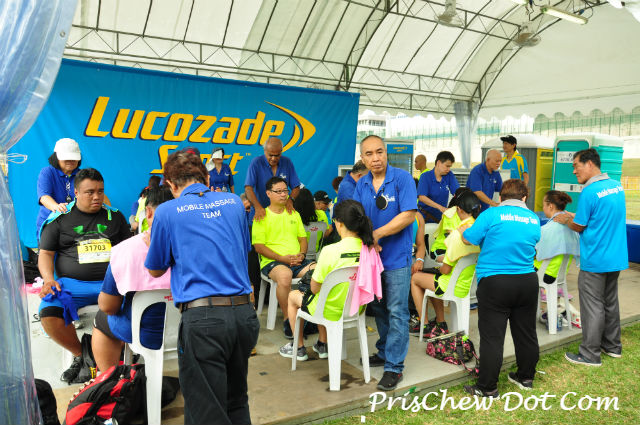 I also saw my motivational quote at the 4km point. I stopped for a few quick seconds to take a picture with it, and I hope that reading this had helped to inspire the other runners who had gone past it.
As well, I also noticed that the race route had consisted of signages that had depicted the thoughts and feelings of ex-offenders as they struggle to integrate into society upon their release. I thought these were great in putting runners into the minds of the ex-offenders and seeing the world from their viewpoints.
Said Joon Keng, "The signboards reflected on the concern of the ex-offenders and how the society can do more to help them blend back in upon their release."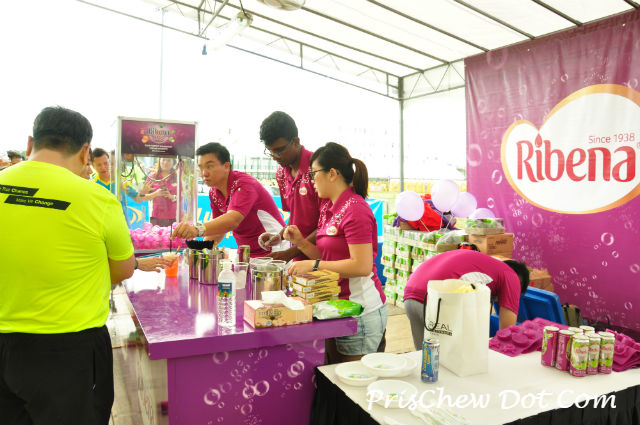 Along the way, there were also cheerleaders stationed with motivational signboards telling runners to keep on moving and to give them the energy that they needed, when the going was getting tough. I appreciated these, as it was great motivation for me to continue on running.
Finishing the Run
After passing The Changi Museum and heading down Changi North Way in the second half of the race, the final couple of kilometres of the run brought us into the Changi Prison compounds.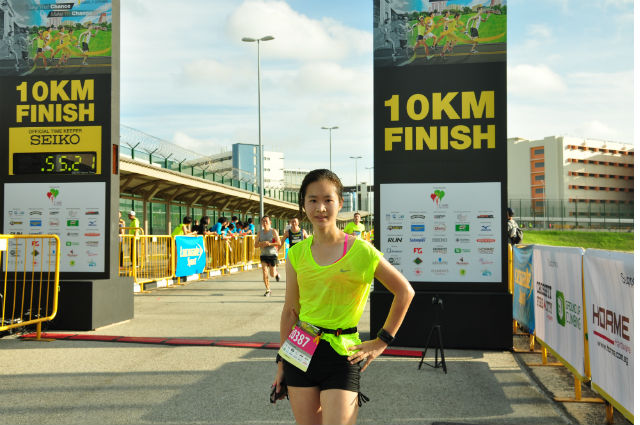 I have been taking part in the Yellow Ribbon Prison Run every year since 2012, and running through the Changi Prison grounds is a unique experience that I always look forward to each year. It is something that you do not get in any of the other running events in Singapore.
Said Joon Keng, "The opportunity to run into Changi Prison was great."
Crossed the finish line in a new personal best
I picked up the pace when I saw the sign that said that there were 500 meters left to go and my heart rate increased substantially.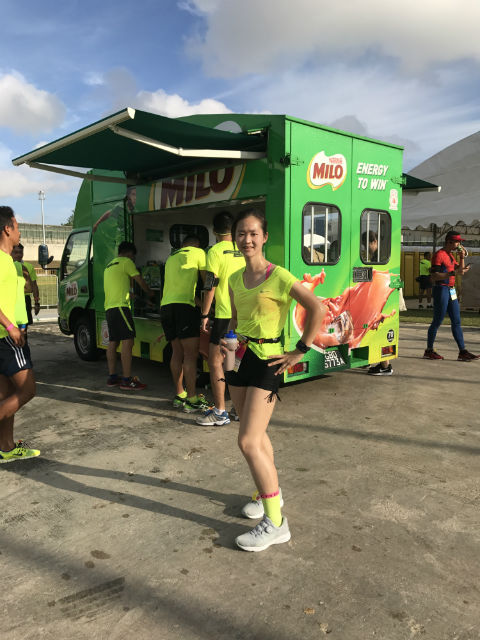 I crossed the finish line in a personal best timing of 55mins and 09sec. This was an unexpected surprise for me, considering the challenging, hilly terrain and the relatively late starting time of this run.
And I think that my good timing was probably due to the hill training that I have been doing with Coached every week at the Botanic Gardens; so rolling hills are becoming much easier for me to conquer than previously as I am more used to them now.
However, I had soon realised that the route this year was slightly shorter. Instead of 10km, my Garmin had measured only 9.7km.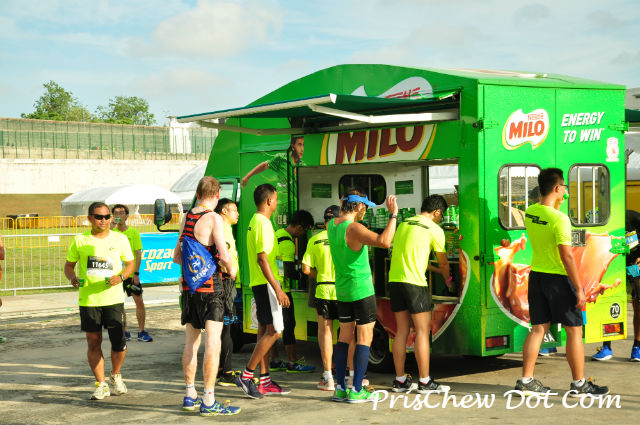 So does that mean that my personal best time doesn't count, then?
Milo Van
Soon after crossing the finish line, the most welcome sight greeted me: there was a large, green Milo van parked inside the Changi Prison compounds. I eagerly queued up and got myself some refreshingly cold Milo and it was easily the best Milo that I have ever had.
I always look forward to seeing the Milo van at races as I have grown up drinking Milo since I was young. As well, the refreshing Milo van has always been a mainstay of school sports day events during my primary and secondary school days so it was really great seeing a small symbol of my childhood appearing at the Yellow Ribbon Prison Run this year. I still remember how disappointed I had been at last year's edition of this run, when the Milo van had taken a break from the event!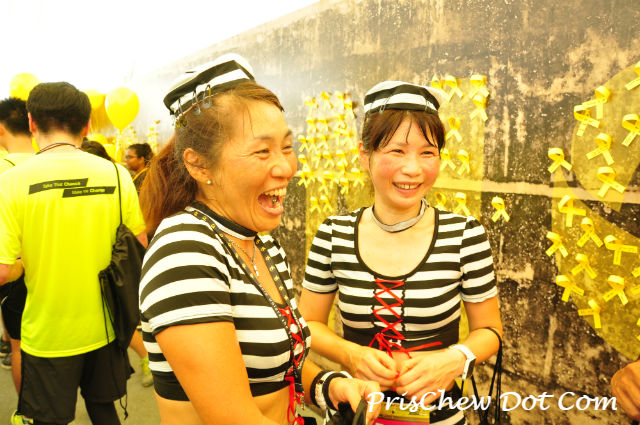 As well, I also collected my post run goodie bag which had consisted of my finisher medal and a few other sponsored items. There seemed to be less things in the goodie bag this year though, compared to previous years.
Rehabilitation Fair and Post Race Carnival
Then I went to check out the post race carnival. A large part of this had consisted of the Rehabilitation Fair, where runners were invited to engage in activities to find out more about the in-care rehabilitation progress that inmates undergo when they are in prison.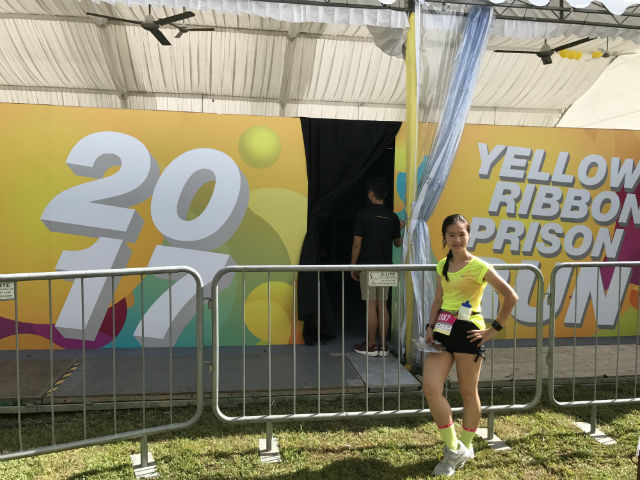 At the Rehabilitation Fair, we had to play a series of games, where we had to search for the mystery letters hidden around the area, in order to form a word. These letters had been hidden at various locations within the Rehabilitation Fair exhibits, such as the mock-up prison cell walls and also amongst the inmates' "laundry."
Besides searching for the letters runners could also read the panels of information displayed on the various exhibits, for example, depicting how the inmates learn to bake sweet treats like cookies and mooncakes, or how to wash and fold laundry; these are skills that will make them more marketable when they are eventually released from prison and thus would aid them in their quest to search for a job and contribute to society.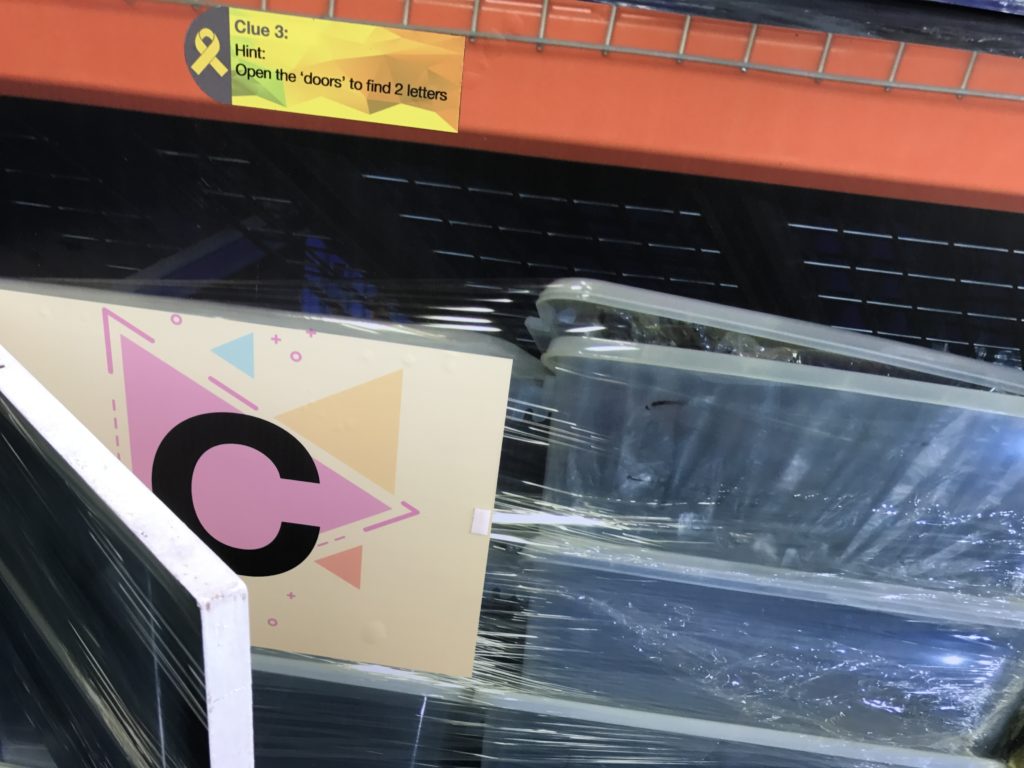 Cookies that had been made by the prison's in-house bakery, SCORE Bakery, were being given out to runners to keep them energised, as they were searching for the letters, too.
There was a mock up of an actual prison cell on display as well, so that race participants could have a look for themselves at how small the confines of a typical prison cell is; inmates have very few belongings that are allocated to them. These were a toothbrush, toothpaste, toilet roll, a plastic cup, slippers and a set of white clothes.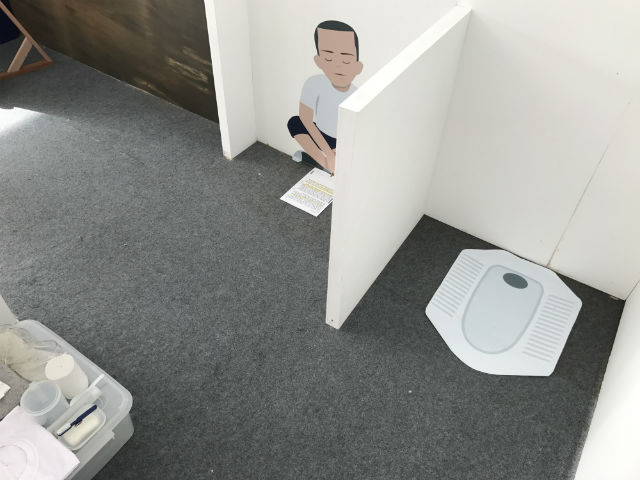 Once finding out that the word is 'change', we then redeemed a mystery prize; we got to choose between a post-it pad, a highlighter and a lanyard. I picked the post-it pad, as I thought that this would be the most useful item to me.
We were then ushered into the Tunnel Of Hope after collecting our items. Here we had to successfully navigate a simple obstacle course, consisting of things such as a ramp, a maze and a balance beam. These obstacles are supposed to relate to the trials that the ex-offenders have to navigate through on their release from prison.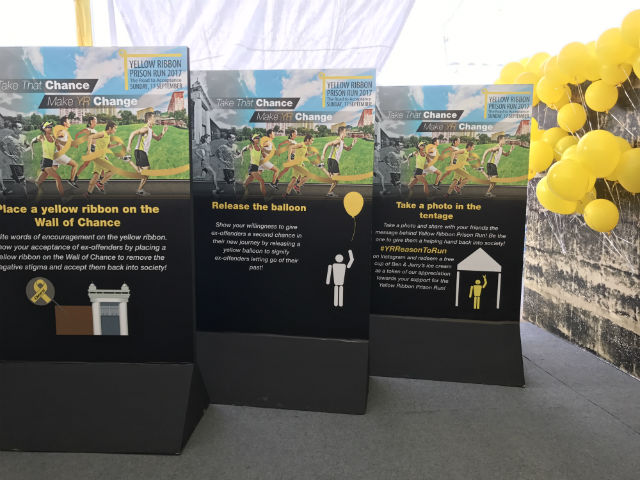 When we had exited through the other end of the Tunnel of Hope, we were given a yellow balloon, which we had to release into the air; the release of this balloon is meant to signify the release and freeing of the stigmas that ex-offenders face and their successful integration into society.
Then finally we had to write a motivational message on a paper cut out of a yellow ribbon and stick this onto the Wall of Chance, before we could redeem a free Ben & Jerry's ice cream.
I must say that due to the thankless heat this morning, the ice cream was a very welcome relief, and though it was already melting moments after it was handed to me, I relished every spoonful of the cold icy treat.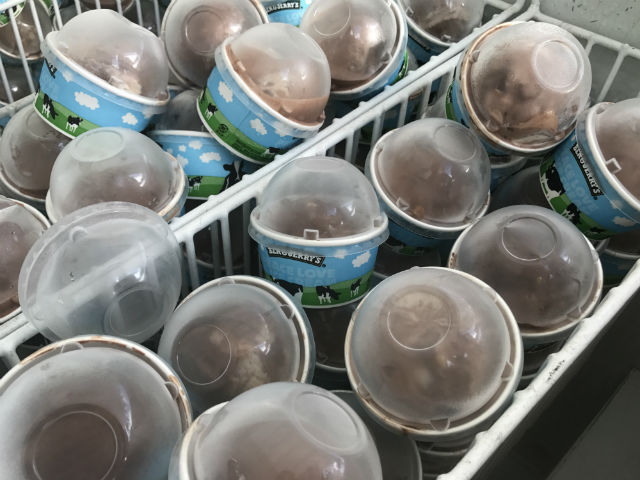 Nevertheless I thought the Rehabilitation Fair had been very meaningful as it is a really good mock up of the experience that inmates face, during their incarceration and release back into society. Though I have taken part in several editions of the Yellow Ribbon Prison Run, I still find this to be an educational experience for me.
Said Sonia, "The carnival was really good; in fact I went in twice. It definitely raised my awareness of the importance of giving second chances to ex-offenders and gave me a good education of what they experience. I also found it very moving when everyone wrote their words of support on the little yellow ribbons and stuck them up on the walls. It was motivation and so inspiring to see not just older people, but so many young people displaying their support, as well."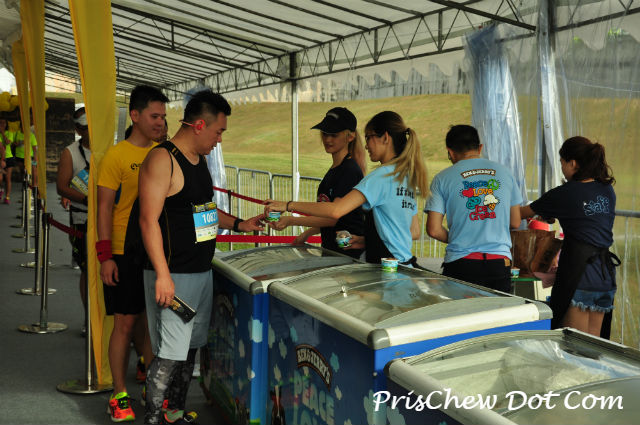 She added, "Of all the charity races that I have been to, I think that this one has a very tangible cause. For most charity runs, it just feels like a normal run that I complete and go home, but for this one, it has really made me realise the importance and need to support this cause, through the activities and educational messages."
Joon Keng also agreed with Sonia's sentiments. He said, "The carnival and rehab fair has helped to shed some light into how the officers in the prison are helping the inmates to gain some skills during their time in prison to make improvements and adjustments to prepare for their return to society."
Besides the Rehabilitation Fair, there were other booths too; these included a massage station and photo and video booths for runners to immortalise the memories of their morning workout. As well, event sponsors Ribena was selling Ribena floats for $2 and giving away sure-win prizes in a lucky dip with every purchase of a Ribena float.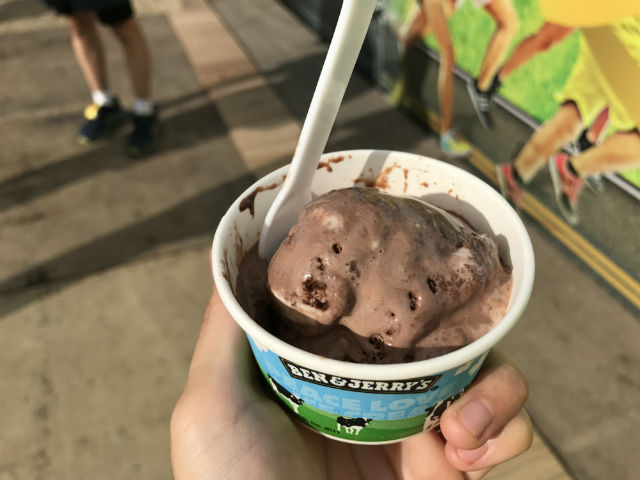 Getting Home
To get back home after the run, shuttle buses were provided to take runners back to the Expo. I took one of the last few shuttle buses and I was pleased to know that as late as 11.30am, there were still bus services available.
But some runners felt that the shuttle bus services back to Expo had been poorly managed as the volunteers were not aware of where the pick-up points were and some gave priority to runners who were further behind in the queue to board the buses first.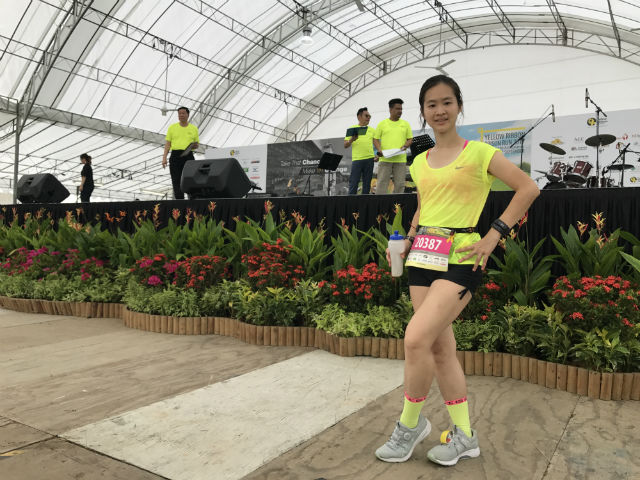 But I note that I didn't have this problem though, probably because I was one of the last people to leave the Changi Prison compounds after completing my media interviews.
Joon Keng though, had felt that there could be shuttle services back to Changi Village as well. He said, "For runners who drive and park at Changi Village, there could be signages to guide runners back there, or else some shuttle buses heading to Changi Village after the race."
A well organised and unique running event that I will continue to support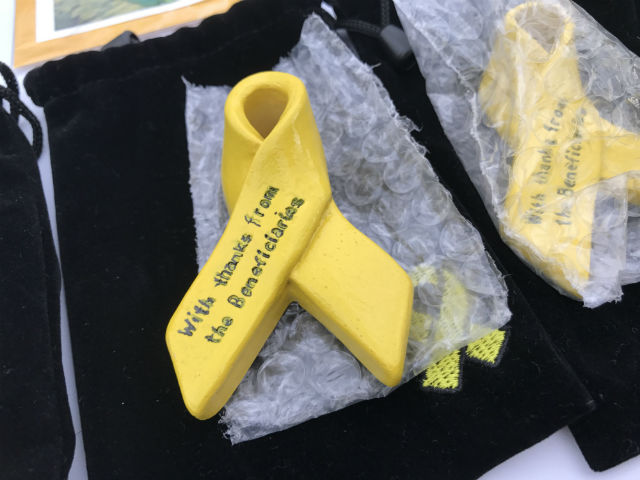 I thought that as a whole the Yellow Ribbon Prison Run was a well organised and unique running event with a meaningful cause that I am keen to continue to support each year. This thus sets it apart from many of the other mass running races around Singapore.
Organisers are pleased with the event
Since it had started in 2009, the Yellow Ribbon Prison Run has raised more than $921,000 for the Yellow Ribbon Fund, which funds rehabilitation programmes for inmates, ex-offenders and their families.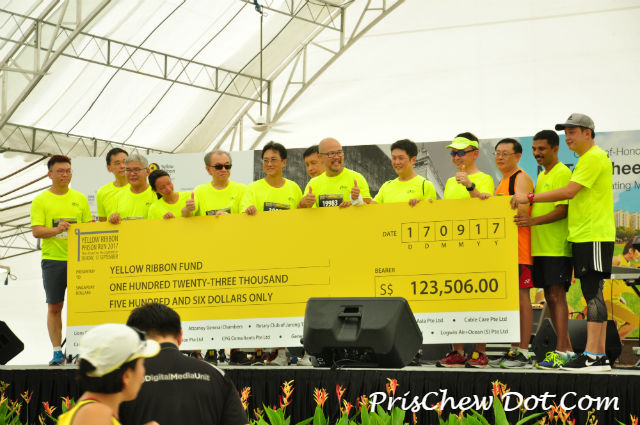 More than 2,300 individuals from 105 organisers across various industries and social service sectors also took part in the 2017 run to show their support for the cause. These included halfway house residents, foreign correctional service delegates, and employers including those from including Manhattan Fish Market.
So the organisers are pleased with how their running event has been growing over the years. Said Chan Ching Ching, 41, Second Vice Chairman of the 2017 Yellow Ribbon Prison Run Organising Committee, "We are happy that into the ninth year of the Yellow Ribbon Prison Run, there are still so many runners coming out to support this cause, to create awareness, and also improve acceptable for ex-offenders back into society."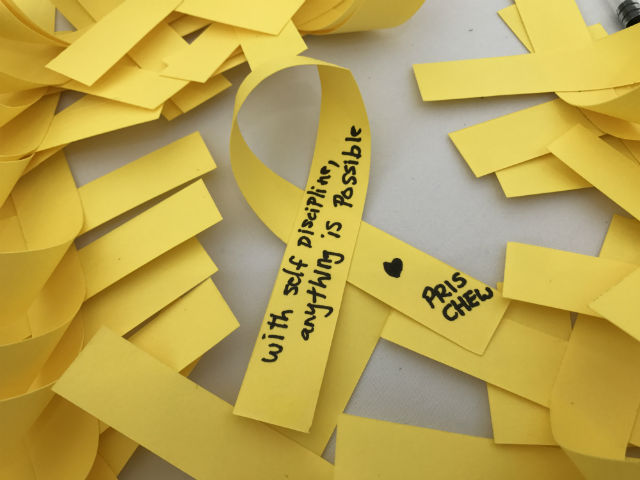 She added, "Through the run, people are definitely becoming more aware of the challenges that ex-offenders are facing, and are becoming more accepting of them, seeing them without the tinted glass stigmas that would otherwise surround them. In fact, we have ex-offenders taking part in the run this year too; but we do not really track who they are though, because they have already served their sentence and so we simply see them as one of us."
Albert, an ex-offender taking part in the run, hopes to inspire others with his comeback story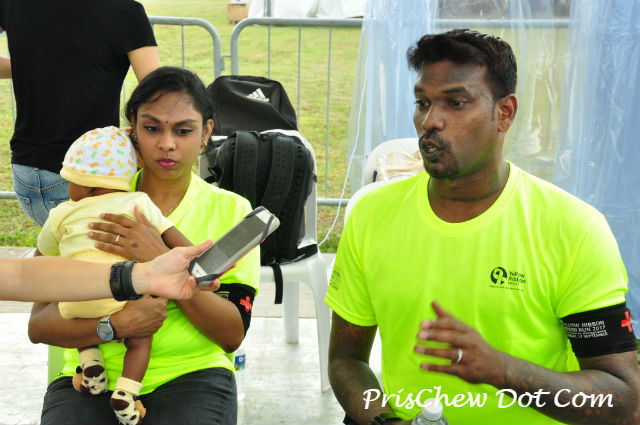 One of the ex-offenders participating had been Albert Sivaraj, 35, a youth counsellor who took part in the event together with his wife and his five-month-old baby.
Said Albert, "Being an ex-offender myself, I think that it is good that we support each other and give one another a sense of hope and belonging; I believe that there are not many ex-offenders who are willing to come out and identify themselves. It takes a bit of courage to be here. Most are trying to stay away from the limelight."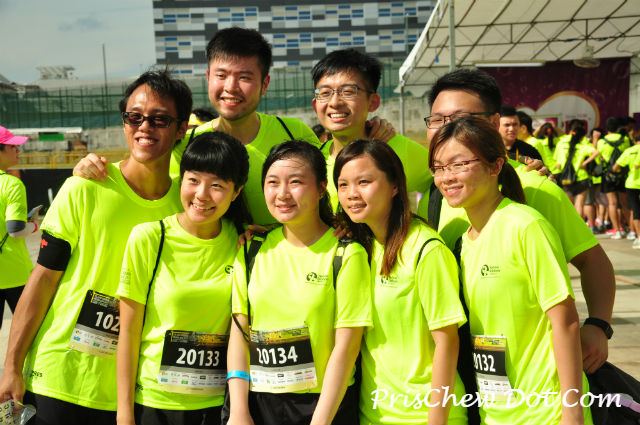 Albert had been imprisoned from 2002 to 2005 for three separate offences relating to traffic, gangs and rioting. A secondary two dropout who had mixed with the wrong crowd, he had been 20 years old when he was first sentenced to prison and his third and final release was in 2005. He and his family participated in the 5km fun run this morning and it was his first Yellow Ribbon Prison Run experience.
Albert said, "We did the 5km walk and that was great – because we got to see so many types of people who were gathered here for a nice morning walk or a run. Nobody was looking at who is an ex-offender and who has never been to prison; instead the only thing that people noticed about me is that I was pushing a pram with a baby inside; maybe I would encourage more families to come out next year to push their babies along!"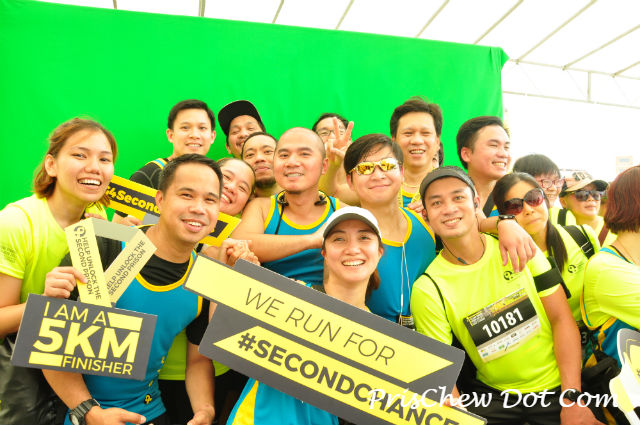 Added Albert, "Though this was my first time taking part, this run has been going on for a few years, so when we all run or walk together it is really not about who is an ex-offender and who is not. I feel as though we are all running as humans; so this is a great way to be integrated into society and feel accepted by everyone."
Tips for other ex-offenders
What advice does Albert have for ex-offenders who may be struggling to integrate into society?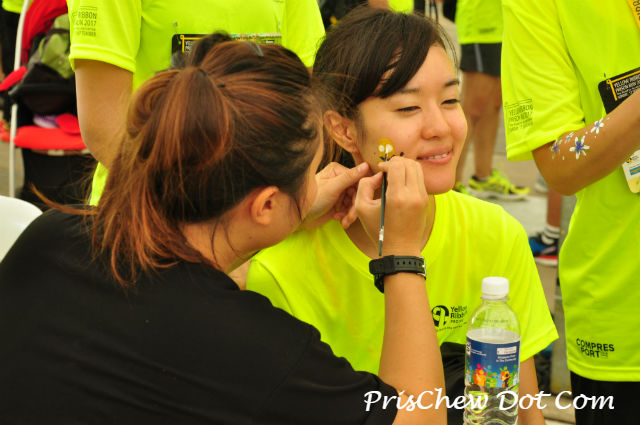 He said, "Do not be afraid to ask for help. If you ask, it will be given. Do not wait for people to come, as nobody will know that you want help. There are lots of associations like the Yellow Ribbon Project that can guide you to where you need to go for acceptance."
Albert was also participating as a trained First Aid Marker
Additionally, Albert also took part in the run as a trained First Aid Marker; this meant that he had been one of 300 first aid trained runners and he donned a black armband to identify his ability to provide immediate first aid to fellow runners.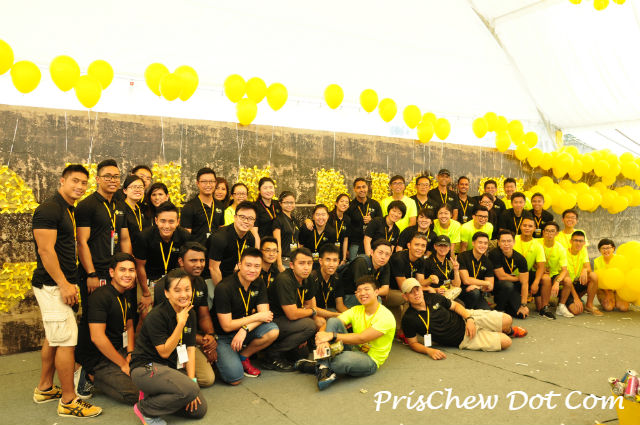 This is a first for the Yellow Ribbon Prison Run and is a pilot initiative to improve safety at mass sporting events, in addition to the medical safety measures that have been put into place since the inception of the Yellow Ribbon Prison Run.
Albert hopes to use himself as an example that ex-offenders can turn their lives around
Today Albert is furthering his studies by pursuing a degree, and he hopes to use himself as an example that there is indeed a good future ahead, for ex-offenders who want to turn over a new leaf and change their lives for the better.
He said, "If I can do it, then so can you, too."

Thank you Yellow Ribbon Project for the race slots and for the Social Media Takeover opportunity.
Click here to view the Yellow Ribbon Prison Run 2017 Photos.
Share this page with your friends!