Updated in October 2015
You have decided to take up running but you may now be finding it boring to run and train all by yourself.
Well, do not fret. You can join a running club in Singapore, so that you can breathe new life into your newfound running regime – and have fellow runners to encourage you too. These running clubs cater to runners of all types of abilities.
Here are a few – that you may wish to consider joining.
ASICS Running Club
A friendly and lively running club that prides themselves as being "100% managed by runners", they train every Wednesday evenings, meeting outside the ASICS store at Suntec City, doing a combination of running sessions, ranging from distance runs to interval speed workouts. So if you need a group of runners to motivate you on your running sessions, why not join them?
Find out more about them here.
Gei Gei Running Club
Founded in November 2014, the Gei Gei Running Club aims to bring fun and laughter to running and at the same time, make it much less boring. This is because they believe that running should not just be an activity to stay healthy, but also for bonding and to mix with other runners from all walks of life who share the same interest, and to have great fun whilst doing so.
To do this, they organise fun runs at regular intervals throughout the year – where there is sometimes more photo-taking and eating rather than running itself! Out of the runs they have organised to date. So far, their most notable one has been the GO50 Support Run on 1 June, where club members ran 50km alongside Yong Yuen Cheng and Lim Nghee Huat, the two ultra-marathoners who recently completed 2,500km within 50 days.
Find out more about them here.
Jurong Lake Running Club
This running group was founded in November 2011 and is managed by members and volunteers of the Taman Jurong Community Sports Club (CSC) who have a strong passion for running. As the name suggest, they train in the Jurong area and conduct running sessions on Tuesdays, Thursdays and Saturdays at the Chinese Gardens. These are all open to the public, or anyone who wishes to join in.
Find out more about them here.
Kikikukiki Runners
Known commonly as the K5 runners in local running circles, this is a very friendly and highly sociable bunch of people who treat everyone equally, regardless of whether you are a first-timer who is just starting out on your running journey, or an experienced runner with many marathons and ultras under your belt.
Besides meeting up for their regular Sunday morning runs, they also travel to overseas races together, as this provides a good getaway as well as a great form of bonding amongst the runners. They will also organise runs during special occasions such as Chinese New Year or Halloween, and many of their members come dressed for the occasion as well.
Find out more about them here.
Little Toys Runners
This is an incredibly fun and lively running group that carry plush toys with them on their training runs and races. Training on Monday evenings at the Mount Faber area, they welcome runners of all abilities and from all walks of life. And after a running session or a race, they always love a good makan gathering too, so they are just as passionate about eating, as they are about running.
Find out more about them here.
MacRitchie Runners 25
This is one of the oldest running clubs in Singapore, with a history dating back to 30 years, so they are very established and well known in Singapore.
But to join this club, you have to be able to complete a five-kilometre time trial within 25 minutes. If you are unable to meet the 25-minute cut-off time, you are not eligible to become a member. This explains the "25" attached to the end of their club's name.
This club's training sessions (conducted on Tuesday and Thursday evenings) actually work in improving your race timings.
You can get in touch with them here.
Mizuno F1 Runners Team
Members of this running club in Singapore are easily recognisable during runs, because of their trademark white and red team jerseys. They began in 2008 with only six runners, but today, this number has expanded by many times, so they have definitely come a very long way.
Unlike most other running clubs, this club also organises their own running races for members, including the F1 Nature Run and the F1 Marathon Time Trail.
They train in the evenings four days a week – on Tuesdays, Thursdays, Saturdays and Sundays and most of their sessions are restricted to members only. However, on Wednesday evenings though, they organise a free-for-all running session at the Marina Bay City Gallery, for newcomers and non-members who are interested to find out more about them and also to perhaps eventually join the club.
To find out more about them, visit their website here. 
Newton Running Club
Helmed by experienced runners who are open to sharing tips and experiences with the newer members of the club, they meet every Wednesday at the Marina Square Shopping Centre for runs of between 5km to 10km. As well, Newton shoe trials are also available, for runners who are looking to change their shoes or to improve their running stride. Also, they are the pacers for the Newton Challenge, a running race that takes place around October every year.
Find out more about them here.
Northern Kia Runners
This running group had started with the intention of bringing together runners living in Singapore's North Zone to promote healthy living and racial harmony. But today, they are now joined by runners from all over the island.
The group runs take place around the Admiralty, Woodlands, Sembawang and Marsiling areas either on weekday evenings or during the weekends.
Find out more about them here.
Peirce Reservoir Runners
Founded in January 2013, this running group, as the name suggests, conducts their running sessions at Peirce Reservoir – which is a great place for hill training. They run on weekend mornings at 7.30am, alternating between Saturdays and Sundays, to cater to runners with different schedules.
They welcome runners from all walks of life and of all abilities, regardless of whether you are trying to train up for your first 5km run or an experienced ultra-marathoner who has more than 10 years of experience under your belt.
Find out more about them here.
Running Department
This fun and enthusiastic running club in Singapore started in July 2013 and they have been the pacers for leading running events in Singapore, including the Great Eastern Women's Run and the StanChart Marathon Singapore Their aims are to foster a strong running community that support members through run-together and train-together programmes.
As well, they also organise free training clinics for runners, leading up to races that they are involved in pacing duties with, such as the StanChart Marathon Singapore.
To find out more about them, visit their website here.
SAFRA Running Club
This running club in Singapore organises runs twice a week, on Tuesdays and Thursdays and if you are an inexperienced runner or just starting out, do not worry. This club has plenty of experienced runners who will guide you and give you advice throughout your run.
The Safra running club also takes part in running events as a group, including the popular Standard Chartered Marathon and the SAFRA Singapore Bay Half Marathon. So you will be able to train with your running buddies, as well as join up with them and take part in the event together.
You can find out more about them here.
Singapore Shufflers Running Group
Like the MacRitchie 25 runners, this running group also has a time requirement to join – you must be able to run 5km in 30 minutes. So they are definitely not for beginners.
However, they help runners to improve their running times and speed – by coming together to do track interval sessions every Monday and Wednesday evenings. These sessions also help to provide a good form of motivation for experienced runners who are looking to take their running up one step higher. But they are not simply all about business though – after the run, they would usually gather for dinner.
Find out more about them here.
Team FatBird
This is another popular running club in Singapore and they have an average of between 150 to 200 runners per training session. They are well known for their weekly group runs, as well as their marathon training programmes for both local and overseas runs. One such run overseas is the popular Gold Coast Airport Marathon, which usually attracts a large number of Singaporean participants.
Well-known races that this team has done pacing for, have included StanChart and Sundown Marathon.
Find out more about them here.
The Morning Greeters
A community of people that believes that running can be a world of laughter and smiles, the Morning Greeters achieves this by greeting everyone whom their pass on their morning runs.
They are a very friendly and lively bunch of people, and if you see them in their trademark lime green shirts when you are running, do go ahead and say 'hi' back to them too. After all, how long does it take to exchange a simple greeting with a stranger?
Find out more about them here.
Other blog posts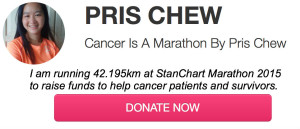 Interviews with Top Runners
Share this page with your friends!