As part of the pre-race preparations for the Straits Times Run to be held on August 25, several running clinics were recently held at Bedok Reservoir Park. 
Top local runners, such as Anne Qi Hui and Mok Ying Ren, conducted these clinics. The elite athletes shared valuable running tips and insights with participants. 
I attended the running clinic last Saturday, which was conducted by Singapore's top male marathoner, 25-year-old Mok Ying Ren. Here is a recount of my experience at the clinic.
To find about Mok Ying Ren's Olympic Dream, click here.
When I arrived early at Bedok Reservoir Park, some participants were already waiting for the clinic to start so I chatted with them. Most had come with their family or friends, but a few had registered for the clinic alone. In the end, some 50 people showed up.
Besides Mok, some members from The Running Department, a running club in Singapore, had also volunteered their time to teach the clinic participants some skills and give a few tips.
The Running Clinic
At 5.30pm, the running clinic started. But it began in an unconventional way. I was expecting Mok to teach us some warm-up exercises, but he started with a slow, one kilometre jog as a form of warm-up. Like me, most of the other participants were taken by surprise. According to the marathoner, conventional stretching can cause performance to suffer, by dulling explosiveness.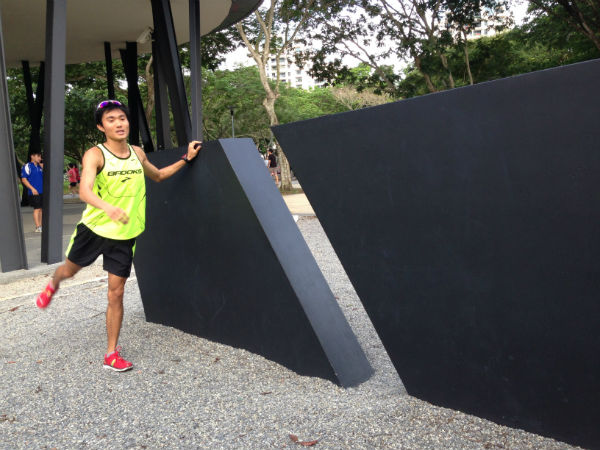 Mok says that beginning an intensive workout with activities such as a slow jog, instead of regular warm-up exercise helps to kick-start the muscles into motion for a more effective work out.
The marathoner also advised participants to start out with a five or ten-minute walk before embarking on the intensive exercise for the day, to allow the muscles to warm up first.
Stretching exercises
It was only after the short jog that we did some stretching exercises. But again, these were quite different to what I had been taught during my Physical Education (PE) lessons in school. Instead of static exercises, Mok taught us to use dynamic stretching, for example, swinging our legs from front to back and then to the sides because these were more effective. Another exercise was to constantly tiptoe up and down to stretch the feet muscles.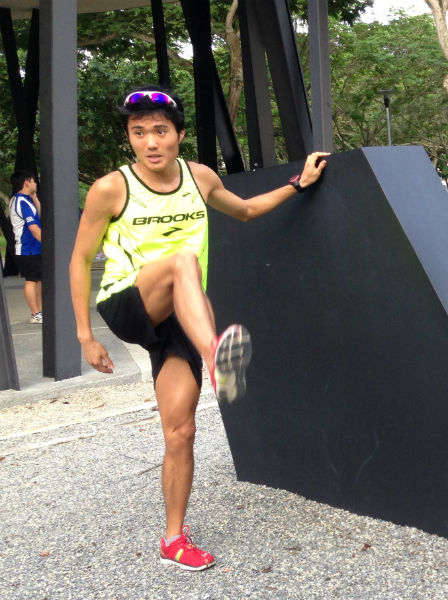 Warm-Up Jog
After these stretching exercises, we were broken into groups according to our race time goals, and asked to complete four sets of one-kilometre jogs at the pacing that we had chosen. There were two-minute breaks in between each jog to allow us a chance to catch our breath.
Pacing Exercise
I was in the fastest group (pacing of six minutes per kilometre). Even though this was slightly faster than the pace that I usually run at, it felt surprisingly okay for the entire four kilometres of running. I suspected that it was probably because of the breaks in between that allowed me to catch my breath before setting out again. I even had time to chat to some of the members from the Running Department and got some interesting running tips from them. These included the importance of training runs to coincide with the timing of actual races, for maximum performance. For example, if you are training for a night race, like Sundown, you should try and get in your long runs after the sun has set.
Mok's Running Tips
Mok himself also took turns to run with the different pacing groups to talk to us and give us some interesting tips, while we were running, for example, the number of strides per minute that we should be doing. According to the runner, the optimum number of strides for running is 44 for every 30 seconds, or 88 strides per minute. He also talked about the ill effects of overstriding, that is, landing heel first, ahead of your centre of gravity, which may waste energy and also lead to injuries.
Clinic Comes to an End
At around 7pm, when we came back from our jog, we were treated to a free flow of isotonic drinks while mingling with Mok and the Running Department members. They also answered any questions from the participants. Before leaving, we were each presented with a gift bag comprising of items including a cap, notebook and thumb drive.
As a whole, I found the entire running clinic quite insightful and I have definitely picked up some interesting tips from Singapore's leading marathoner.
Click here to find out about Mok Ying Ren's Olympic aspirations!
My Other Articles
Share this page with your friends!