On race day, the 30 official pacers for the Standard Chartered KL Marathon (SCKLM) will be geared up in their luminous yellow Brooks gear as they take to the streets.
The pacers had received their official Pacer kits – singlets, along with a pair of running shorts and shoes – at a handover ceremony that also saw the opening of the Brooks concept store in MyTown in Cheras.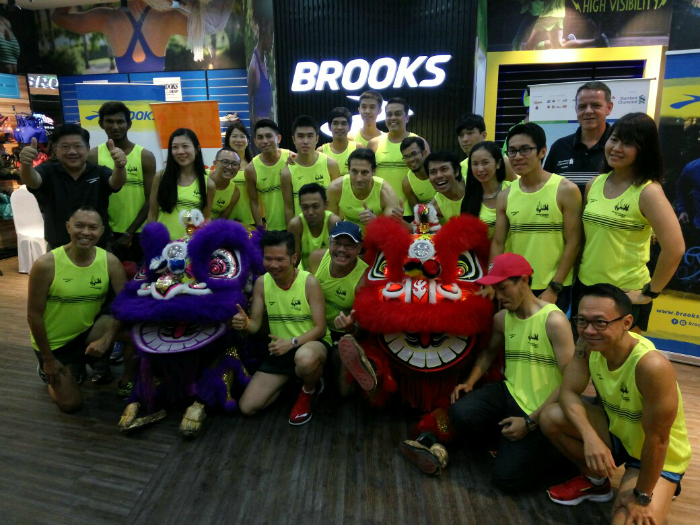 The pacer singlets will be equipped with Equilibrium technology, and there will altogether be 25 Pacers in the Full Marathon category and as well, for the first time, another 6 pacers in the Half Marathon category.
Pacing is crucial for a marathon
To complete a marathon in your expected time, pacing is a crucial element. Pacers play a vital role in helping to ensure runners keep to their required race. New runners may find it hard to keep pace due to inexperience and fatigue, and this is where expert Pacers provide the encouragement and motivation to get runners back on track and finish the race in their target times.
Said Rainer Biemans, Project Director, SCKLM and Director of Dirigo Events, the owners and organisers of the race, "Pacers play an integral part in any marathon race and we go through a fairly stringent process to select them. We invite runners to register as Pacers and then check their previous race records to determine their timing consistency and running experience."
More than 35,000 runners to take part in SCKLM
Altogether, more than 35,000 runners will be taking part in the SCKLM and all will receive exclusive Brooks singlets togethers with their Race Packs, along with Brooks vouchers.
Said Tiew Cheng Tai, Managing Director of Paragon Vest Sdn Bhd, the distributors of Brooks Malaysia, "We are extremely pleased to partner again with SCKLM, the premiere running event in the country, and we are focused on providing the best possible running experience for SCKLM participants through our innovative running shoes and apparel."
He added, "Our new Brooks retail outlet is also equipped with Run Signature, our proprietary technology that analyses a runner's gait and pairs them with the perfect ruining shoes to meet their needs."
Runners who didn't manage to register for SCKLM can still purchase exclusive Brooks SCKLM 2017 merchandise from www.kl-marathon.com.

All photos are courtesy of SCKLM.
SCKLM running clinics a success
Share this page with your friends!