Last weekend, the third and final Sundown Marathon Lead-Up Run was held, to prepare runners for race day on 4 and 5 July. This run which started and ended at the Big Splash in East Coast Park, flagged off at 6.00pm in the evening.
The Half Marathon runners clocked about 19km while the Full Marathon ones completed about 30km.
Cool but humid evening run
The cool evening breeze made the run a pretty enjoyable one. But at the same time, the air was rather humid and so this made it rather hard to run.
However, due to the earlier starting time of this Lead-Up Run, the humidity conditions would probably be more tolerable than on race day – as the Half Marathon flags off at a later time of 12.00am and the Full Marathon, at 1.00am.
Do not do any more long runs till race day
According to the official Sundown Marathon pacers, who are from the Newton Running Club, this Lead-Up Run was supposed to have been the final Long Slow Distance (LSD) run that marathoners should complete – before the actual race.
Said assistant engineer Brandon Tan Kok Hwa, 41, who is a 5-hour marathon pacer, "Now is the second last week before Sundown Marathon, so there should be no more LSDs of this type of distance. Full Marathon runners should do no more than 20km this week and then this should be followed by easy runs. Then the following week, at the latest by Wednesday or Thursday, they should do an easy 5km run and stop running till race day."
Relaxing is most important 
Added engineer John Teo, 36, who is one of the 5:30-hour marathon pacers, "Relaxing will be the most important thing from now till race day. All this while we have been doing our routine training for Sundown Marathon, so now you will need to taper to reduce mileage in time for the race. Otherwise you may end up overtraining."
And for the Half Marathon runners, fellow pacer Ben Koh, 37 recommended that participants should run no more than eight to 10km for this upcoming weekend. Added Koh, a service engineer and a 5-hour Full Marathon pacer, "Do not run so much as it's coming to the last week before the race. You should store up your energy for the race day itself."
Stretching will help
Biotechnologist Neyton Tan, 28, a 5-hour full marathon pacer, added that stretching is especially important whenever you go running during this period. He explained, "Make sure that you do your stretching after every run from now on, because you do not want to risk injury prior to the race.
Added Tan, "This is very important and if you are nursing a minor injury such as a strained calf or a sprained ankle, ensure that it is well-tended to – from now till race day. Prevent any existing injury from getting worse and do not over-exert yourself to risk picking up an injury."
Carbo-Loading is up to the individual's preference
And about two days before the race, Koh added that he would practise carbo loading – a common strategy adopted by endurance athletes to maximise the stores of glycogen in their muscles leading up to a major race.
Koh explained, "Personally, I try and take in more carbs, and my favourites are pasta with meatballs. I will eat pasta all the way, starting from about two days before a big race. But carbo loading depends on individual preference though. Some people are not used to taking in so much carbs so they stick to their normal diet and then simply go out and run. It really depends on your own body."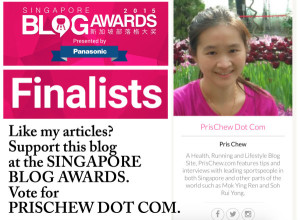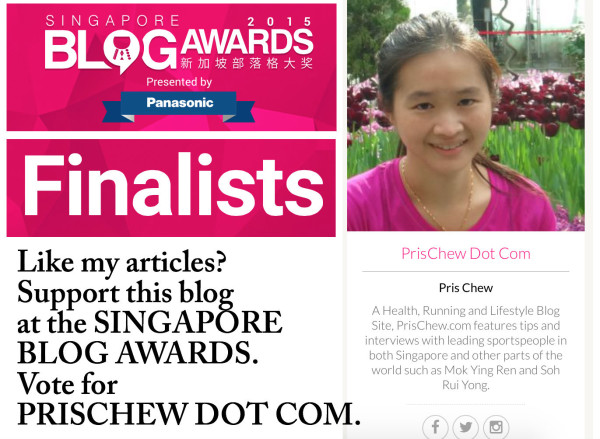 Other blog posts
Share this page with your friends!