Returning for the fourth time this year, the Orange Ribbon Run is Singapore's only event against racism.
Organised by OnePeople.sg, it helps to promote values of respect, understanding and trust amongst not only Singaporeans but also foreign workers who have made Singapore their home.
Jacob General Contractors Pte Ltd, which largely employs workers from India, Thailand and Malaysia, is one such company that strongly encourages their employees to take part in this race.
Said Helen Ng, company Administrator, "The event is very meaningful in educating our workers about racial harmony in Singapore. For us it is heartening to see the workers joining the Race against Racism and making an effort to live and work harmoniously together with Singaporeans."
Event will take place on Saturday 10 September
This year's event will be held on Saturday 10 September 2016 at the Bayfront Event Space, next to the Marina Bay Sands Convention Centre. It will comprise of two categories, a 5km and a 10km Competitive Run. Families can take part in the 3.5km Fun Walk though.
The Fun Walk is set to encourage children to participate with their families and at the same time, learn about diversity and to make friends of other ethnic groups.
A Buddy Category is also available to encourage friends from different races to run together in the spirit of friendship and racial harmony. It will consist of teams of between two to five members with at least one runner from a different ethic group to take part.
Platform for Singaporeans to come together to show their support for racial harmony
An excellent platform for Singaporeans to come together to show their support to preserve Singapore's multi cultural society, runners at this race can also share their personal messages via an online portal as well as write their messages of racial harmony on their race bibs during the race.
Besides the exercise, families and friends can also come together to enjoy a line-up of activities ranging from cultural performances to game booths at the race carnival after the event.
Senior Youth Advocate Zack Yeo, who has signed up as a volunteer for the race, is looking forward to the event and to welcome the runners. He said, "I am passionate about promoting racial harmony to my peers. This event is one way of educating youths that racism is hurtful and we need to understand and respect each other. I am looking forward to doing my part in this year's event in spreading the cause."
Registration is currently open
Registration for the event is currently open and the Early Bird Period closes on 17 June. The registration fees start at $8 for the Fun Walk and $25 for the 5km Run.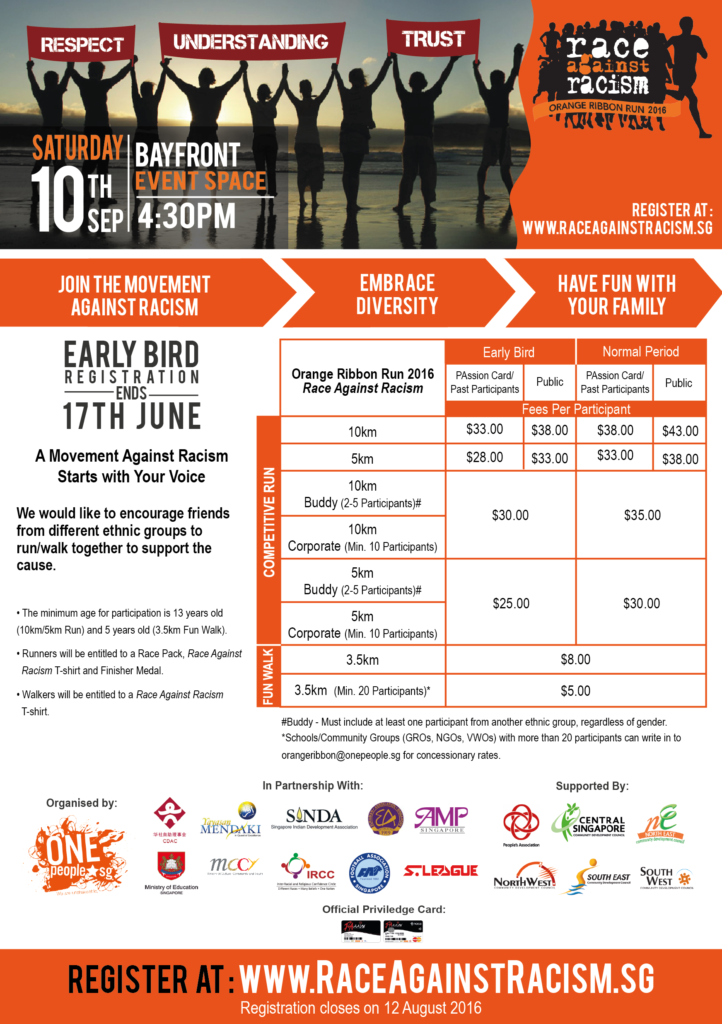 However, groups of 20 people or above can sign up for the Fun Walk at a discounted rates of $5 per person.
You can register for the race at http://www.raceagainstracism.sg.

Share this page with your friends!