Next year, you can save cash and participate in runs at the same time.
Popular package returns for another year
This is because the popular U Run All Access Package is back for another year to cater to avid runners who are also NTUC members. As usual, it comes with three race credits to use at partner running races in Singapore.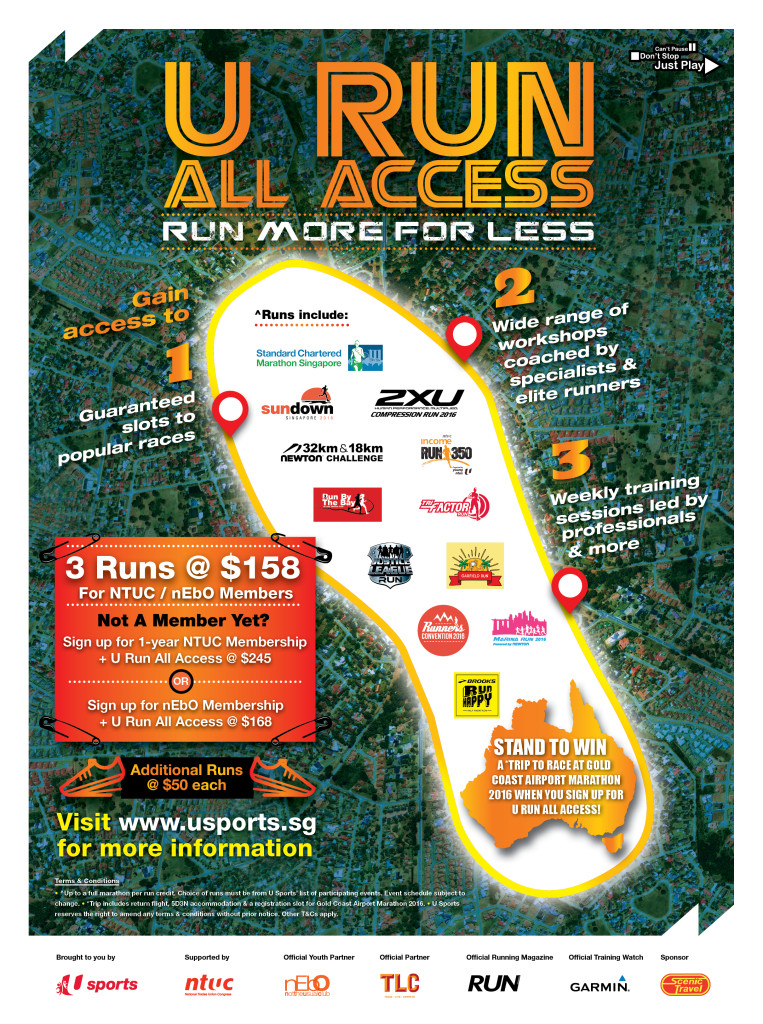 What races can the package be used for?
The races that the U Run All Access package can be used at, are as follows. These are in alphabetical order.
2XU Compression Run
Brooks Run Happy
CSC Run by the Bay
DC Justice League Run
Garfield Run
Marina Run
Newton Challenge
NTUC Income RUN 350
Runners Convention + MacRitchie Run
Standard Chartered Marathon
Sundown Marathon
*The above list is correct as at 27 November 2015.
Benefits of signing up for the U Run All Access Package
Costing SGD158 for three runs, the package will save members more money for their running races. And for those who want to take part in more than three runs, there are advantages. Additional runs at partner races are priced at a flat rate of SGD50 per race. So you can save up to 50 per cent of your registration fees, through the U Run All Access package.
On top of that, NTUC members who have purchased the U Run All Access package will also be guaranteed a slot at popular local races, even if the race has been sold out.
There are also a range of workshops and seminars conducted by specialists and elite runners, to better prepare holders for their runs. Moreover, the U Sports Running Group are organising weekly runs throughout the year, to ensure that package holders can receive quality training to prepare themselves better for their races.
Non-NTUC members can still purchase the package
If you are not an NTUC member, you can purchase a one-year membership to accompany the U Run All Access package. This will set you back by SGD245, but you will get to enjoy the benefits of the U Run All Access package, as well as the perks of being a NTUC member.
How to sign up for the package
Purchase the U Run All Access package now at www.usports.sg

Share this page with your friends!