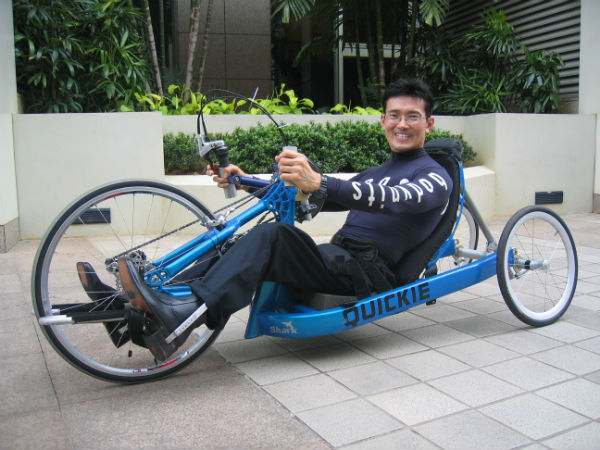 Dr William Tan came in first  in the handcycling category of the Sundown Marathon last weekend. He completed the 42km route in a time of 2 hours 8 minutes and 49 seconds.
Izzy Wang came second, in 2:30:21 hours, while Michael Ngu was third, finishing in 2:30:57 hours (sport-asia.com).
The handcycling ride was a charity event – in which the Handcycling Association of Singapore (HAS) is a beneficiary of the 2014 Sundown Marathon.
Participating in the Sundown Marathon allows the HAS to give their junior riders more exposure and have their parents play a part in their sports and social development.
Prior to the event, the cyclists were briefed on the challenges of the route by the Sundown Marathon organisers.
Doctor Tan, who is paralysed from the waist down, did his postgraduate studies at Harvard and Oxford Universities. He was also diagnosed with Stage 4 leukaemia in 2009. But since then, he has certainly overcome the odds to achieve success in sports. And in 18 days time, the medical doctor will also be handcycling 500 kilometres between London and Paris – through the English Channel Tunnel.
Here is what this Paralympian said, about his first placing amongst the handcyclists at the Sundown Marathon.
Dr Tan, how do you feel about coming first amongst the handcyclists in the Sundown Marathon?
I am humbled. I have just passed five years of survivorship from Stage 4 leukemia which I was diagnosed with, in April 2009. It has inspired me to train harder and I look forward to representing Singapore again in the coming Asia Para Games in Incheon in para cycling events.
Did you expect this result?
I was pleasantly shocked! I have never expected myself to come in first. I was struggling with a terrible chest infection for the five days before the race and I was contemplating pulling out of it.
But then I thought I have trained really hard for the last nine months and had been looking forward to the marathon – my first one since 2010. I anticipated Izzy (Wang), Michael (Ngu) and (Foo) Fung Liang to finish before me as they are very strong handcyclists and had been training very hard, as well.
How did you train for this?
I spent long hours on the handcycle on Saturdays and Sundays along Changi Coastal Road and did shorter rides on weekday nights after work. I cross train by playing table tennis on Mondays, Wednesdays and Fridays. (I am the Captain of the National Para-Table Tennis Team).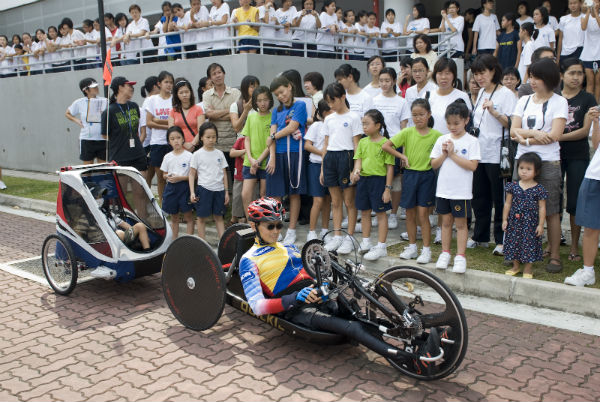 What were some of your biggest challenges, as the route was designed for runners and not handcyclists?
The 42.2 km marathon route drew out the best from all of us. The organisers were very caring to let us know beforehand some of the challenges – road humps and sharp turns that we had to be very careful with. We can complain and make excuses but for me, it was about how well we could adapt to the conditions during the race – that makes a winner.
How does this boost your confidence for your 500km English Channel Tunnel handcycling race from London to Paris?
The London to Paris race is 18 days after the Sundown Marathon, which I had intended to use as a test ride in terms of the equipment and my adaptability during the race. And I am on the right track in terms of my preparation for equipment, training, food, drinks and attire.
What was the most memorable part of your handcycling at the Sundown Marathon?
There were some great moments which I will always cherish. These included the following:
I have been looking forward to racing in the Sundown marathon for years but this dream did not materialise during to my battle with Stage 4 leukemia. On 31 May 2014, it happened and I was at the starting line of the Sundown Marathon!
It was wonderful to be racing with my fellow handcyclists again. Due to my hours at the National Cancer Centre looking after cancer patients, I have not been able to adhere to the training schedule of my fellow handcyclists, so I have been training alone.
It was so heartwarming to ride with Peter Lai whom I had cycled with, in 1993 (during our Singapore to Thailand Rides for various charitable causes), but had not done so again for the last ten years. I was honoured to have had (Tan) Yoke Chang and Lawrence (Loh) – passionate riders with the Singapore General Hospital Ride for Health – to join Peter to ride alongside us during the race, as well.
Click here to support needy patients at NUH.
Click here to support cancer research at NCSS.
Other Blog Posts
My 42km Race Experience at Sundown Marathon
A Sundown Challenge For Blind Runners
Sundown Marathon: My 42km Run With Love
Share this page with your friends!