Are you having trouble clearing levels on Candy Crush Saga and getting increasingly frustrated with consistently not being able to get rid of that last piece of jelly? Purchasing boosters on Candy Crush Saga can definitely help with that.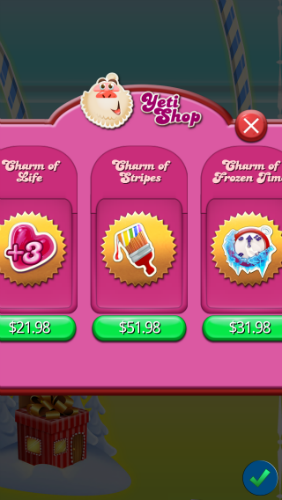 Here are some of the different boosters available for players on Candy Crush Saga and what each one is used for.
Lollipop Booster
This booster is used for smashing a single candy, jelly or layer of cream. So it can really help if you have one piece of jelly left and you simply don't have any other way of clearing it off the board. This booster becomes available to you once you clear Level Six.
Five Extra Moves Booster
As the name suggest, this booster grants you five extra moves when you purchase it. So if you are just a few moves short of winning a level on Candy Crush Saga, you can purchase this booster and get rid of those last few stubborn candies. This is a great asset when you know for certain that you need only one or two more moves to bring down your last ingredient or to clear the last couple pieces of jelly in order to win the level.
This booster becomes available to you once you have completed Level Seven of Candy Crush Saga.
Colour Bomb Booster
This is a rather powerful booster and when you purchase it, you will be able to begin the level with a colour bomb on your board. This means that you do not need to work in order to create one.
The colour bomb can completely clear a single colour of candy off the board. So it comes in useful for those "order" levels whereby you need to combine special candies, such as a striped candy with a wrapped candy. This is because with one colour completely extinguished from the equation, it'll be easier to find matches once the board has settled.
You can purchase this booster once you clear Level 12 of the game.
Coconut Wheel Booster
The coconut wheel has very powerful abilities, because when you exchange it with a candy, it turns these into striped candies, which will then simultaneously explode. This is very useful in clearing jelly, chocolate and any other sweet obstacles that get in your way.
This booster is available to you once you have successfully completed Level 14.
Extra Time booster
This is a very useful booster on timed levels, whereby you have to rack up a certain number of points in a specific amount of time – because it adds an extra 15 seconds to the time. This can make the difference between success and failure, especially when you need just a few thousand more points in order to pass the level.
This booster is made available to you after clearing Level 26.
Bomb Cooler Booster
Have you ever felt incredibly frustrated when a bomb is about to explode, but you still have a few more moves left to complete the level? Well, the bomb cooler booster can help with that, because it adds five more moves onto all the bombs on the board. So that means you'll be able to complete the level in peace.
This booster becomes available once you complete Level 98.
Mystery Candy Booster
This is a rather interesting booster, because when you purchase it, you will see a candy with a question mark on your board. When you match it with another candy, it can turn into something useful – but you don't know what it is. Some examples of things these mystery candies may turn into include striped and wrapped candies, colour bombs or coconut wheels. It's all about the "luck" of the draw.
This booster is available to you upon completion of Level 98.
In some of the higher levels though, you may actually see mystery candies on the board but these aren't always positive. For example, they may turn into negative things such as chocolate, liquorice or cream – which are a real hindrance to your game.
Read more on Candy Crush Saga
Share this page with your friends!