Coming with an all-in-one design, the Sony WS413 Walkman is advertised as a sports music player that is capable of delivering quality sound anytime and anywhere, with easy connectivity and an improved sleek, wearable fit.
At the same time, according to Sony, the WS413 is supposed to be not only water proof, but also salt water proof and dust proof, which means that it can be used for an even wider range of sports, such as kayaking and canoeing, to even mountain climbing.
This dust proof feature, according to Sony is made possible by the addition of an internal terminal which resists any accumulation of foreign particles and is highly corrosion resistant at the same time. The rustproof coating on the surface of the music player's front casing, also ensures that the Walkman is protected well both internally and externally.
The Walkman is also advertised as being able to function perfectly from temperatures of between minus 5 degrees C to 45 degrees C.
Taking the Walkman WS413 out
Sony loaned me a lime green coloured unit of the W413 Walkman for my review. Other colours that are available, also include black, ivory and blue. And so far, I have taken it out on a couple of easy recovery runs as well as a quick swim – after my Sundown Marathon race.
Though the WS413, coming in at a weight of 32 grams, may look quite chunky at first glance, it is surprisingly quite comfortable to wear, once you are able to get the right fit for the earbuds size. For me, the smallest pair of earbuds are the ones that sit seamlessly inside my ears.
Coming packaged together in the box with the Walkman, are 4 sets of earbuds and another separate set of 4 water proof earbuds for swimming and water sports purposes. There is also a USB cradle, a USB cable and an adjustment band.
It is also rather easy to turn on the WS413 Walkman. Once the Walkman is fully charged, a press of a button will switch the player on and it will start blasting out your favourite songs. However I must admit that it can be quite tricky to put on the Walkman especially if you are not used to its size and shape, though.
What I also particularly like about this sort of music player is that you do not need to carry your phone along to listen to your music. This is because the WS423 is able to store about 4GB worth of songs within its internal memory, so you can upload all of your favourite songs into the player itself, while leaving your phone at home.
Running with the WS413 Walkman
When taking it out on my runs, the Walkman does not bounce at all, and in fact there were times when I was running and I forgot that I was wearing the WS413.
The player is also very effective in blocking off the ambient sound and when wearing the WS413 to run, I really can't hear anything much more than my music.
This could be dangerous though, when you are running on the open roads. But to rectify this problem, Sony has an Ambient Sound mode in the WS413 where in-built microphones will pick up the ambient noise around you, such as car traffic, and this will allow you to stay in touch with your surroundings without having to lower the volume of the Walkman. This feature also may be quite useful if you are chatting wth your running buddies as you are running.
The music seems to sound a little flat. But if I push the WS413 into my ears very tightly, there are some slight improvements, but this may feel uncomfortable, as if something is pushing inside my ears.
Swimming with the WS413 Walkman
I also tested the WS413 in the swimming pool. I usually don't listen to music when I go swimming due to my usual running earphones not being waterproof. So at the beginning it had been a little unsettling and distracting to hear music playing in my ears. But after a while I got used to it, and I began to realise that this had made swimming laps of the pool feel a lot less boring – with my favourite songs blasting into my ears.
The WS413 also did not bounce around or drop out inside the pool which was good, and it was also pretty easy to take out after my swim. I had somewhat been expecting the WS413 walkman earphones to get tightly sealed in my ears to some extent – due to the water pressure, but fortunately this did not happen.
However that said, it was a little hard to hear the music in the water though – because when I lifted my head out of the water to breathe, or to blow bubbles in the water, the sound of my breathing had appeared to be amplified. So I could not hear the sound of the music as well. But otherwise the quality of the sound was quite similar to the times when I was running with the WS413 music player.
Also, you must remember to increase the volume of the music when you are using the waterproof earbuds for swimming and water sports, otherwise the sound can be quite soft. This is because the waterproof earbuds are sealed, to prevent water from getting into the buds. And this seal may make the sound quality seem a little more muffled as compared to the normal earbuds, but I guess that this takes some getting used to, though.
Besides being waterproof, the WS413 is also advertised as being salt water proof – meaning that it will work well when you are swimming in the open sea – but I have not managed to test this feature out yet.
Battery Life
The advertised battery life is 12 hours, which is good enough for most endurance athletes such as marathon runners and triathletes. But I have not tested the actual length of the battery life.
The WS413 Walkman charges up quite fast – within one and half hours. However if you have a limited time only, you can get about 60 minutes of music for just three minutes of charging. This is quite an attractive feature, for time-strapped individuals who are often in the habit of forgetting to charge their electronic devices before their workout sessions.
Full Specs of the WS413 Walkman
Here is a full list of the specs of the WS413 Walkman.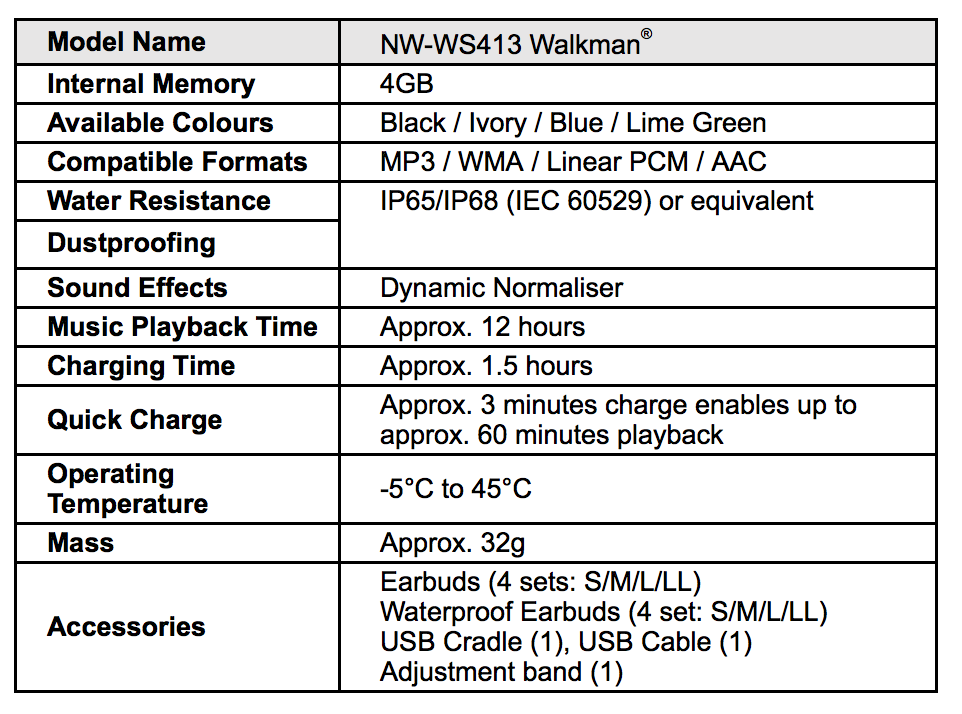 Where to buy the Walkman
The WS413 Walkman is currently available in Singapore at a recommended retail price of $149. It can be bought at all Sony Stores, Sony Centres and selected Sony authorised dealers in Singapore.

Share this page with your friends!